Strawberry & Jalapeno Cream Cheese Dip
This shop has been compensated by Collective Bias, Inc. and its advertiser. All opinions are mine alone. #SpreadTheHeat #CollectiveBias
Hey guys!!  Now that the summer is here and it is getting hotter and hotter.  The summer around here brings lots of parties and birthdays.  In July alone we literally have something every weekend.
Now I love entertaining and planning and the cooking and baking that comes with that but once that temperature outside starts rising my desire to be in the kitchen lowers.
Who wants to be in the kitchen slaving over a stove or opening a hot oven over and over?  Not this girl!
So when the dog days of summer roll around I start pulling out my easy recipes, no bake desserts, dips I can make in the microwave and anything that does not have to be cooked.
One of my family's favorite appetizers is pepper jelly over cream cheese, I do believe it a Southern favorite so maybe you haven't tried it but it is delicious!!  I am always on the look out for other types of jelly to put on cream cheese to spice it up a little.
The other day I was at Walmart doing my shopping and with a birthday party that weekend I knew I needed an appetizer (and a cool one at that).  I headed to the jelly aisle to grab a jar of pepper jelly when I spotted this new Smucker's Fruit & Honey Strawberry Jalapeno Fruit Spread.
I knew this would be the perfect way to jazz up our favorite dip.
I am in love with this new Smucker's Fruit & Honey Strawberry Jalapeno Fruit Spread.  It is "better for you" since naturally sweetened with honey which adds a delicious flavor.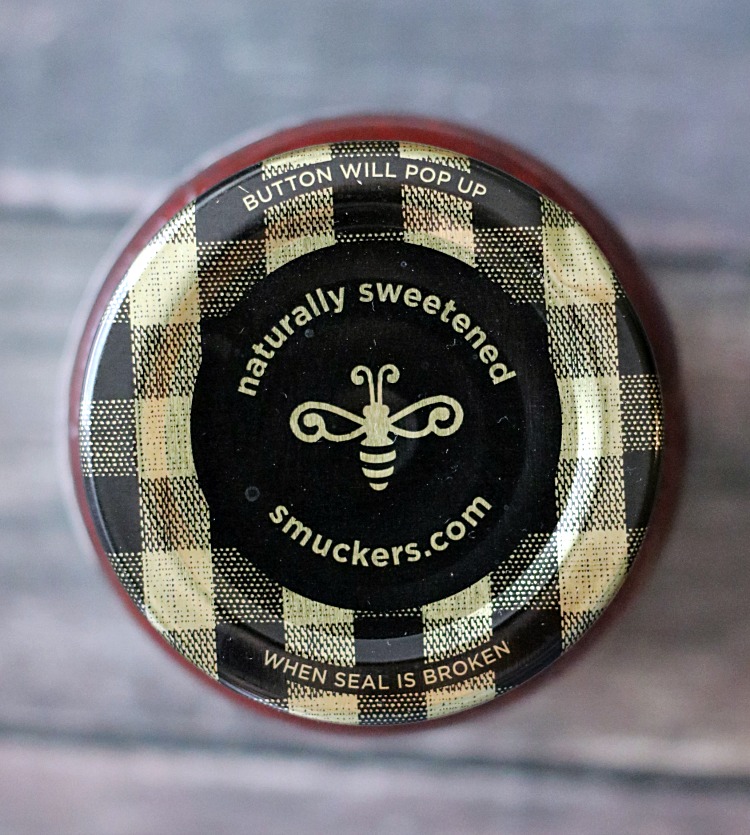 Speaking of flavors you can also get these amazing Fruit & Honey Spreads in Concord Grape, Strawberry, Triple Berry and Blueberry Lemon!  Sweetened with honey these are delicious fruit spread and you can use them on anything!
Back to this easy dip, this is the perfect summer appetizer because it uses no heat and takes minutes to prepare and everyone loves it!
You can serve this with pretzels or veggies or our favorite way to have it is with Wasa Crackers.  I think Wasa Crackers just look soo appetizing and pretty on a plate.  They are always my go to cracker because they are so crunchy and are the perfect vessel for all your dips.  I really love that they are Non-GMO, all natural and high in fiber.  Plus they are Kosher and have no preservatives making them the perfect low calorie cracker to go with this dip.
This Strawberry & Jalapeno Cream Cheese Dip is just so delicious and disappears in minutes, thankfully it takes just minutes to make.
Strawberry & Jalapeno Cream Cheese Dip
Ingredients
8 ounce block softened cream cheese
Smucker's Strawberry & Jalapeno Fruit Spread
Wasa Cracker, pretzels or veggies for dipping
Instructions
Spread the cream cheese out on a platter.
Top with Fruit Spread.
Serve!!
It is that easy!!
The creaminess of the cheese is the perfect backdrop for this spicy fruity spread that is sweetened with that wonderful honey.  Scoop some up with those crunchy Wasa Crackers and you have the easiest, most delicious appetizer this summer.
Right now you can Earn $1.00 off Smucker's Fruit & Honey Fruit Spread with this Ibotta offer.
What flavor are you most excited to try?