Creative Gift-Wrapping Ideas with Walgreens Holiday Gift Guide
I was browsing the Walgreens Holiday Gift Guide the other day and I was blown away by their gift wrapping section.  The paper, bows and tags were gorgeous and I was inspired to get started on my own holiday gift wrapping.  The holiday guide was also full of creative gifts, stocking stuffers, holiday glam and tips on planning the perfect party.
After absorbing all those amazing gift and wrapping ideas I was pumped to go get some holiday shopping done.  I had quite a few presents already purchased so this shopping trip I was focused on getting plenty of paper and bows so I could get a jump start on my wrapping.
I picked out some great wrapping paper, sparkly bows, cute tags and a few other wrapping goodies.  Once I got home I spread my presents and all my wrapping arsenal out, got a mug of hot chocolate and turned on my favorite Christmas movie.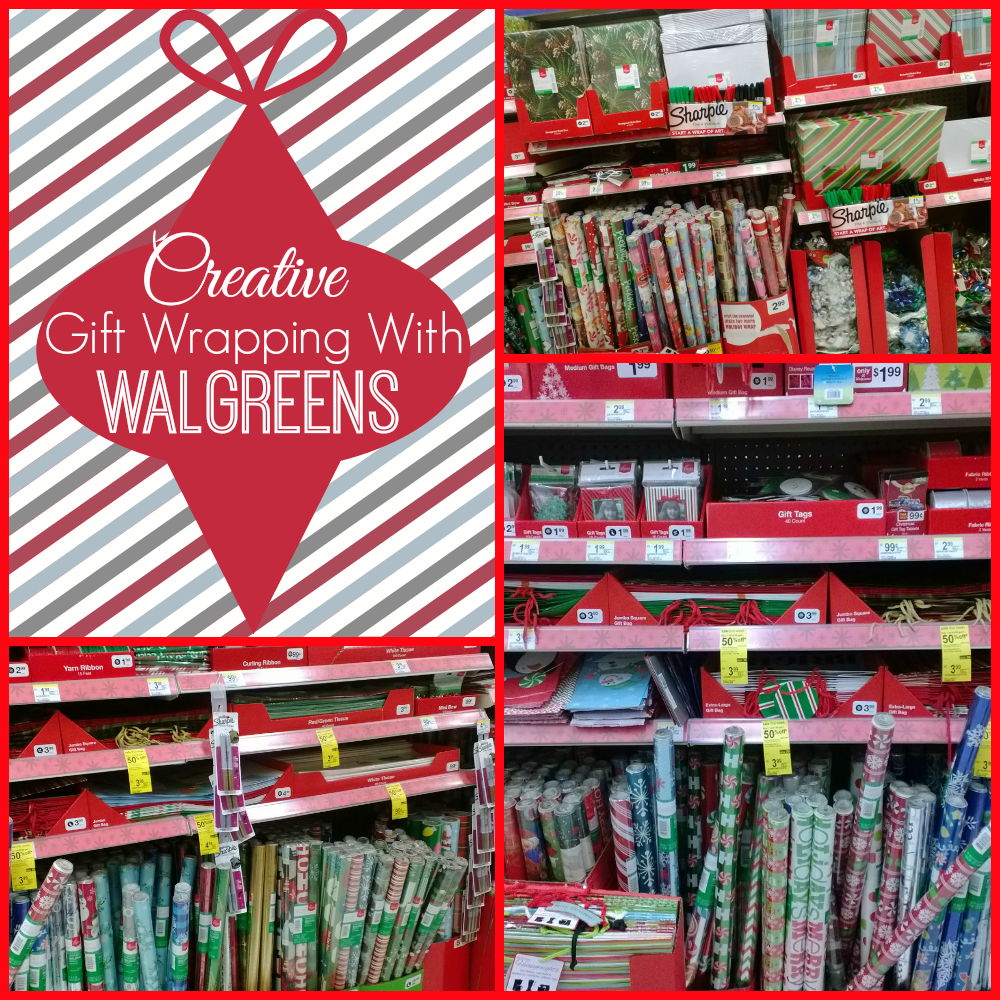 I decided to take a page from the Walgreens Holiday Gift Guide and get a little creative and mixed up the wrapping papers by using the chevron paper to wrap around the polka dot paper for that wide ribbon effect, without spending a ton of money on wide ribbon.  This method just uses what you already have and is a good use for those wrapping paper scraps that always accumulate.  I topped my faux ribbon with some sparkly mini bows and the present looked impressive!  It took minimal effort to produce such a spectacular gift!  It is going to sit right under my tree looking gorgeous waiting to be opened Christmas morning.
Now when I am wrapping presents Dean is always under foot and wants to help, so I came up with the perfect solution.  I cut out shapes like snowman and Christmas trees out of construction paper and then let him decorate the snowman/tree any way he wants, he can color on them or glue pieces I have cut out to them.  It keeps him busy and adds a great personal touch everyone loves!!
Something I have never seen before are Walgreens Photo Stickers that are so fun! You can create one of your family photo and everyone can see just who that present is from, how cute!  I cannot wait to make some for my family's presents this year.
I always have quite a few gift cards to pick up around the holiday season but I really hate just handing someone a gift card even if it is in a little envelope, I want to make it more personal, put a little more effort into making it look like a great present. Even if I did pick it up on the way, I definitely do not want it to look that way lol!  I spotted these adorable Christmas mugs and Walgreens huge assortment of candy and I had the idea to put them all together into a one very holly jolly gift!
I filled the mug up with the candy, stuck the gift card in and added a mini bow for good measure.  The prices on the mugs were so great I picked up a few to keep on hand for all those gift cards I have to hand out, just add the recipients favorite candy and there you have it, a personal touch on a present that could use a little sprucing up.
Shiny bows and ribbon can bring some flair to a mason jar full of Christmas candy to hand out to hosts, the mailman or whoever else you want to spread a little holiday cheer to.
So when that big pile of presents is looming overhead and you have no idea how to bring some festive fun to all your holiday wrapping just use these ideas and in no time your tree with be bulging with perfectly wrapped presents that will wow!