"Soup"er Bowl Party with Rubbermaid and Sharpie
This shop is part of a social shopper marketing insight campaign with Pollinate Media Group™ and Rubbermaid and Sharpie but all my opinions are my own. #pmedia #RubbermaidSharpie  https://cmp.ly/3/8vNxcO
So it's football season and that means my house is going to be overrun with loud cheering men snacking on chip and hot wings.  While that is awesome if you are a football fan, myself and some of the other wives get a little bored with the game and the wings (okay maybe not the wings so much lol).  So we decided to have our own little competition/game and thus our annual "Soup"er Bowl was born.
All us ladies bring a soup and while the game is on in the background and the hubbies are hootin and hollerin we catch up on some girl talk and eat A LOT of soup!
After our yoga pants are practically busting at the seams we take a vote on whose soup was the best.  Winner gets bragging rights for the rest of the year.  Who doesn't want the title of Best Soup?!?
Now the best part of our "Soup"er Bowl is when it is all over every one gets Rubbermaid Containers full of all the different variety of soups.  We label them with a Sharpie and everyone goes home with soup for a week, to eat for lunch or throw in the freezer for dinner one night.
I love using Rubbermaid Containers because they are BPA free, dishwasher safe, freezer safe and microwave safe.  One of the main reasons I choose Rubbermaid for my soup is because when I hear the click I know the lid is secure and I do not have to worry about leaks!
I always have Sharpies on hand and I love to bring them out for the party.  I can make great signs with them, label the soups, write down recipes for guests to take home and we even use them to vote with, they are so versatile and a must have.
So grab your girlfriends and stock your freezers by having a "Soup"er Bowl party!!  It is such a fun and interactive party to have and even though we do choose a winner it is like everyone wins when they load up their containers of soup to take home!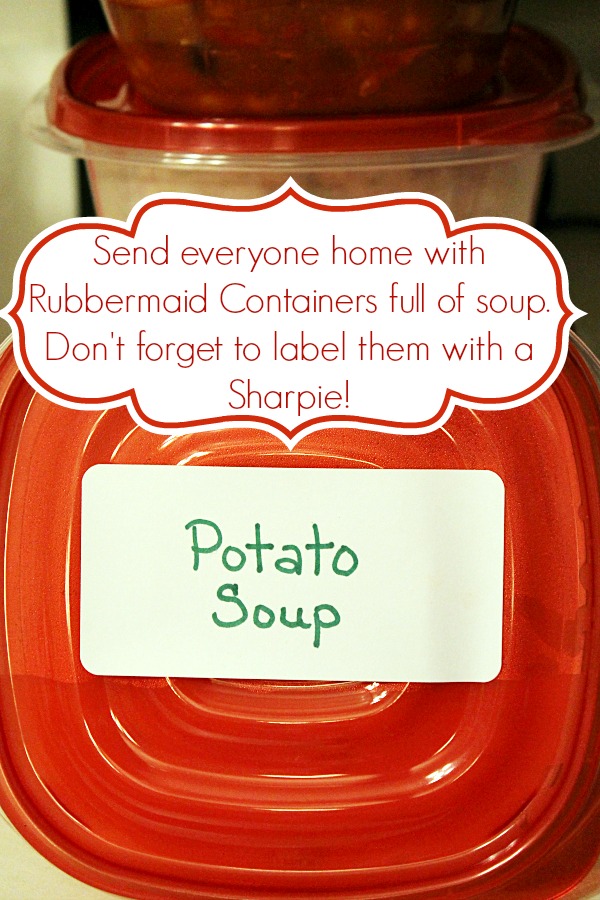 Get a little help to make your party go smoother and head to Target to pick up Rubbermaid and Sharpie products and save some money too!  Right now you can text COUPONS to TARGET on you cell phone and grab the $1 off Rubbermaid food storage coupon and the $1 off Sharpie 4 pack or larger (valid Jan 25- Feb 8)