Easy, festive and amazingly delicious, these Holiday Sugar Cookie Cheesecake Bites are definitely one to add to your holiday menu!
Hey guys!!  Christmas is next week!!  Eeek!!  Are you ready?!?  I am not…. lol
I have a party this weekend to host and then I am having the whole family over for Christmas Eve dinner, I might have stretched myself a little thin lol.
Of course I will need lots of yummy treats for the party and for Christmas Eve.  I think the holidays are meant to be indulgent and I love love love having a big Christmas platter full of bite size desserts.
I created these Holiday Sugar Cookie Cheesecake Bites just for that platter and they are delicious!!  They are honestly so addicting it is dangerous.  The chewy sugar cookie cups are filled with a cheesecake/pudding filling and are just the perfect match.
It is impossible to eat just one (I had to give away my batch, I just could not stop myself lol)
What I really like about these cups is how easy and quick they are to make!  I start with a Betty Crocker Sugar Cookie Mix and then add in a few holiday sprinkles.
I roll the dough into balls and pop them in little mini muffin tins and use my fingers to spread the dough up the sides.
Then I just bake and while they are baking I mix up a little vanilla pudding with some sweetened cream cheese and fill a ziploc back with that mixture.
When the cookies cups are done you will notice the middle has kinda filled in again.  Do not worry, while they are hot from the oven just use a spoon to kinda push the middle to the side creating your cup shape again.
Once they are cool just use your ziploc bag to fill the cups with the luscious cheesecake filling.
A few holiday sprinkles and they are ready to be devoured by your guests!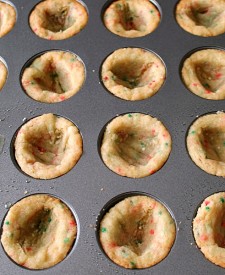 Please make these this holiday season!  I promise they will be the hit of the dessert table!
Don't forget to check out Dana's Layered Strawberry Truffles!