Game Time with DiGiorno and Walmart!!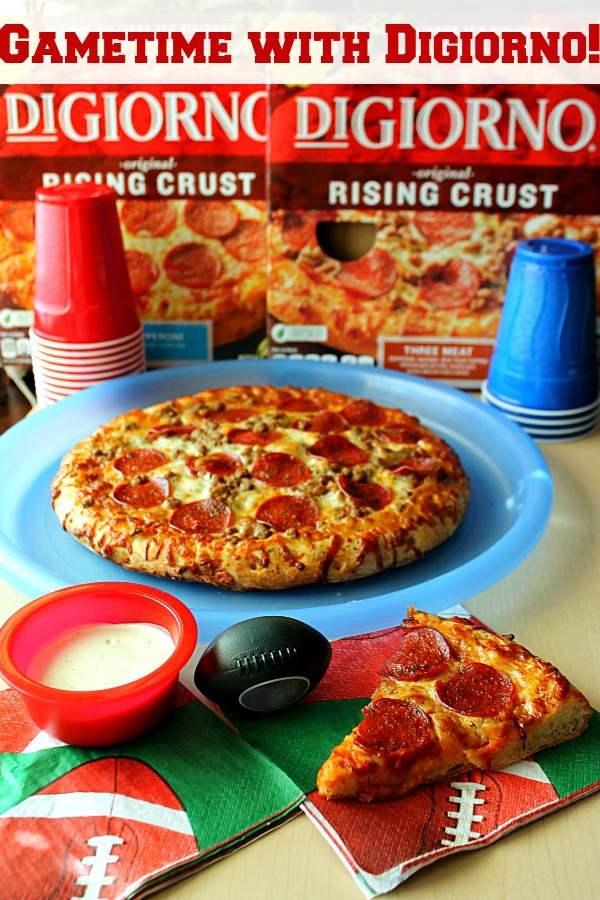 When football season rolls around there are always hungry fans to feed.  I have the perfect solution for that hungry, cheering, rowdy mass….. DiGiorno pizzas!  You can grab these tasty pizzas right at Walmart!
So the other day I was doing my grocery shopping at Walmart and I knew I needed to pick up some snacks or something to feed the football fans that would descend upon my house to watch the game.  Browsing up and down the freezer section I spotted these DiGiorno pizzas!  Not only did they look mouthwatering delicious but they were on Rollback, only $4.50 a piece.  Score!!!!  That was a deal I could not pass up.  I threw a couple in my basket and on my way I went.
I picked up some sodas, chips and the usual suspects while at Walmart and I even grabbed some football napkins perfect for the party.  I was exhausted when I got home after putting away the groceries and cleaning and the thought of preparing for this football party just tired me out.  Then I remembered I made it easy on myself by picking up the pizzas.  I preheated my oven, filled the bowls with chips and popped the pizzas in the oven.
In no time I had perfect bubbly, cheesy pizza that smelled amazing and it was so much easier than trying to dig up a menu and sort through coupons to order a pizza.  Plus who can beat $4.50 for a pizza?  No one can!
I served the pizza with ranch cups for dipping and they were such a big hit.  I took a slice for myself and enjoyed the fresh, hot pizza that came straight from my oven.  I enjoyed even more that it took no effort on my part.
So next time you have a crowd coming over to watch the big game don't forget to make it easy and grab some DiGiorno pizzas from Walmart.  Easy, delicious and on rollback, TOUCHDOWN!