It's that time of the week again!  The time that Dana and I share with you two amazing recipes!  This month we are focusing on Comfort Classics.
It's cold outside and the only thing that can cure that chill in your bones is some warm comforting food!
This week I am sharing with you a fabulous recipe for Cinnamon Roll Apple Pie.  It is a flaky pie crust piled high with sweet apples and then topped with more flaky pie dough that has been rolled like cinnamon rolls.  The whole shebang gets topped with a glaze and it is apple pie perfection!   The best part about this recipe is you can use homemade pie crust or store bought rolled pie crust (the kind in the refrigerated section with the canned biscuits).
So warm up your house and make it smell amazing by baking this delicious Cinnamon Roll Apple Pie. 
Ingredients
1 14.5- ounce box refrigerated pie dough
All-purpose flour, for dusting
2 tablespoons unsalted butter, at room temperature
1/2 cup granulated sugar
1 1/8 teaspoons ground cinnamon
5 assorted apples, such as McIntosh, Granny Smith and Pink Lady (about 2 pounds)
Juice of 1 lemon
1 teaspoon vanilla extract
1 large egg, lightly beaten
2/3 cup confectioners' sugar
2 tablespoons milk, plus more if needed
Instructions
Place a baking sheet in the oven and preheat to 400 degrees F. Line a 9-inch pie plate with 1 piece of dough; refrigerate until ready to assemble.
Make the cinnamon-roll crust: Lay the remaining piece of dough on a lightly floured surface and spread the butter evenly on top. Combine 1/4 cup granulated sugar and 1 teaspoon cinnamon in a small bowl; sprinkle evenly over the butter, then gently press with your fingers to help the mixture adhere. Roll the pie dough into a tight log. Trim and discard about 1 1/2 inches from both ends; cut the remaining log crosswise into 1/2-inch-thick pieces. Arrange the pieces cut-side down in a snug circle on floured parchment paper. Lightly dust with more flour, then gently roll out into a 10-inch round. Slide the parchment onto a baking sheet and refrigerate until ready to assemble the pie.
Peel and thinly slice the apples. Toss with the lemon juice, vanilla and the remaining 1/4 cup granulated sugar and 1/8 teaspoon cinnamon in a large bowl. Transfer to the dough-lined pie plate; invert the cinnamon-roll crust on top and peel off the parchment (it's OK if the individual rounds separate a bit in the process). Pinch the crusts together; fold the overhanging dough under itself and crimp as desired. Brush with the beaten egg.
Set the pie on the hot baking sheet in the oven; bake until the crust is golden brown and the filling is bubbling, about 50 minutes. (Tent loosely with foil if the top browns too quickly.) Transfer to a rack to cool slightly.
Whisk the confectioners' sugar and 2 tablespoons milk in a bowl until smooth. (Add more milk if the glaze is too thick.) Drizzle over the pie.
Want more comfy, cozy deliciousness? Check out Dana's Shepheard's Pie, yummy!!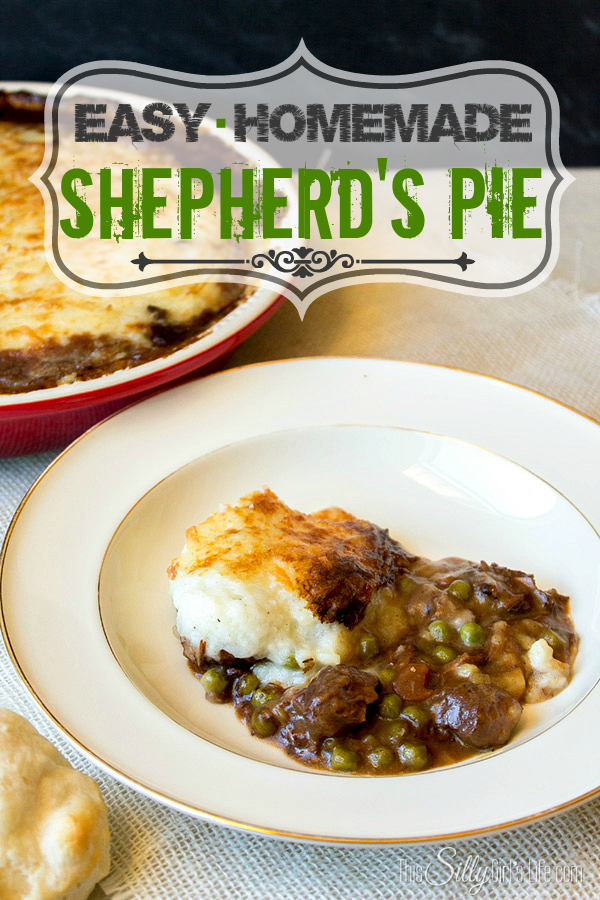 Check out the rest of Comfort Classics Series!