Tea Time Out for Mom with Bigelow Tea!
This shop has been compensated by Collective Bias, Inc. and its advertiser. All opinions are mine alone.
#AmericasTea #CollectiveBias
Hey moms!!  You feeling that back to school rush yet?  September is such a busy month for all of us and always brings so much change with new schedules to nail down, busy mornings and late nights full of homework, soccer practice and bed time routines.
I know for me it feels like I run Monday through Friday straight through in survival mode.  This mama craves a break, but there is barely any time in our new busy schedules for that, that is way I have to find small moments in the day to take a little tea time for myself.  Just a few minutes to yourself to relax will do wonders for you.
When I am off doing my weekly grocery shopping at Walmart I like to pick myself up some delicious Bigelow Tea, maybe a new magazine and a chocolaty treat.  These little things are the perfect makings for a mommy time out!
When I get a few moments in between errands I love to sip on a mug of Chai Tea.  The spices and creaminess of the tea pairs perfectly with my chocolate pick me up while I browse for new dinner recipes.
This fall has also brought new changes to my family in the form of a move, which means I now have a lovely porch which is perfect for taking a steamy mug of tea and a quilt and just sitting out there on a chilly morning taking a few minutes to myself before the little one gets up.  There is nothing like keeping your hands warm around a hot cup of Earl Grey while watching the world around you wake up.
Thank goodness for my Bigelow Tea stash to provide me with these simple moments of peace.  I love keeping a wide variety on hand and picking a flavor to suit my mood, though with so many delicious flavors it is hard to choose!!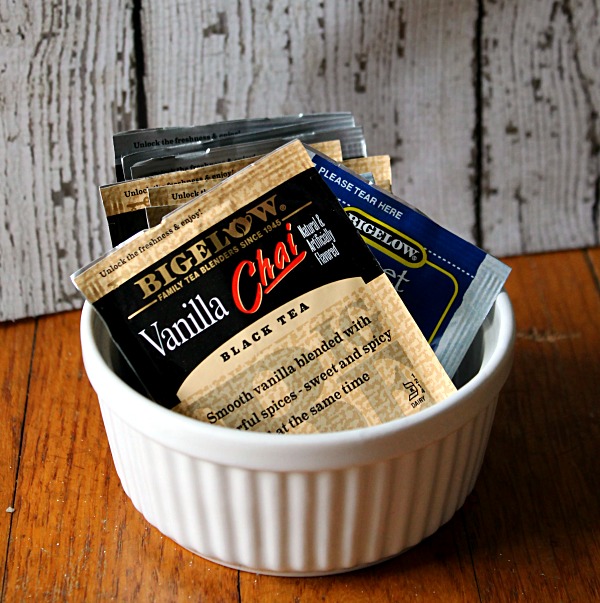 Now not only is Bigelow Tea a yummy way to unwind after a long day or start a busy one but the Bigelow Tea company is one I cannot quit talking about!  For starters it is an American Company, American Family and made for the American Consumer and you can pick up tons of varieties especially at Walmart.  And the Bigelow Charleston Tea Plantation is America'a largest working tea garden and makes for gorgeous weddings and you can even tour the plantation and experience some Southern history!
Of course what also makes it a great company is that almost 4 million bags of tea have been sent to troops overseas with the Bigelow's Tea for Troops program and you can find out all about that here —-> Tea for Troops 
So next time you are feeling that back to school rush and you just need a mommy time out just brew yourself a steamy mug of Bigelow Tea and relax!
Of course us moms deserve a sweet treat too! This Vanilla Chai Butterscotch Pumpkin Bread is amazing!!!! Since we are talking about moms taking a break I am making this bread with a shortcut using a pumpkin bread mix and adding in Vanilla Chai tea, butterscotch chips and a Vanilla Chai Glaze! It fills your house with the scent of fall and is instantly comforting. The Chai Tea pairs perfectly with the pumpkin spices and the butterscotch chips just make for an amazing sweet pop in the bread making this bread truly decadent.

There is nothing better than getting a few minutes to relax, sip on tea and enjoy this sweet treat just bursting with pumpkin and spice!
Tea Time Out for Mom with Bigelow Tea!
Ingredients
One pumpkin bread mix, I used pillsbury
Two Bigelow Vanilla Chai tea bags
2 Cups water divided
2 eggs
3/4 cup butterscotch chips
Powdered sugar
Instructions
Steep one Vanilla Chai tea bag in 1 cup of water.
Steep another Vanilla Chai tea bag in 1 cup water.
Preheat oven according to box directions.
Mix pumpkin bread mix according to box directions using the Vanilla Chai steeped water instead of the plain water the recipe calls for.
Stir in 3/4 cups butterscotch chips.
Pour batter into loaf pan and bake according to directions.
Let bread cool.
Slowly start to pour the other cup of Vanilla Chai tea steeped water into the powdered sugar. You will most likely not need the full cup. I pour and stir slowly until I get a thick glaze I can drizzle over the top of the bread.
Drizzle glaze over bread, slice and enjoy your mommy time out!!
So there you have it! Plenty of ways to relax and enjoy a moment for yourself and a quick delicious recipe you can make in a snap!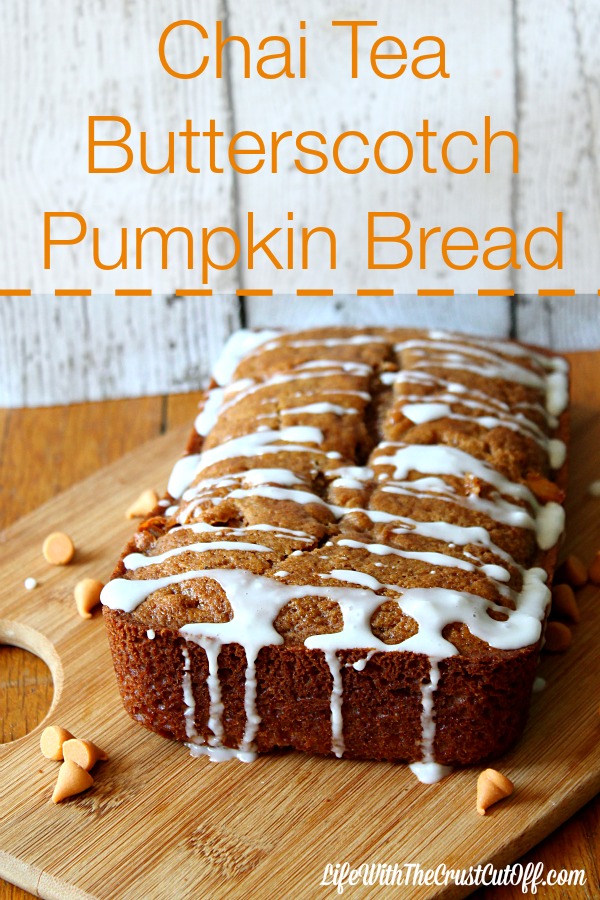 Want a super yummy cookie recipe to go with your mommy tea time out?  Check out my Lemon Glazed Iced Tea Oatmeal Cookies also made with fabulous Bigelow Tea.
How do you have a mommy time out?
You can follow Bigelow Tea on
Facebook
Twitter