Back to school with Keurig coffee basket!
 This post is sponsored by Lunchbox and all opinions are 100% my own.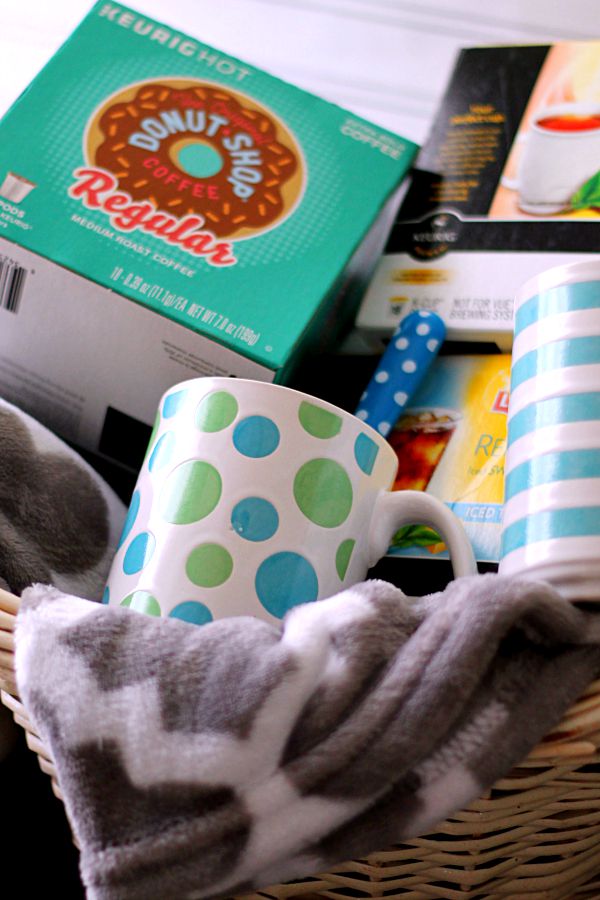 Hey mamas!!  I am busy with Dean starting kindergarten this year and it has been soo hard on me!!  I know that the only other time it will be this hard on me to send him to school is when he starts college.  That got me thinking about all you moms out there sending your babies off to college this fall and I wanted to give you an idea for a cute coffee bar basket you can send with them.
Space can be limited in a dorm and energy low which is why a little coffee bar is perfect for any dorm!  The new Keurig® K200 Brewing System is more compact and comes in some amazing colors that will brighten up any dorm.
The Keurig® K200 Brewing System can easily make all their favorite hot or cold beverages with the push of a button. Whether they need a pick-me-up to pull an all nighter or something to help them relax from a long day of studying, the Keurig® K200 Brewing System is a college must-have. Plus it is perfect for a student budget because it's way less expensive than stopping by a coffee shop every day (or numerous times a day lol). And since it's being offered at Walmart you know you will get the everyday low price.
Visit the Keurig at Walmart site to choose from all their great colors and see how to build coffee bar in your dorm room. Then have fun exploring a wide range of the delicious K-Cup® varieties and you can get a FREE K-Cup® pod sample pack, awesome!!  Plus in the sample pack, you will also get 4 $1 off coupons so you can stock up on an assortment of K-Cup® beverages and try them all out to find your favorite!
With a coffee bar in their dorm room they will save time and money and all their friends will want to stop by for a pick me up during studying sessions!  I love that I can pick up a Keurig® K200 Brewing System and all the coffee bar essentials and K-Cup® varieties at your local Walmart.
You can show us what you think the perfect college care package is, featuring your favorite dorm room items using the #WhatsBrewingOnCampus!  I can't wait to see your coffee care packages!
For mine I picked up a large basket at Walmart and then found a super comfy and soft throw blanket.  Then I found these super adorable patterned coffee mugs with cute little spoons for stirring.
Then I filled the rest of the basket up with K-Cup® varieties, Original Donut Shop Coffee, Lipton Chai tea (my favorite!) and Lipton Iced Tea for a cool treat.
I think this basket will be a great gift to send along to college.  After a long night of studying snuggling up with this warm blanket and brewing a hot cup of coffee sounds perfect and with this basket they can do just that!