Easy Big Game Day Snacking!
This shop has been compensated by Collective Bias, Inc. and its advertiser. All opinions are mine alone. #PreparetoParty #CollectiveBias

Hey y'all!!! It is football season! That means the season when your house gets overrun by lots of hungry dudes yelling at your TV. Of course that also means I am in charge of snacks when it comes to the big game.
I don't mind since I always keep a few staples on hand and I can whip up a game day spread before kickoff.  With Coke, Ritz and DiGiorno I can have a great array of a party food ready in no time!
Now everyone wants pizza when they are watching football and that is why I keep my freezer stocked with DiGiorno pizzas. It has been my favorite for years and we love, love, love the stuffed crust variety, yum! I love being able to serve our football fans fresh pizza straight from my oven so it is piping hot with gooey mozzarella, savory pepperoni and that fresh baked taste we all love.

This pizza is perfect and needs nothing more than a side of ranch for dipping to please my guys.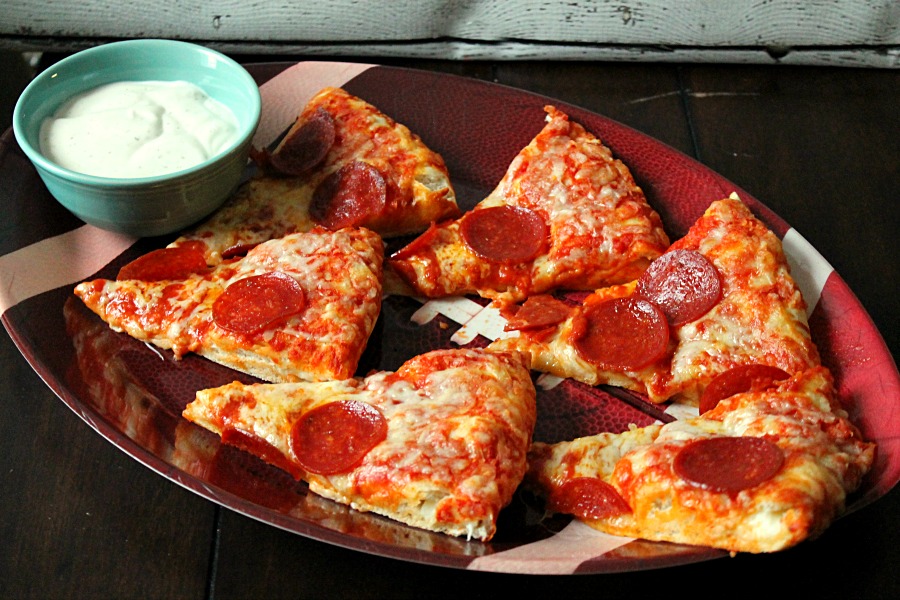 Now for some more perfect game day snacking I always keep a box of Ritz Crackers on hand. You can top these guys with cheese, pepperoni, serve them with your favorite dip, but I like to kick it up a notch for these parties.

Just spoon a little parmesan cheese on each cracker and wrap with half a slice of thin bacon. Then into the oven for a bit it goes until it gets crispy. These things are addicting! I mean Ritz are already delicious and buttery on their own but after you add everyone's favorite bacon they become the best game day snack.
Bacon Ritz
Ingredients
1 sleeve Ritz crackers
3/4 cup grated Parmesan
1 pound thinly sliced bacon
Instructions
Preheat the oven to 250 degrees F.
Lay the crackers face up on a large rack over a baking sheet (or broiler pan). Scoop about 1 teaspoon of the grated Parmesan onto each cracker.
Cut the package of bacon in half (or cut pieces individually) and carefully, so the cheese doesn't fall off, wrap each cheese covered cracker with one half piece of bacon.
Place the bacon-wrapped crackers onto the rack. Place the baking sheet in the oven for about 2 hours. Serve immediately or at room temperature!
All that cheering is bound to get everyone thirsty and what better way to quench that thirst than with an ice cold Coke? I make sure to have plenty of bottles of Coke to go around and to use to whip up a few more game day munchies. First off I love to use Coke to make a great marinade for some wings. You have to have wings for the big game right? You can mix your Coke, with some soy, scallions, garlic and some hot sauce and there you have an incredible marinade for some killer wings. Let them marinate at least 4 hours or even over night and then just bake them off for some fabulous wings.

Whether your team loses or wins I am sure you will be wanting something sweet and once again Coke makes that easy. Did you know you can mix Coke with a boxed chocolate cake mix for amazing cupcakes? Oh yeah, it is just that easy.
A little buttercream, hot fudge and a cherry on top and you've got yourself a touchdown dessert!

So see a great game day spread is never out of your reach as long as you have some Coke, Ritz and DiGiorno on hand. By the way when I was out shopping at Walmart for all these goodies I noticed they are all on rollback, score!! Now you really have no reason not to stock up for the big game.

I hope you use these ideas to make your game day super delicious with these easy recipes.

What are some of your favorite big game recipes?