Beat the Afternoon Slump with Sahale Snacks®
I'm sharing #SahaleSnackers with you as part of a Sahale Snacks® sponsored series for Socialstars™
Hey y'all!  School has started!!!  That means I have got 7 hours to myself!  HAHAHA yeah right!!  I still have a 7 month old, my blog to run and book to write so I am busier than ever!  I actually am not too fond of back to school because that means I too have to get up early, boo!
Getting up throughout the night with a cranky baby and then they alarm going off at 6 does not equal a ton of sleep.  Then there's getting Dean ready for school, drop off, work, baby, lunch, baby, work, baby, school pick up, homework, dinner, baths, bedtime fights and then finally more work in bed with a little Netflix lol.
Right now life is just go go go and with a baby I just cant take a nap when I get a little run down.  I tend to snack when I get super tired in the afternoon, just getting a snack and eating seems to perk me up a little (along with a big ol' cup of coffee!).
I know that I shouldn't just grab any snack out of the cabinet I need something that will give me good energy!  That is when I turn to Sahale Snacks®, my new lifesavers!
Sahale Snacks® so delicious and convenient to grab during that afternoon slump.   Their Grab & Go packs are the perfect size and blend of energizing nuts and fruits and just what I need to keep me going!
One of my favorite flavors for an afternoon snack is the Raspberry Crumble Cashew Mix.  It is a fabulous mix of dried raspberries, cranberries and bananas with a crunch from buttery cashews and peanuts, yum!!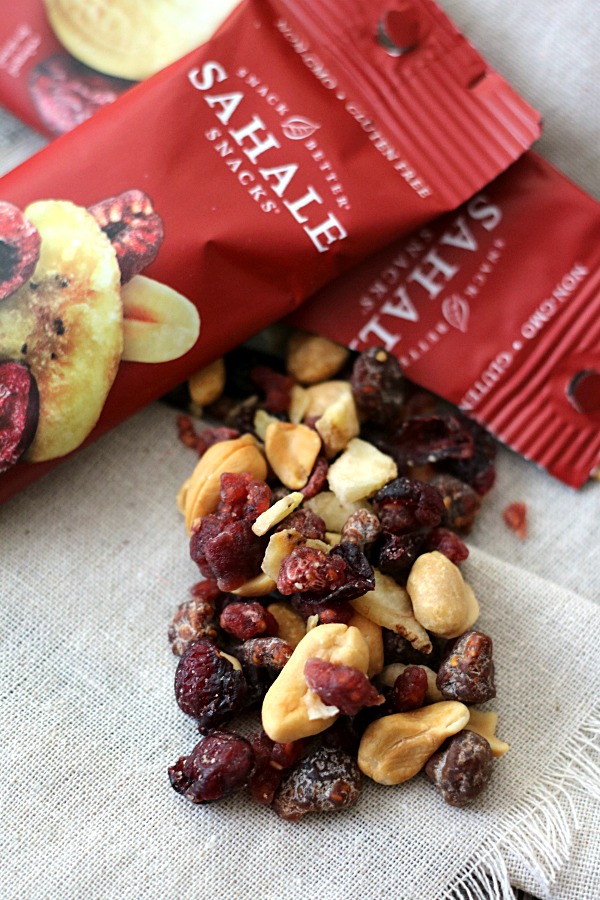 I also reach for Mango Tango Almond Mix which peps me right up with a slightly spicy sweet kick.  Peanuts, banana chips, almonds and lime infused mangoes are kissed with chili pepper and are a match made in heaven!
So when you are feeling the day creeping up on you and you're fading fast just reach one of these flavorful Grab & Go packs and you will be energized and ready to take on the rest of your day!