Sweet Potato Gratitude Rolls
Week two of Dana's and I Thanksgiving Series!!  This week we are giving you two ideas for bread at your Thanksgiving feast!
I have seen gratitude rolls all over the internet and wanted to put my own spin on them so I created these Sweet Potato Gratitude Rolls.
Usually a week before Thanksgiving I will email everyone and get them to tell me something they are thankful for and then I print them out on tiny slips of paper to place inside the rolls to bake.
After we are done eating the turkey and stuffing but before we settle in for pumpkin pie and coffee everyone reads the slips of thanks they found in their rolls and then we all guess whose was whose.  It is very fun and a different way to share what you are thankful for.
Not only are the rolls fun but they are a cinch to make, I love that they do not require like 4 hours of rise time like some rolls do, so I am thankful for that lol.
The rolls get a hint of sweetness and color from the sweet potatoes which sets them apart from your average dinner roll.
I hope you make these Sweet Potato Gratitude Rolls for your Thanksgiving dinner, I guarantee they will be a hit!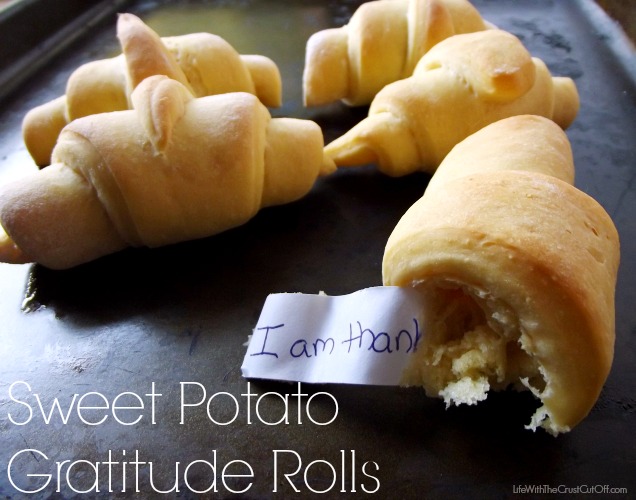 Sweet Potato Gratitude Rolls
Ingredients
4 to 4 1/2 cups all-purpose flour
1/4 cup sugar
1 1/4-ounce package quick rise active dry yeast
1 teaspoon salt
1 cup mashed cooked sweet potatoes
1/4 cup Butter
1 cup milk
1 Egg; slightly beaten
Instructions
Combine 1 1/2 cups flour, 1/4 cup sugar, yeast, and salt in large bowl.
Combine sweet potatoes, 1/4 cup butter and milk in 2-quart saucepan. Cook over medium heat, stirring occasionally, until butter is melted and mixture is very warm. Add to flour mixture. Beat at low speed, scraping bowl often, until moistened. Add egg; beat at medium speed, scraping bowl often, 3 minutes.
Stir in enough remaining flour by hand to make dough easy to handle. Turn dough onto lightly floured surface; knead until smooth and elastic (6 to 9 minutes).
Place dough in greased bowl; turn greased-side up. Cover; let rise in warm place until double in size (about 30 minutes).
Punch down dough; divide dough in half. Roll half of dough on lightly floured surface into 12-inch circle. Brush with 1 tablespoon melted butter. Cut into 12 wedges.
Place one slip of paper with thanks on it on each wedge and roll up each wedge tightly from wide end to point, forming crescent.
Place crescents, point-side down, onto greased baking sheet. Repeat with remaining dough. Cover; let rise until double in size (about 20 minutes).
Heat oven to 375°F. Bake for 10 to 12 minutes or until golden brown. Brush warm rolls with melted butter, if desired.
Check out Dana's post this week yummy Garlic Cheese Muffins!!
Don't forget to check out last weeks posts in our Thanksgiving series!
Linked at: