Watermelon Poke Cupcakes with Kool-Aid Fruit Drink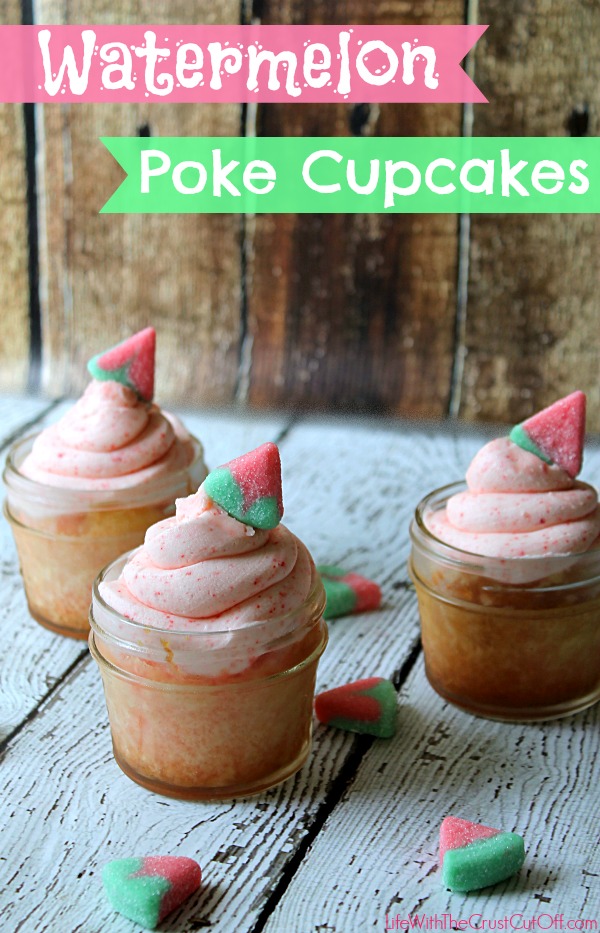 As a kid and even now as an adult there is nothing more nostalgic then opening up the fridge on a scorching summer day and pouring a tall, cold glass of refreshing Kool-Aid to drink.  It hits the spot every time and has a way of just evaporating that sweltering summer heat.
When I was younger my brother and I would love going to the store and picking out our favorite flavor and rushing home to help mom make a big pitcher to accompany our barbecued dinner.  Of course we would also beg my mom to make Kool-Aid popsicles too.  There was nothing better in the summer then getting to make and eat Kool-Aid popsicles.
Now that I am older that doesn't mean I grew out of my love for Kool-Aid.  I still like to ring in the first warm day by stirring up a large pitcher to keep in the fridge.  However this time I decided to skip on the popsicles to make something a little different.
I was doing my weekly grocery shopping at Walmart when I spotted these new 96oz Ready-To-Drink Kool-Aid bottles and I knew I wanted to grab a few to keep on hand for cook-outs and just to quench our thirst for a sweet, cool drink.  I saw the Watermelon flavor and something in my brain clicked and I wanted to make Watermelon Poke Cakes. I mean Kool-Aid and watermelon?  You can't get more summertime than that!  So I also grabbed a single packet Watermelon Kool-Aid to flavor my frosting with and home I went to create this amazing confection.
Poke cakes are a great thing and they also remind me of summer and cookouts and potlucks and I decided to make tiny individual poke cakes filled with gelatin made with the Watermelon Kool-Aid and with a buttercream flavored with the Watermelon Single Serve Packet.  This was my idea and I had no idea if it would work.
It worked and it was amazing!
I could eat the buttercream all by itself, it is that good!  The Kool-Aid gave it a little tart bite that worked perfectly with the sweet cake.  It is the most amazing little cake I have had in a long time and it just embodies the very essence of summer.
This recipe is extremely easy. I just got a white cake mix and mixed it according to box directions and spooned it into 12 tiny mason jars (4 oz size).
Baked them and poked them with a skewers to get some holes in them.
 I mixed the 96oz Ready-To-Drink Watermelon Kool-Aid with unflavored gelatin.
 Poured the gelatin over the little cakes and chill them.
Then whipped up a standard buttercream whipped in the Watermelon Kool-Aid packet and watermelon frosting magic was made!
Then you have amazing delicious Watermelon Poke Cupcakes!
  #CollectiveBias
So not only can you #KoolOff with a cold glass of Kool-Aid you can also create an amazing dessert!  So next time you're shopping at Walmart don't forget to pick some up and create some summer memories!
Did you know …..
Jim Dillard, pro fisherman, could be coming to your local Walmart to help promote the new 96oz bottles! There will be product giveaways, t-shirts, games, and more fun activities!
Friday May 30th 5-7pm:
13675 Highway 43 Russellville, AL WM Supercenter
Saturday May 31st 3-5pm:
3100 Hough Rd Florence, AL WM Supercenter
Saturday May 31st 6-8pm:
517 Avalon Ave Muscle Shoals, AL WM Supercenter
Friday June 20th 5-7pm:
1210 Mineral Wells Ave Paris, TN WM Supercenter
Saturday June 21st 3-5pm:
1225 Paris Rd Murray, KY WM Supercenter
Saturday June 21st 6-8pm:
809 N 12th St Murray, KY WM Supercenter
Friday August 8th 5-7pm:
360 Harbison Blvd Columbia, SC WM Supercenter
Saturday August 9th  3-5pm:
1326 Bush River Rd Columbia, SC WM Supercenter
Saturday August 9th 6-8pm:
2401 Augusta Rd West Columbia, SC WM Supercenter
What is your favorite Kool-Aid flavor?