Minion Lunchtime with Mott's!
This shop has been compensated by Collective Bias, Inc. and its advertiser. All opinions are mine alone. Minions © 2015 Universal Studios. All Rights Reserved. #MottsAndMinions #CollectiveBias
Mott's is a registered trademark of Mott's LLP
Hey mamas!  I know I am not the only one whose kiddos are super excited for the Minions movie coming out in July right?!?  Dean cannot wait, he is obsessed lol!  So the other day while we were shopping at Food Lion we went to grab his favorite Mott's Applesauce and saw the packaging had those adorable little Minions on it!
I had to restrain Dean from filling the cart lol!  They had three new Minion approved flavors that are only available for a limited time (June 1st through July 31st, 2015) at Food Lion like Strawberry BA-NA-NA applesauce pouches which we love because they are perfect for on the go, gluten free and of course are an excellent Source of Vitamin C!
I can't wait to try the Tropical BA-NA-NA applesauce and we are all excited to try to the Tropical BA-NA-NA juice drink which has 40% less sugar than fruit juices, has no artificial sweeteners and 100% daily value of Vitamin C!
Even though I stopped him from clearing the shelf we did end up with quite a bit of applesauce and Mott's juice lol!
I didn't mind though because Food Lion is having an awesome promotion in stores 6/17-6/30…
Buy any (2) two Mott's 64oz or 6-pack Juice products and get a FREE 6-pack of Mott's Applesauce. Score!! We stocked up lol!
I figured since we had so much on hand I would make a Minion inspired lunch perfect for any fan.
I love keeping Mott's Applesauce on hand because they are perfect for a snack or a great side dish with dinner or lunches.  Plus they taste great and what kid doesn't love applesauce especially with the new flavors!
So I set out to make this super easy lunch that I know will go over big time!  It is the perfect lunch for all those summer days the kids are home and a fabulous pre movie lunch!
First up was easy Minion Mini Pizzas!  I just used mini store bought crusts, layered with pizza sauce and cheddar cheese.  A little mozzarella and olives made up the face.
A few minutes in the oven and they were ready!
For a sweet treat on the side I made BA-NA-NA Apple Sauce Muffins.  Super simple to make and so moist thanks to the applesauce.  These make a great breakfast or snack on the go!
They were perfect along side lunch!
Minion Lunchtime with Mott's!
Ingredients
- 1 3/4 cups flour
- 1/4 cup sugar
- 1 tsp baking powder
- 1/2 tsp baking soda
- 1/2 tsp cinnamon
- 1/2 tsp salt
- 2 eggs
- 2 mashed bananas *
- 1/2 cup Mott's applesauce
Instructions
Preheat oven to 350 lightly coat with non-stick cooking spray.
Combine the dry ingredients (flour, sugar, baking powder, baking soda, cinnamon, salt) in a large bowl and mix well.
Mash up your bananas with the eggs and applesauce.
Add in your dry ingredients, one cup at a time, and mix well.
Pour the batter into your muffin tin.
Bake for 15 to 20 minutes.
Let cool and enjoy!
Of course we needed something to wash it all down with and BA-NA-NA Minion Smoothies were a perfect way to enjoy Mott's Juice, yum!
Frozen bananas, Mott's apple juice and a splash of yogurt make the perfect smoothies all little ones love.  You can mix up the flavors by using a different flavor Mott's Juice and really wow their tastebuds!
Of course I served this fabulous lunch with a Mott's applesauce on the side and everyone loved it!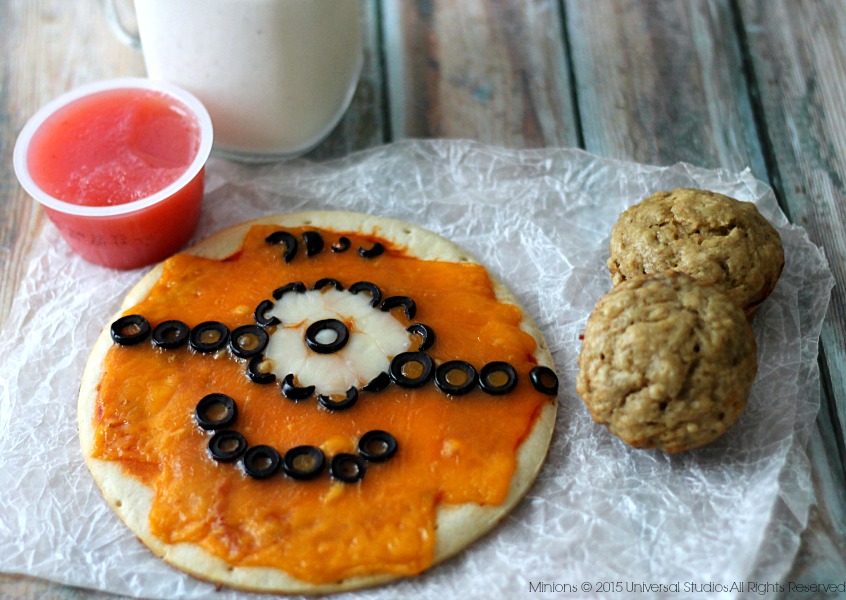 This would be a great lunch to have before checking out the new Minions movie or just any day of the week!  Your kids will love it and it is delicious thanks to all the great Mott's products!
Are your kid's excited for the Minion's this summer?
What Mott's new flavor are you most excited to try from Food Lion?