These Monster Cupcakes are so cute and easy to make it's spooky! Cake mix and an easy buttercream come together to create these creepy treats.
Hey guys!! I am here to bring you another easy spooktacular dessert for Halloween! These Monster Cupcakes are a quick way to bring a little Halloween cheer to your house!
I was in the store the other day and I saw a cookie mix for monster cookies which were brightly colored cookies with candy eyes on them and they were sooo cute! My boys love cupcakes though so I knew I had to get home and recreate those cookies in cupcake form!
You are more than welcome to make these cupcakes from scratch, I however picked up a devil's food cake mix and called it a day! I could have gone with a regular chocolate cake mix but come on it's Halloween that calls for Devil's Food lol!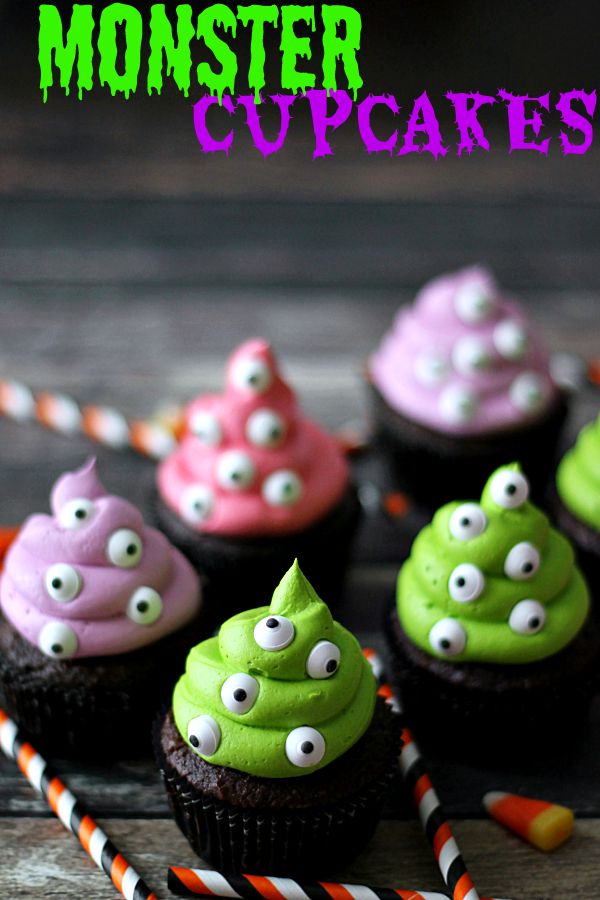 Now I do make my buttercream from scratch, it's light, fluffy, and perfect for these cupcakes!
Monster Cupcakes
Ingredients
3 sticks softened butter
1 pound powdered sugar
1 tsp vanilla extract
Heavy cream or half and half
Food coloring
Candy Eyes
Devil's Food Mix
Instructions
Make and bake the cupcakes according to box directions.
In a stand mixer whip the butter and powdered sugar together.
Add in the vanilla extract.
Add in your cream 1 tbs at a time until the buttercream is the consistency you like.
Separate the buttercream into 4 bowls and color each one a different color.
Pipe onto cupcakes.
Add candy eyes.
Serve and enjoy!
After whipping up the frosting I separated it into 4 bowls and dyed each one a bright color. Then I transferred each color frosting into a ziploc bag and cut a little corner off.
I piped the frosting high onto each cupcake and then decorated with some candy eyes. That was it! Everyone loved these cupcakes! Not only do they taste amazing but they are such a quick dessert to make for a Halloween party at school or before trick or treating or just to spook up dinner one night.
I love desserts like this that the kids can help with. They can pipe on the icing since it doesn't have to be perfect and they will love putting all the eyes on!
So take a few minutes and whip up these cupcakes for a creepy treat!!
Don't forget to stop by Dana's and make her Spooky Spider Cupcakes!