Quick Salsa Chicken Bowls
Post sponsored by Mirum Shopper but all opinions are my own.
Visit the Fresh Cravings website and Facebook!
Hey guys!!  So the holidays are over boo!!  But that means now comes all the big game parties!  While I am not a fan of football I am a fan of football parties because game parties have the BEST food!
So while I may not be rooting for one team or the other I am definitely up for hosting get togethers to watch the game.
As much as I love the food and the party I always want to get in and out of the kitchen as fast as possible so I can enjoy being with my friends (and of course eating lol)
My favorite place to shop for all my big game party needs is Walmart.  They have everything I need and the prices I love!
While there I found my new favorite thing for all my parties new Fresh Cravings Restaurant Style salsa!
It is only sold exclusively at Walmart and is chilled in the produce section so you know that is fresh!
Fresh Cravings Salsa is made in California right next to their farming partners fields to ensure absolute freshness.  They use fresh tomatoes in their recipe, not cooked like the other guys.  
Fresh Cravings Salsa is small batch handcrafted recipe which makes it extra delicious!
I love that it is chilled in the produce section so I know it is fresh, not like those salsas sitting on shelves for who knows how long.  But get this!  Fresh Cravings Salsa is actually priced below the leading cooked salsa brand.  So you get fresh, home made tasting salsa for less than those jarred ones!
I always make sure to stock up when the game time rolls around because this salas is amazing on everything!!  It is of course delicious just by itself on some crispy tortilla chips, or on top of tacos and the game day classic nachos but today I am going to show you how to make the easiest game day snack that will showcase this amazing salsa perfectly!
These Quick Salsa Chicken Bowls are so easy and full of flavor and take no time at all to make!  Plus they get topped with that awesome Fresh Cravings Salsa that will have all your guests raving!
You just start with some leftover chicken or rotisserie chicken and mix it with some corn and black beans and pepperjack cheese.  Then this gets topped with a little sour cream and as much Fresh Cravings Salsa as you want (a ton personally!)
Quick Salsa Chicken Bowls
Ingredients
Mini soft tortilla bowls
2 cups chopped or shredded cooked chicken
1 cup pepperjack cheese
1 small can corn and black bean mix
Sour cream
Fresh Cravings Salsa
Instructions
Mix the chicken, veggies and cheese and place in tortilla bowls
Top with sour cream and as much Fresh Cravings Salsa as you want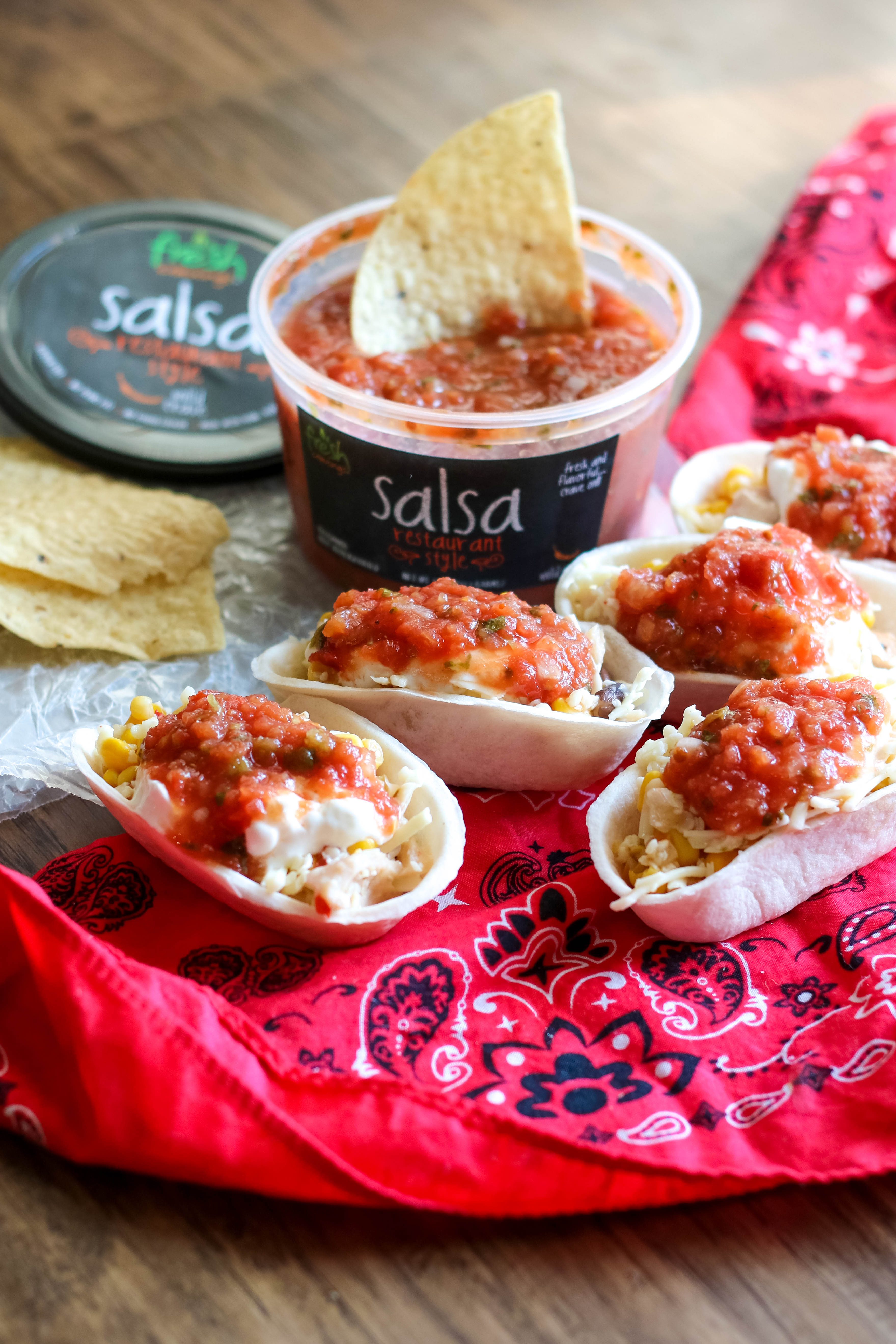 You can set these out on the big game day and I guarantee they will be flying off the plate!
So this game season head to Walmart and stock up on Fresh Cravings Salsa the freshest salsa around!
Hey want to learn more? Visit the Fresh Cravings website and Facebook!