Easy Salsa Chicken Quesadillas!
This shop has been compensated by Collective Bias, Inc. and its advertiser. All opinions are mine alone. #CampbellsShortcutMeals #CollectiveBias
Hey guys!! I know you are right in the middle of enjoying summer, laying back soaking up the sun, having fun in the pool, or if you're like most moms counting down the days to back to school, lol!
I love back to school time, I love heading to Walmart and picking out school supplies and getting everything organized, maybe I'm a bit weird, lol!
I also like to prepare for back to school by getting ahead of our new busy schedule and stocking the freezer, filling up the pantry with snacks, and planning some quick meals for when the days catch up with us.
I have picky eaters; there is no getting around it.
However, I have one trick, they will eat anything if I put it in a tortilla. Tortillas are magic, I swear!
So while I was stocking up on plenty of back to school food at Walmart I picked up some staples and go-tos like Swanson® Premium Chicken and Pace®.
I love keeping Swanson® Premium Chicken on hand because all I have to do is open a can and I can make a million different things. It is so versatile and saves me a ton of time.
Of course our pantry would never be complete without plenty of Pace®, full of handpicked vegetables and great southwest flavor. It goes beyond just chip dipping. We use it to top tacos and nachos and Taco Tuesday, it adds a great pop of flavor to chili and goes fabulously in these Salsa Chicken Quesadillas.
These are so simple to make, they are my favorite dinner to make when the day has been crazy and I have minutes to get dinner on the table and the kids are starving and homework still has to be done.
All you do is mix Swanson® Premium Chicken with a little Pace®.
In a buttered skillet place down a tortilla with some shredded cheese, top with the chicken mixture and then more cheese and the top tortilla.
Once one side is brown, flip, brown and serve!!
Easy Salsa Chicken Quesadillas!
Easy Salsa Chicken Quesadillas! Author: Parrish
Ingredients
8 to rtillas
1 can Swanson® Premium Chicken
4 tablespoons Pace®
2 cups shredded colby jack cheese
Instructions
Mix the chicken with the salsa.
In a non-stick skillet over medium high spray a little non-stick spray or coat with butter
Place down a tortilla and top with 1/4 cup cheese, then a quarter of the chicken mixture.
Top with another 1/4 cup cheese and another tortilla.
Flip once first side is brown.
When second side is brown remove from pan and cut into 4ths.
Serve!
Now if you don't have picky eaters this is a very easy meal to build on. You can add corn and black beans to the chicken or use pepper jack cheese for a kick. The possibilities are endless. But for my boys they like them simple.
These are one of their favorite dinners and I can always count on them and know they I can get something my boys will eat on the table in minutes.
I love giving my boys V8 Splash® with their dinner, especially the Watermelon Cherry, they love it! It is the perfect refreshing drink for these summer nights. They love the fruity flavors, I love that it's packed with nutrients and vitamins like A and C and made with real fruit and vegetables.
Want to stock your pantry with these Campbell Soup Company product  ingredients? Hover over the photo to click through to Walmart.com and purchase them!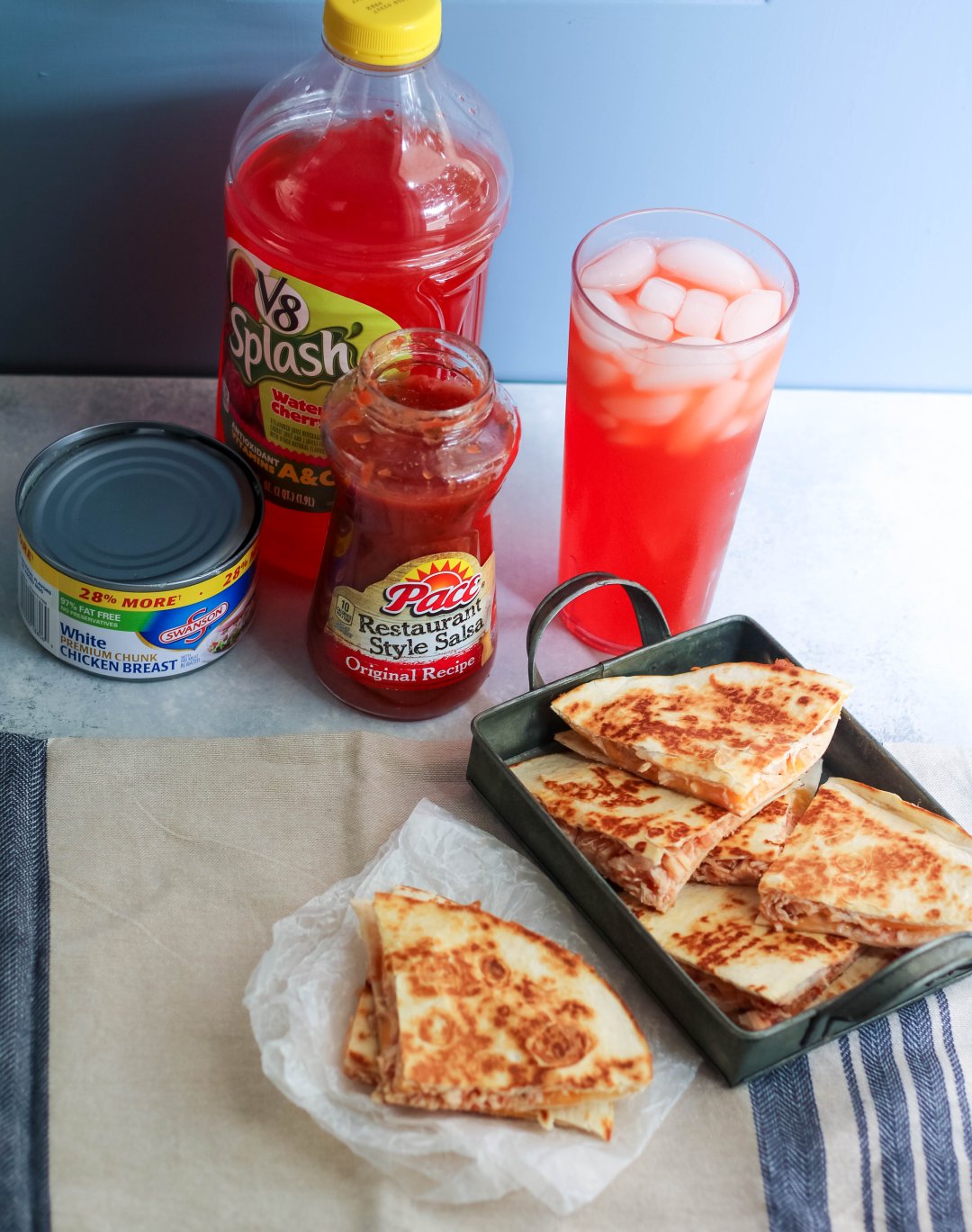 So get ready for back to school, it will be here before you know it. Head to Walmart and stock your pantry with these staples and easy, delicious kid friendly, picky eater approved!