Pumpkin Spice Glazed Cake Bites
These Pumpkin Cake Bites are perfect for Fall and so delicious!
Pumpkin Spiced Glazed Cake Bites; Sweet little bites of spice cake glazed with an amazing Pumpkin Spice Glaze, perfect for fall!
Hey!! It's Fall Ya'll!! I look forward to Fall all year long! I am not a summer girl, you can keep all the sweaty days and buggy nights. I count down the days till I can wear boots and sweaters. I dream all night of pumpkin spice and soups. Plus I mean the only thing better than Fall is Christmas and Fall is beginning of the Christmas Countdown. Oh and we can't forget Thanksgiving, like one of my favorite holidays!! So basically everything I love starts to happen in the fall.
My birthday is August 31st and I celebrate it by putting up all my fall decor the next day and baking pumpkin stuff, allllll the pumpkins stuffs like my No Bake Pumpkin Cheesecakes, Pumpkin Spice Tiramisu, and Pumpkin Gingerbread Trifles, yum!
Which brings me to today's recipe, Pumpkin Spice Glazed Cake Bites. This recipe is amazing!! I love it! It is one of my favorite recipes, that I make because it is so full of Fall flavor but soooo easy!!
Somedays I feel like spending all day in the kitchen creating amazing baked goods that take hours to prepare perfectly, and some days I just want to bake things that taste like they took forever lol.
That is why I turn to boxed cake mix for these little bites of heaven. You can use either a pumpkin cake mix or a spice cake mix. I used a spice cake mix in my recipe because spice cake is my jam!
You just whip up that cake batter according to the box directions and spoon it into greased mini muffin tins.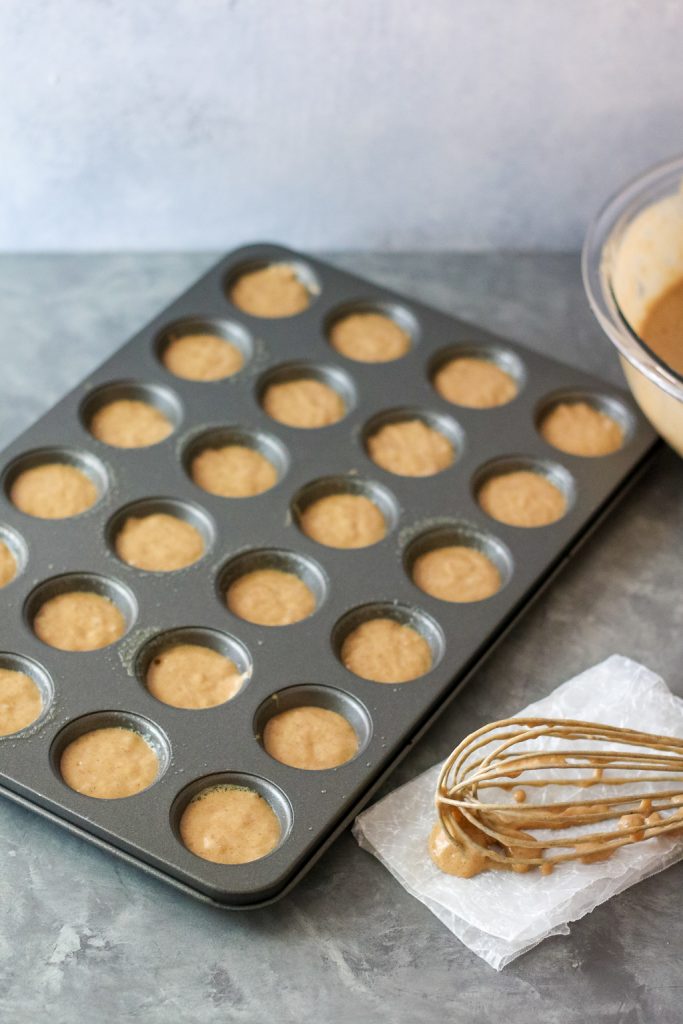 After they come out the oven they take a bath in a some seriously delicious glaze!
The best part about these tiny cakes is that glaze keeps them super moist and fluffy for a long time!
Plus they are just adorable! You can make a ton of these really easy and package them up for friends. Or you could just eat them at night in bed while binging Netflix like I do.
So next time you are in the Fall baking mood or maybe you just want your house to smell heavenly with the scent of spice cake, or maybe if you just want to taste Fall in one little sweet bites try my Pumpkin Spice Glazed Cake Bites!
I don't have pumpkin spice, help!!
Easy peasy, you can just make your own! You just need a little cinnamon, clove and nutmeg!
My glaze is too runny!
You might need to add a little more powdered sugar or let it sit for a little to thicken up.
My glaze is too thick!!
Add a tiny bit of water at a time until it is a better consistency.
My cakes bites are falling apart in glaze!
You could be handling them too much in the glaze, so make sure your glass is in a deeper cup or bowl so you can dip easily without having to flip.
Pin It to save for later!
What I used to make these…
Want even more Pumpkin Spice goodness?!? Click below
Glazed Pumpkin Spice Cake Bites
Pumpkin Spiced Glazed Cake Bites; Sweet little bites of spice cake glazed with an amazing Pumpkin Spice Glaze, perfect for fall!
Ingredients
Water, eggs and oil according to cake box instructions
8 cups powdered sugar
1/2 cup water
1/2 cup corn syrup
1 teaspoon pumpkin spice
Instructions
Heat oven to 375°F. Lightly grease 50 mini muffin cups. (you can make in 2 batches if you only have one pan)
In large bowl, beat cake ingredients with electric mixer on low speed 30 seconds, then on medium speed 2 minutes, scraping bowl occasionally.
Divide batter evenly among muffin cups (about half full).
Bake 10 to 13 minutes or until toothpick inserted in center comes out clean. Cool 5 minutes. Remove cakes from muffin cups to cooling rack. Cool completely, about 30 minutes.
Place cooling rack on cookie sheet or waxed paper to catch glaze drips.
In 3-quart saucepan, mix all glaze ingredients. Heat over low heat, stirring frequently, until sugar is dissolved. Remove from heat.
Dip a cake into glaze and remove gently with a fork, place top side is down on cooling rack. Top with sprinkles immediately. Repeat till all cakes are coated. Let stand until glaze is set, about 15 minutes.
Store loosely covered.