This is a sponsored conversation written by me on behalf of Van's Foods. The opinions and text are all mine.
Hey y'all!!!  It is summer and that means entertaining!  It seems like every weekend in the summer we have a party to host or attend, a BBQ or cookout to go to, a pool party or birthday party to celebrate.  So that means I am always on the lookout for new delicious snacks to take to these events.
Something about the summer just calls for easy dips and appetizers around the pool or out on picnic tables while we wait for hamburgers to get done grilling.  I love to find easy snacks that I know will please the crowd and have them coming back for more.
Also I like for those recipes to be easy.  When it is sweltering outside I do not want to spend a lot of time in the kitchen with the oven or stove on, no thank you!  I would rather whip up something quick and easy that I don't have to turn on the oven for.  That is why I love this Pizza Dip so much!!  I have seen so many variations of it and it is great because you can customize it just like you would your pizza.
Now of course when you have a delicious dip you are going to want something fabulous to dip in it and that is where these new Van's Simply Delicious® Gluten Free Whole Grain Crackers come in.  I spotted these the other day while I was at Target (my fav store ever!) and grabbed a box to serve along this dip.  They have a great variety like their Perfect 10 cracker, Fire Roasted Veggie Cracker, Say Cheese Cracker and their Lot's Of Everything Cracker.  They all looked so delicious!
These crackers are different from your usual cracker because they are Gluten-Free and Whole Grain which makes them super yummy!  They are also made with fresh, simple ingredients so you know you are getting a delicious and high quality snack!!
I chose the Lot's Of Everything Cracker for this pizza dip because I knew all the flavor would go perfectly with that dip.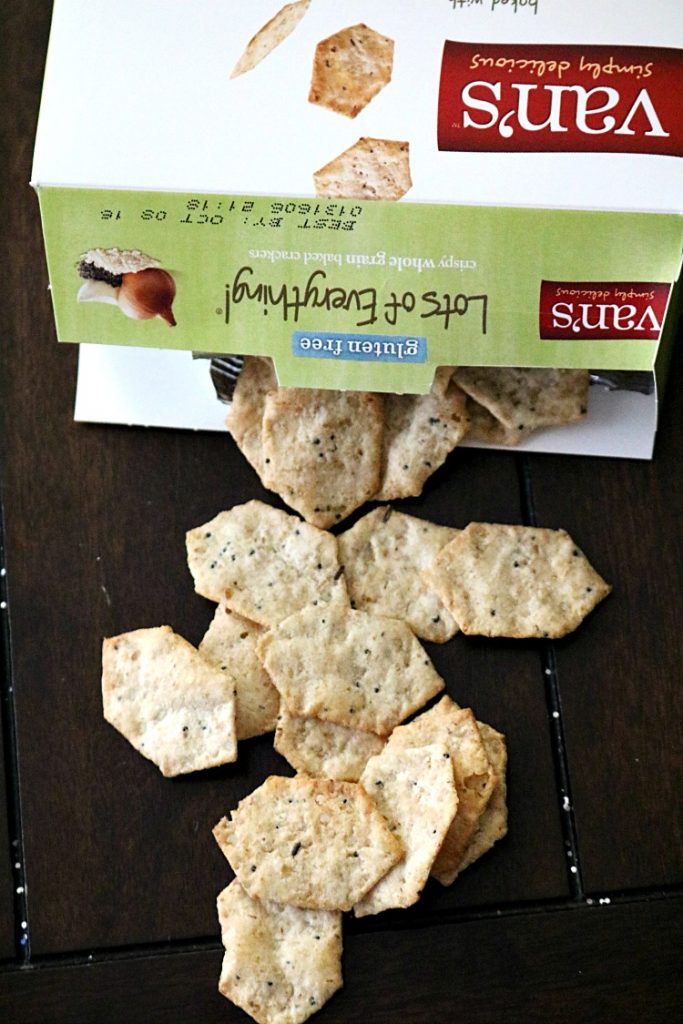 So here is how you make this super simple dip (really it's so easy it's practically not even a recipe lol)
Just spread some softened cream cheese down the bottom of a glass dish.
Top with your favorite pizza sauce (or leftover spaghetti sauce).
Top with cheese.
Top with pepperoni or whatever you prefer to top your pizza with.
Microwave in 1 minute increments until bubbly and melted.
Serve with those delicious Van's Simply Delicious®" Gluten Free Whole Grain Lot's of Everything Crackers.
Pizza Dip
Ingredients
8 ounces cream cheese softened
1 cup pizza sauce
1 cup mozzarella cheese
Pizza toppings like pepperoni
Instructions
Spread the cream cheese down the bottom of a glass pie pan or square dish
Next top with the sauce, then the cheese, then the toppings.
Microwave in 1 minute increments until heated through and melted!
Serve with crackers!
This is such a great appetizer because everyone goes crazy for it and you can assemble it beforehand and just microwave it once you get to the party, or make it the night before and save yourself some time when your hosting a get together.
Just don't forget to pick up some Van's Simply Delicious®" Gluten Free Whole Grain Crackers next time you are at Target.  They are so good on their own, with a dip or a topper.  Try topping them with some flavored cream cheese and a cucumber for a super delicious quick snack and one of my favorite ways to eat these crackers!
So stock up when you are shopping at Target because right now you can get 30% off Van's Simply Delicious®" Foods Gluten Free, Whole Grain Crackers at Target!