Parmesan Peppercorn Pork Sliders
Sponsored post written by me on behalf of Smithfield® Marinated Pork.
Hey guys!!!  I am so happy!  It is officially fall!!  Fall is my favorite season!  To me fall means warm comforting meals, but that doesn't mean those dinners have to take long!  Pork seems like such a fall meal- it is great all year round but, it seems to be just the perfect dinner for a chilly fall night.
Being born and raised and still living in Virginia, I know the best pork comes from Smithfield.  They are my go to brand for all my pork recipes, and there is a good reason, it is the best.  I always pick up my Smithfield Marinated Pork when I'm grocery shopping at Food Lion, where I shop every week, because they have such a great selection!
I have grown up eating and cooking pork so I am super comfortable with it in the kitchen.  I know that pork can be intimidating to cook and that is why Smithfield has made it so easy with their already marinated pork loins, filets, tenderloins and sirloins.  All the guess work is taken out, all you do is pick your flavor, open the package and bake!  It's a one-step meal!!
They have such fabulous flavors like Portobello Mushroom and Garlic and Herb – you can have a different flavor every night of the week!  They make the perfect easy weeknight meal, just open and bake!  Just slice it up and serve with some mashed potatoes, rice or stuffing and you have a meal in no time with little work!
But for an easy, quick, flavorful dinner on a weeknight I love to make these Parmesan Peppercorn Pork Sliders.
On these busy school nights where we are trying to fall back into routine I need fast meals, comforting meals, and meals that will please everyone and takes no time to prepare.
Sliders are always popular and quick!
I just slice up some delicious Garlic & Herb Pork Sirloin from Smithfield and cook it up really quickly in my trusty cast iron skillet.
While they are cooking, I make this amazing sauce with mayonnaise, fresh cracked pepper and Parmesan cheese.
This sauce gets slathered on the mini buns then topped with slices of the flavorful pork and slices of melty, ooey, gooey mozzarella.
A little melted butter, garlic salt and more Parmesan top these beauties before they head for the oven just long enough to melt the cheese.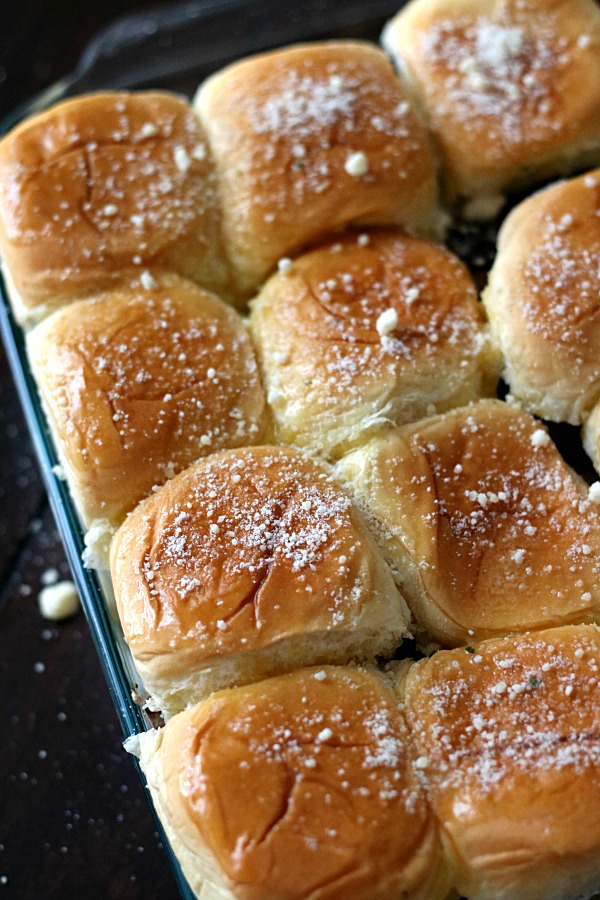 Parmesan Peppercorn Pork Sliders
Parmesan Peppercorn Pork Sliders Author: Parrish
Ingredients
Smithfield Garlic & Herb Pork Loin
12 count little dinner rolls, butter or Hawaiian
1/4 cup mayo
1 1/2 tablespoon grated Parmesan cheese
2 cups shredded mozzarella or 1 lb. fresh mozzarella
1 teaspoon cracked black pepper
Half stick butter
1 teaspoon garlic salt
Extra grated Parmesan cheese for sprinkling
Instructions
Slice at least 12 rounds from your pork loin
Brown them off in a skillet till cooked through
Slice buns in half and place bottoms in pan
Mix the mayo, pepper and 1 1/2 tablespoon Parmesan
Place mozzarella on bottom buns
Place a medallion of pork on each bun and top with more mozzarella.
Spread remaining sauce over top.
Place top buns on top.
Melt the butter and add the garlic salt and brush the tops of the buns.
Sprinkle with extra grated Parmesan.
Place in preheated 350 degree oven for 20 minutes.
Serve!
These are delicious with a side salad or roasted veggies and are the perfect quick fix when everyone can't stop asking "What's for dinner?"
I love having dinners like this one in my arsenal – just because dinner is quick doesn't mean it's not absolutely lip smacking delicious!
So head to Food Lion and stock up on Smithfield Marinated Fresh Pork and you will never be more than 30 minutes away from a comforting family dinner!
And for even more delicious recipes head over to Smithfield and get #RealFlavorRealFast!