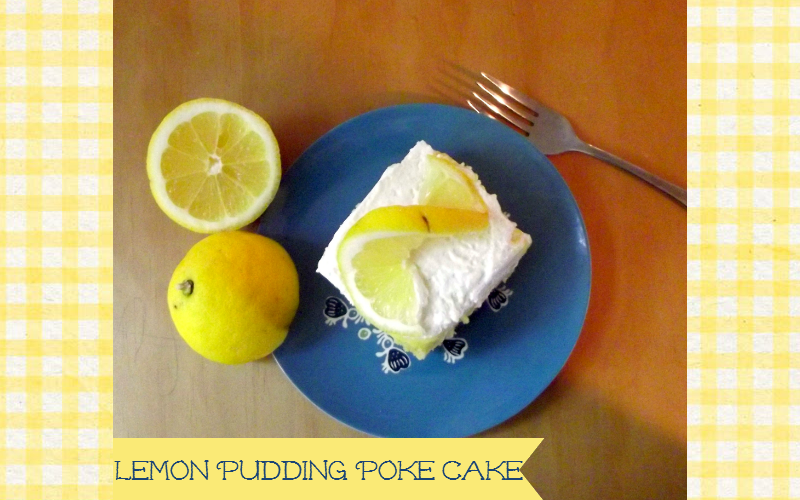 I of course stumbled upon poke cakes on Pinterest and I finally decided to make one and now I must confess, I am addicted to making pudding poke cakes, the combinations are endless and I am going to share all the combos I make here with you guys!!  Starting with this Lemon Pudding Poke Cake, which is absolutely refreshing in this heat.  These poke cakes are so easy to make, require very little ingredients, very little time and they have a huge flavor payoff.
The pudding poke cake is pretty much the same as a jello poke cake (which are also awesome!) in that you choose a cake mix, choose your pudding and voila poke cake magic!!
When I made this lemon one I had such a hard time staying out of the fridge sneaking bites!!  The whole cake was gone after sharing it at my grandparent's house for Sunday dinner.  Everyone loved it!!!!  You could easily decorate it with strawberries or blueberries to add a little color and bump up the fruit flavor.
This cake is perfect for potlucks, barbecues or get togethers too since it travels so well.
I cannot wait to mix and match all the flavors and share them with you guys and I am open to any flavor suggestions and combos.  I'm thinking strawberry for the next one?
But up first is the lemon one and it is utterly delicious!!!!
Lemon Pudding Poke Cake
Ingredients
One yellow box cake mix (prepared as directed on box)
2 boxes lemon pudding (prepared as directed on box)
1 container whipped topping (cool whip)
Directions
Prepare cake mix and pour into 9×13 Pyrex dish
Bake as directed.
Using end of fork or mixing spoon poke numerous holes all over cake.
Prepare pudding
Pour all over cake.
Spread pudding evenly across cake.
Cool in refrigerator.
Top with whipped topping and serve.
Refrigerate leftovers.
Linked up at: