Jalapeno Chicken and Rice Casserole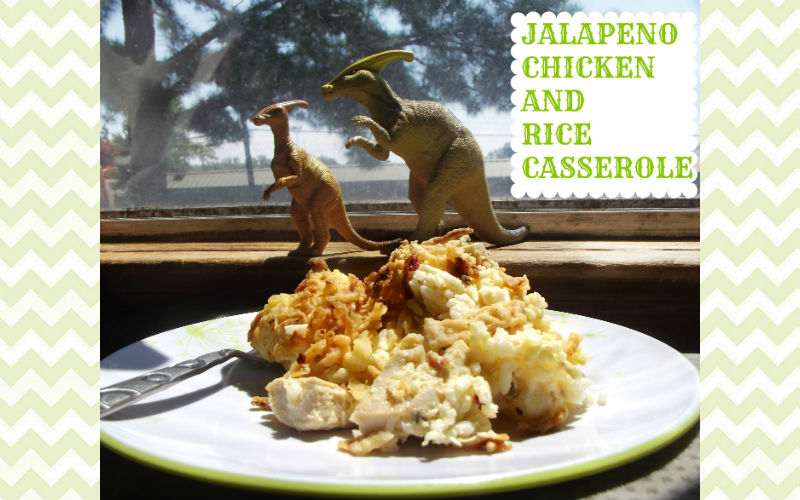 Ahem…excuse Dean's dinosaurs, they think photo bombing is a riot and having dinos photo bombing my pictures comes with the territory of a having a little boy so I don't mind :)
It is getting chilly out and I always turn to warm comforting foods most of which are heavy in carbs and cheese, but that is what makes them soo yummy!  This dish is creamy, hearty and has a little kick to it and always hits the spot.
This dish is one my family loves. My whole family extended and all have been making this dish since we discovered it years and years ago and it still makes a monthly appearance and at all my family's dinner tables.  The best part is you can make this in the crockpot, you can make it ahead and freeze it, you can make it earlier in the week and warm it up later, it is easy going like that.  The other great thing about this dish is, you can leave out the chicken and have a great cheesy side dish for tacos or grilled chicken, or you can leave out the rice and it makes a great dip for tortilla chips so this meal is beyond versatile.  If you are not keen on spicy food you can swap it out for cheddar easy peasy.
Next time you need a warm filling meal to fight these cold autumn evenings or a new side dish to spice up the table or even a quick appetizer that everyone will devour this is the recipe for you!
P.S. Dinosaurs love it too!
Jalapeno Chicken and Rice Casserole
4 boneless skinless chicken breasts boiled or roasted and cubed
1 block of jalapeno monterey jack cheese (pepperjack) shredded
Can of cream of chicken
8 oz sour cream
1 small can diced green chiles
Fried onions (you know the kind in a can you put on green bean casserole)
Splash of milk (not always needed)
2 cups uncooked rice, cooked
For Casserole Version:
Mix soup, sour cream, chiles and chees together, add in chicken and rice, (add splash of milk if too thick) pop into casserole dish and bake till bubby and warm through.  Top with fried onions and serve.
You can also put the whole shebang in a crockpot on low until you are ready to eat.
You can also pop the casserole (sans onions) in the freezer for a quick meal one busy night.
For Side Dish Version:
Everything above applies just omit chicken.
For Dip Version:
Omit rice and chicken and serve with tortilla chips.
Linked at:
A Southern Fairytale
Buns In My Oven