Spicy Turkey Cheese Pinwheels
Its almost Christmas!!!  My favorite holiday!  I love all the excitement leading up to it which is why I always get an early start!  Yup I am putting my tree up next weekend!  Why? Because I can lol! Christmas is over with in the blink of an eye so why not get a jump on it and have longer to enjoy that magical season.  
Of course now that Halloween is over and Thanksgiving menus are probably already planned time to start planning those Christmas menus.
Dana from This Silly Girl's Life and I have teamed up again to bring you our Christmas Series.  A full month of recipes to help you plan the perfect Christmas dinner. 
This week we are starting with appetizer and my Spicy Turkey Cheese Pinwheels are the perfect Christmas appetizer.  I arranged them into the shape of Christmas tree before baking which was really easy but you could also do it in a wreath shape and put some ranch in the middle for dipping. 
Now don't let the word spicy in the title scare you of, that refers to the pepperjack cheese I used but feel free to swap the pepperjack out for any other shredded cheese.  Cheddar would be amazing and I have made them many times with swiss and they come out just as delicious. 
These Spicy Turkey Cheese Pinwheels are simple to make and are a hit everywhere I take them.  Make them for your next holiday get together and watch your family and friends devour them! 
Spicy Turkey Cheese Pinwheels
Ingredients
2 cans of refrigerated Pillsbury crescent rolls
Half pound of deli turkey chopped
8 oz block of pepper jack cheese grated, you can substitute any shredded cheese
4-6 scallions chopped
chopped scallions and red bell pepper for garnish optional
Instructions
Heat oven to 350°F
Mix the chopped turkey, shredded pepperjack and chopped scallions together in a bowl.
Unroll dough; separate into 2 long rectangles. Press each into rectangle, firmly pressing perforations to seal.
Place a small amount of the mixture on each rectangle covering the whole surface except for the edges, you want to leave a seam to help with sealing the rolls up.
Roll up each rectangle into a log, sealing them at the seam.
Slice the log and place the slices in a Christmas tree pattern on a lightly greased cookie sheet.
Bake 12 to 17 minutes or until edges are golden brown.
Let cool slightly and carefully transfer to a serving platter. ( if it breaks apart you can put it back together like a puzzle and no one will know lol.)
Serve with ranch or honey mustard for dipping.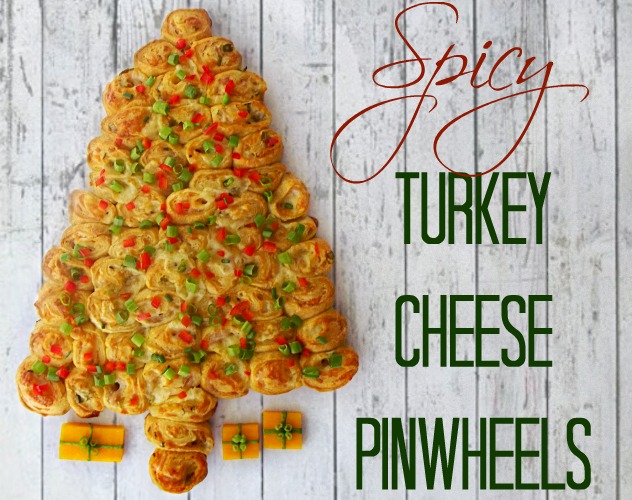 Want even more Christmas appetizer deliciousness? Head on over to Dana's and check out her Cheesy Pigs in a Blanket with Honey Mustard
 Don't forget to check out our Thanksgiving Series for more recipes!!