Haunted Pirates Treasure Chest Of Candy
This shop has been compensated by Collective Bias, Inc. and its advertiser, MARS Incorporated. All opinions are mine alone. #SpookySavings #BOOItForward #CollectiveBias
Hey y'all!!  It is almost Halloween!!!  I love Halloween so much, I don't know why, maybe it's because I truly love candy lol.  So of course I love trick or treating.  There is just something so magical about walking around as the sun is setting and the chilly breeze of fall scatter pretty red and orange leaves around the feet of little ghosts and goblins.  I loved trick or treating when I was younger just as much as I do today.  I would never peek at what was put in my plastic pumpkin, always waiting to get to my grandparent's house to sit on her floor and dump out that heavy bucket and slowly go through my Halloween Haul, always carefully sorting out those weird peanut butter chewy things no one liked lol.  The adults would be at the dining room table eating steaming bowls of vegetable soup my grandma kept simmering on the stove while we were out collecting candy.
Now that I am adult, I still love trick or treating, though now I sit at the adult table eating soup while my sons go through their goodies, tossing me a candy they don't want here and there.
But just because I am a grownup doesn't mean I don't want a little Halloween treat here and there for myself lol.  I know, I know I can go and buy my own candy now but it's just not the same.
It got me thinking I bet I'm not the only parent wishing they had their own Halloween candy instead of the licorice jelly beans and coconut candies our kid's don't want.
I was shopping at Sam's Club the other day, my favorite place to be, grabbing one of their amazing rotisserie chickens for dinner (seriously we eat them once or twice a week, soo delicious!) and I spotted their Halloween display, huge bags of Halloween treats and I got the idea to create a Halloween gift for the guys at my husband's work.
He is a milkman and they work overnight, and I like to get them treats here and there to make their nights easier, and give them a little sweet treat on those long nights.
I had heard about BOO It Forward and always meant to do it but never did.  It is super fun!  Basically, you get some Halloween candy and create a super fun basket and give it to friend or neighbor or in a bigger case like this one a workplace!
Since Sam's Club had such great prices on their bulk MARS® and Wrigley products I was able to create this awesomely spooky pirate chest for the guys at my husband's work.
I picked up MARS® Bat Bag 450ct and MARS® Mad Scientist 290ct which were full of all of our favorites like Starburst®, M&M'S® and MILKY WAY®, yum!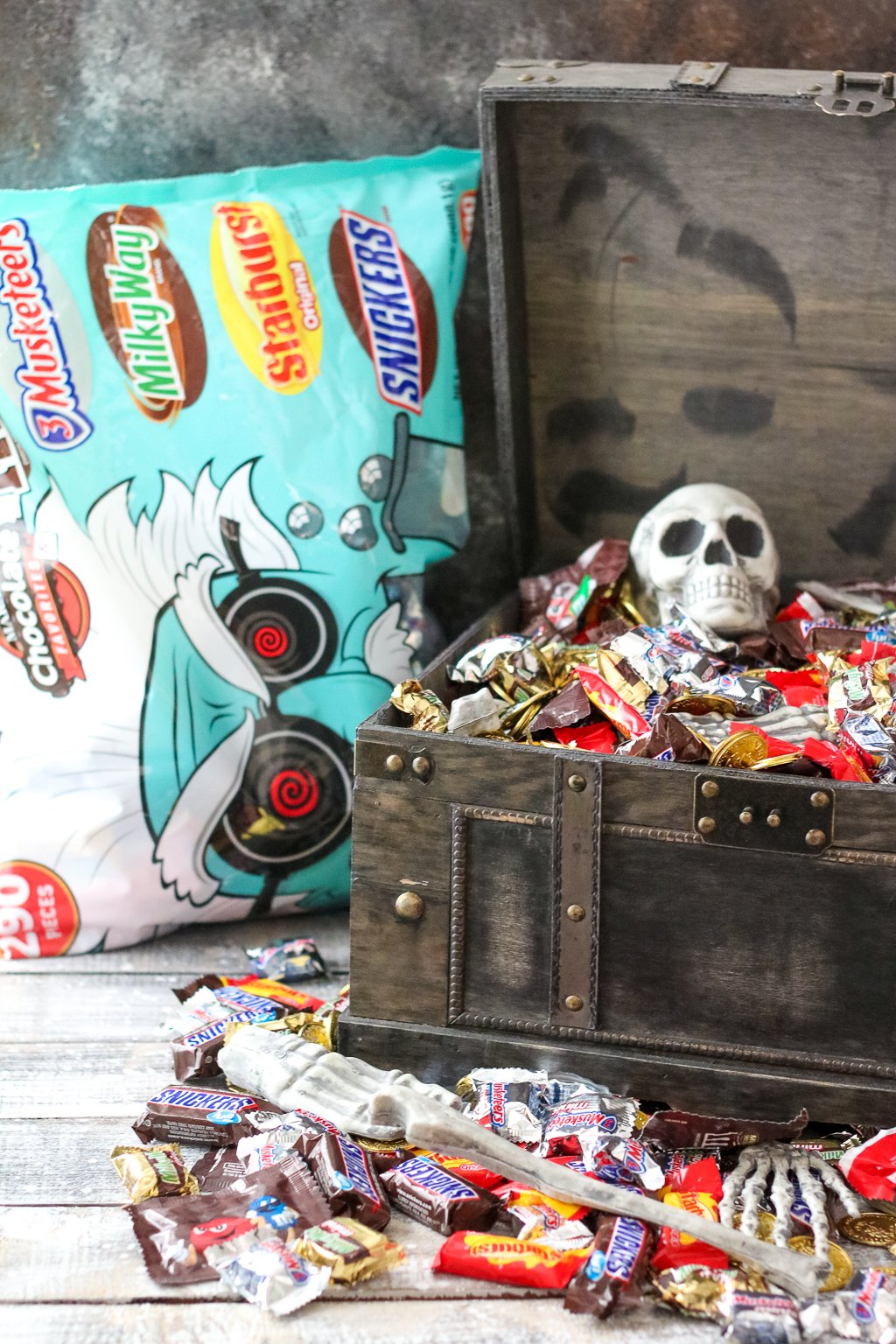 Ready to shop for some BOOtastic candy? Hover over the photo to click through to SamsClub.com to purchase!
Now I am a busy mama, so I think one of the reasons I haven't done this before was because it looked like too much work to put together some of the amazing BOO Baskets I've seen and I just never have a ton of time.
Well I am here to show you that you can get to BOO'ing without a whole lot of time.  This is a simple BOO kit, but I love it!
First I got a "treasure chest" which is basically any kind of trunk or chest you have lying around, you can even get cheapie plastic ones of the internet.  Then I filled it with all that awesome candy I got at Sam's Club.  They have 2 specially marked Halloween Designed Bags so you can buy in bulk and save!
Next I sprinkled in some plastic gold coins, and finished the whole thing with skelton bones and skulls, remnants of the treasure's original owner, ohhhhh spoooooky lol.
And that is all, so simple anyone can whip one up in minutes.  You don't have to be super crafty or take a lot of time to create a BOO kit that everyone will love.
I think it looked so great I made one for my house so anyone that comes by can just grab some candy.
The guys at my husband's work loved it!! I took little Halloween bags to go with the chest and they filled up their little bags of candy to take on their routes for the night and you could just see how much they appreciated it and how it took them all back to a time when they were kid's knocking on doors shouting Trick Or Treat.  The sight of all these grown men laughing and walking to their trucks with their Halloween bags full of candy made me feel so happy!
I enjoyed BOO'ing it forward so much that the next weekend I made another to take to my mom at her work at the pediatric's office and all the nurses and doctors went crazy for it!
So this fall get in the Halloween Spirit and BOO it Forward, and save money while doing it by getting all your Halloween candy at Sam's Club.   Don't forget to pick up a bag or two for your trick or treaters Halloween night!!