This shop has been compensated by Collective Bias, Inc. and its advertiser. All opinions are mine alone. #MakeGameTimeSaucy #CollectiveBias
A delicious quick Chicken Queso Soup is full of cheesy flavor and easy to make.
Hey guys!! You will never guess what I spotted at Walmart this weekend? Pace® Salsa Verde!!  I am so excited to cook with this!!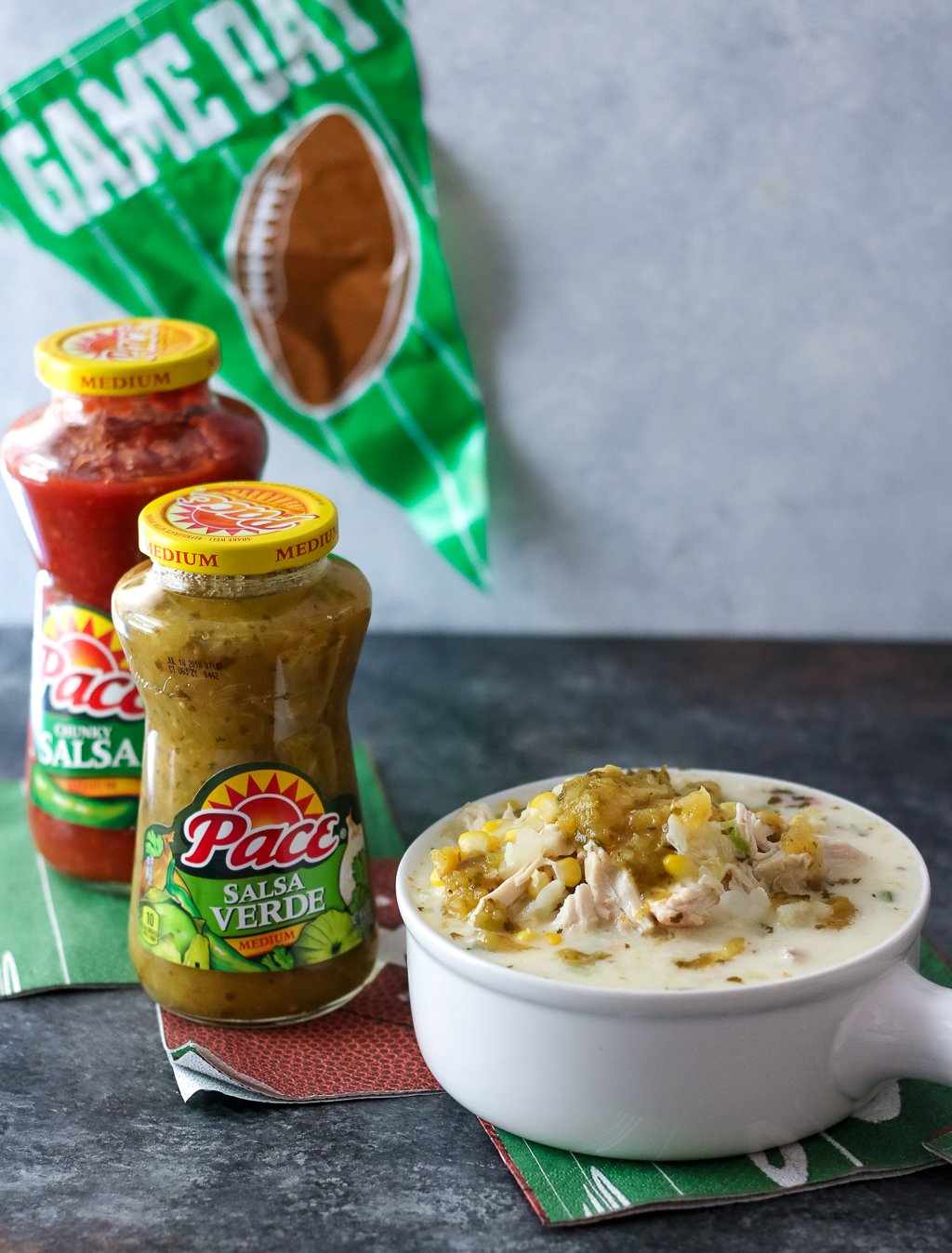 Ready to shop for delicious Pace® products? Hover over the photo to click through to Walmart.com and purchase them!
So fall is so close I can smell it, and I can't wait!!  That means there are going to be tons of Game Day get togethers.  Now I am not the biggest sports fan but I am a fan of all that great food that comes with sports parties.  They seriously have the best food!!  I always like to serve something new or different at each party which is why I was so excited when I found 24 oz. Pace® Salsa Verde at Walmart.
You can get your Pace® Salsa Verde right with your other Pace® products at Walmart.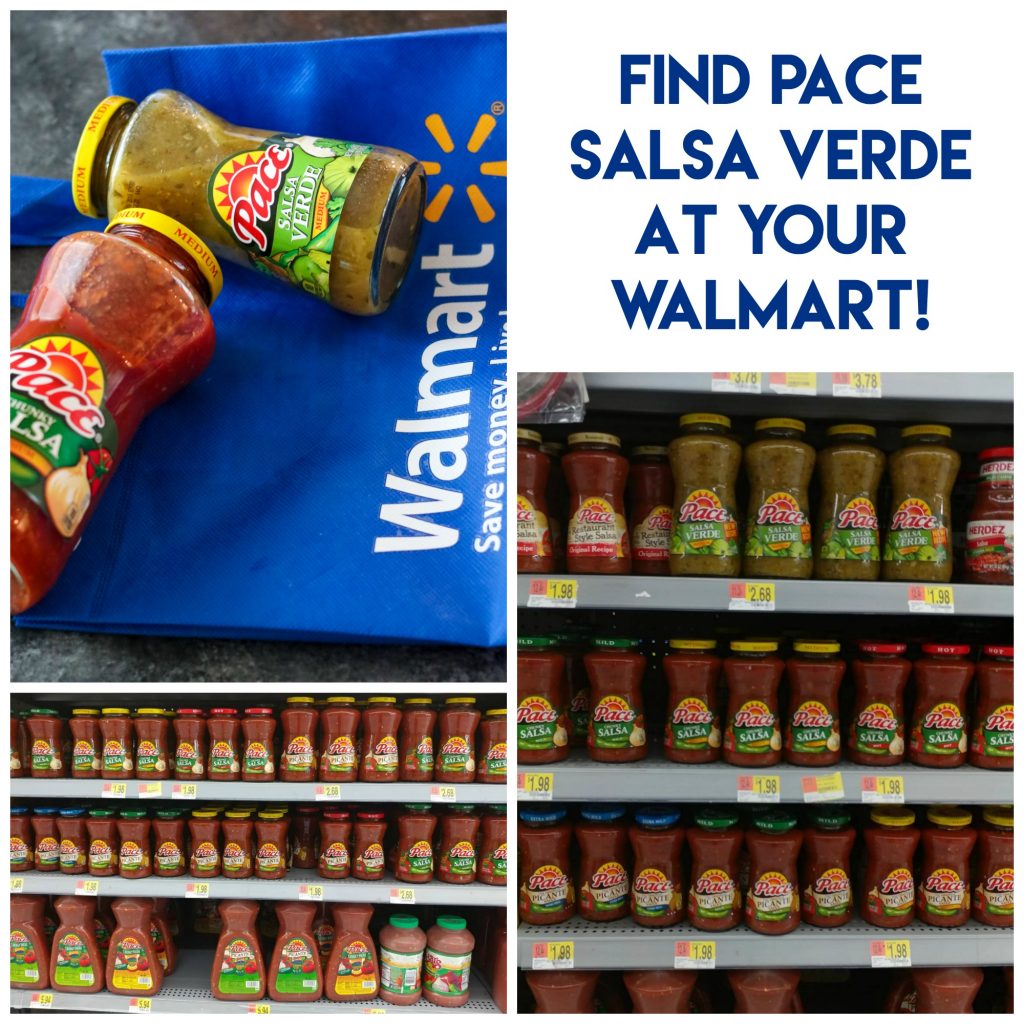 It helps "Ban the Bland" and brings something new to the chips and dip table and it is amazing to have on hand for a million recipes!! It goes great on nachos, in enchiladas or in this case in soup!  It adds a great southwest kick to your snacking and cooking, so I make sure to always have a jar.
Now when we have a really really big game day all of us ladies like to have soup off.  That is where we all bring a big pot of soup and everyone eats and eats and then we all share the leftovers and take them home in little freezer containers so we are stocked on soup for quite some time.  It is so much fun!!  I always like to bring one that's a little different than your normal chicken noodle.  So when I found this Pace® Salsa Verde at Walmart it got my wheels spinning and that is how I came up with this Chicken Queso Soup.
This soup comes together quickly and is sure to be a big hit at your game day parties.  It is full of chicken, corn, potatoes, cheese and of course all that delicious Salsa Verde flavor!!  I love that the Pace® Salsa Verde provides all the flavor this soup needs.  You can even save time by using rotisserie chicken.
Chicken Queso Soup
Chicken Queso Soup Author: Parrish Chicken Queso Soup Author: Parrish Chicken Queso Soup Author: Parrish
Ingredients
1 pound cooked diced chicken
2 cups frozen diced potatoes with peppers and onions, hashbrown mix
2 cups frozen corn
1 cup Pace® Salsa Verde
4 cups chicken stock
1 cup milk
1 pound queso blanco, either authentic or pasteurized cheese loaf, you know what I'm talking about lol
Instructions
In a large pot combine the chicken, potatoes, corn, Pace® Salsa Verde, chicken stock and milk.
Bring to a simmer and add in the queso blanco.
Simmer for 15 to 20 minutes until all the cheese has melted.
Serve!!! It is that simple!
You can add as much Pace® Salsa Verde as you like if you really want to kick up the flavor!
There you have it!! A simple soup you can whip up in minutes that is full of flavor thanks to Pace® Salsa Verde!!!  This soup will make you the big game day winner anytime you serve it!!
So make sure to head to Walmart and pick up 2 maybe 3 jars because I promise you will be adding it to everything in addition to just dipping your chips!
Check out an awesome Ibotta® deal on Pace® products at Walmart! Earn $0.50 cash back with Ibotta® when you purchase a jar of Pace®! (Offer is valid on any ONE (1) 15 oz. or larger Pace® Salsa or Pace® Picante Sauce.)
Happy Game Day!! How are you going to ban the bland with Pace®? Get recipe inspiration here.