31 Halloween Books for Kids Under $5
Post may contain affiliate links (so click and help a mama out lol)
A great list of 31 Halloween Books for your little trick or treaters, all under $5!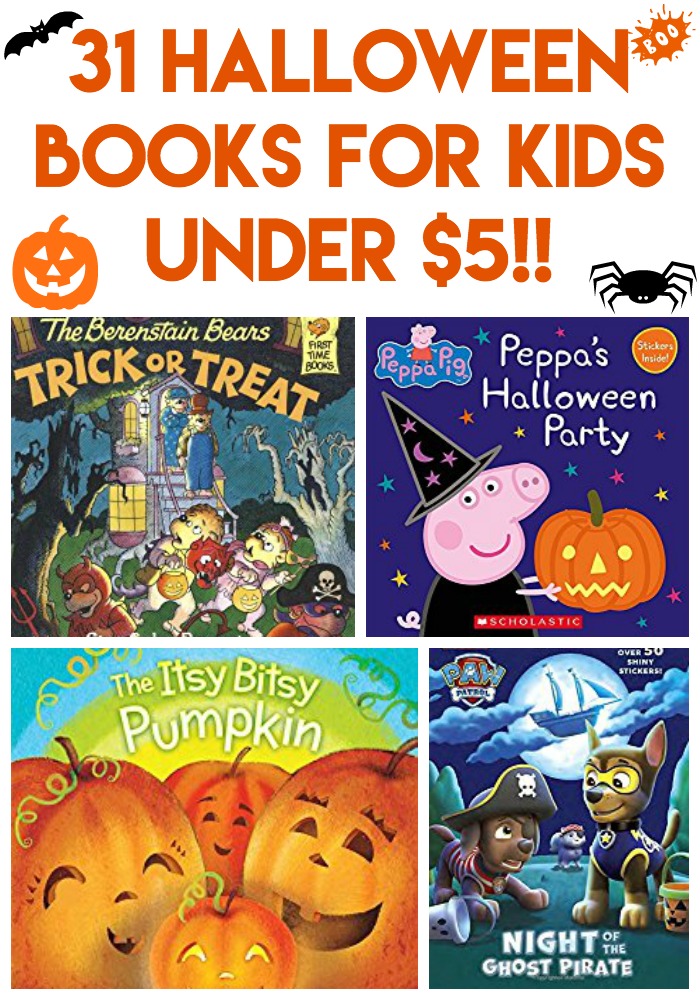 Hey guys!!  It's fall, It's fall, IT'S FALL!!!  Okay so I am a little excited!  I love fall and I love Halloween.  I love walking around my grandparent's neighborhood at night smelling the crisp air, hearing the little feet of ghosts and goblins crunching on the fallen leaves, listening to the excited shouts of Trick Or Treat echo through the streets.  I know my two boys are can't wait for Halloween this year (I'm sure it's all the candy they rack up lol)
I like to get them in the Halloween Spirit by reading to them some great Halloween Children Books.  I get them all off of Amazon and they are all under $5!!!
1. Splat the Cat and the Pumpkin-Picking Plan
2. Happy Halloween Little Critter
3. Corduroy's Best Halloween Ever!
4. Biscuit Visits the Pumpkin Patch
5. One, Two…BOO!
6. The Berenstain Bears and the Prize Pumpkin
7. Pinkalicious Pink or Treat
8. Spooky Pookie
9. Fancy Nancy Candy Bonanza
10. The Witch Who Was Afraid of Witches
11. The Itsy Bitsy Pumpkin
12. From Seed to Pumpkin
13. My First Halloween
14. It's Pumpkin Day, Mouse!
15. Franklin's Halloween
16. The Night Before Halloween
17. Happy Halloween Mittens
18. Halloween ABC
19. Night of the Ghost Pirate
20. It's Haunted!
21. It's Halloween, I'm Turning Green!
22. Clifford's Halloween
23. The Berenstain Bears Trick or Treat
24. Sweet and Spooky Halloween
25. The 12 Days of Halloween
26. Sheep Trick or Treat
27. Happy Halloween Daniel Tiger
28. EEK! Halloween!
29. Peppa's Halloween Party
30.  Where is Baby's Pumpkin?
31. Pooh's Halloween Pumpkin
Happy Halloween, hope you enjoyed this list and found some new books to read with your little ones!