Veggie Christmas Tree Crescents
Ok yall so Halloween is over and I am one of those people who throw themselves right into Christmas.  Now now, I know "What About Thanksgiving?!?!?"  Just because I put my tree up while there is still clearance candy corn and pumpkin Reeses does not mean I skip out on Thanksgiving or love it less.  Just cause I got Christmas music on and tinsel from one end of the house to the next does not mean I don't go all out on Thanksgiving, I just prefer decorating with ornaments and sparkly lights over turkeys lol.  Plus I am already ahead of the game and have given you guys some awesome Thanksgiving recipes (check out my sidebar for them).
But now it is the time when I like to prepare for Christmas, plus I mean if you have a Christmas party, that's like what a month or so away, so it's never to early to start.
Anyways, anyways Dana and I are bringing you our Christmas Series!!  We will be giving you awesome recipes from appetizer, to main dish, side dish and dessert, all for your holiday enjoyment.
So first up is appetizer.  I love making cutsey Christmas appetizers, cheeseballs that look like snowman, love it!  My turkey pinwheels that look a Christmas Tree, fa la la lawesome!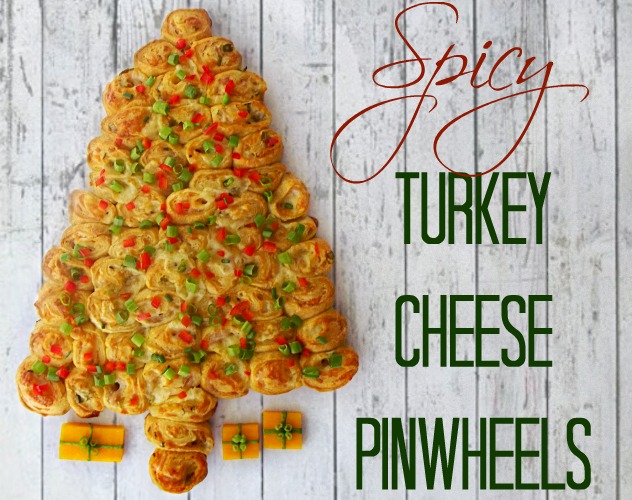 So I love using crescent roll dough for everything and for this new Christmas appetizer I pop that can again and made these yummy Veggie Christmas Tree Crescents.  They are so easy to make and can be made in no time!!!
Now they look awesome and super Christmasy and you can pick them by the pretzel stick bottom, but depending on thick your spread your cream cheese or how heavy you lay on the veggie that little pretzel stick might not be able to support each tree so just be careful lol.
I used chive cream cheese on mine but feel free to use plain, jalapeno, garden veggie, garlic, whatever kind your heart desires.  You can also change up the veggies thought I would still always use broccoli to mimic the green of a tree.
Veggie Christmas Tree Crescents
Ingredients
1 can Pillsbury Crescent Rolls
8 oz tub flavored cream cheese, I used chive brought to room temperature
Finely chopped broccoli
Finely chopped carrots
Diced yellow pepper
Pretzel sticks, I used UTZ since they are thicker
Instructions
Preheat your oven to 350.
Open the can of crescent rolls and unroll them so you get the "triangles"
On a greased cookie sheet place 7 of the crescent "triangles".
Place a pretzel stick under each triangle.
Tear off little bits of the 8th crescent triangle that you didn't use and stick piece of it behind the pretzel to help it stick.
Bake 10-13 minutes until golden.
Let cool slightly.
Meanwhile finely chop your veggies.
Now spread the cream cheese on the "trees".
Sprinkle the veggies in an alternating pattern.
Top your trees with a yellow pepper star and serve!!!
These are delicious, easy to make and so festive and hope you make them for all your holiday get togethers this season!!
Don't forget to stop by Dana's and check out her Creamy Bruschetta Bites, yum!!
Follow me on Pinterest for more great ideas!!