Fall Fresh Start with Bigelow Tea!
This shop has been compensated by Collective Bias, Inc. and its advertiser. All opinions are mine alone. #TeaProudly #CollectiveBias
It's Fall Y'all!!!  I am so so excited to talk to you about all things Fall including my new morning routine which features my favorite thing ever Bigelow Tea.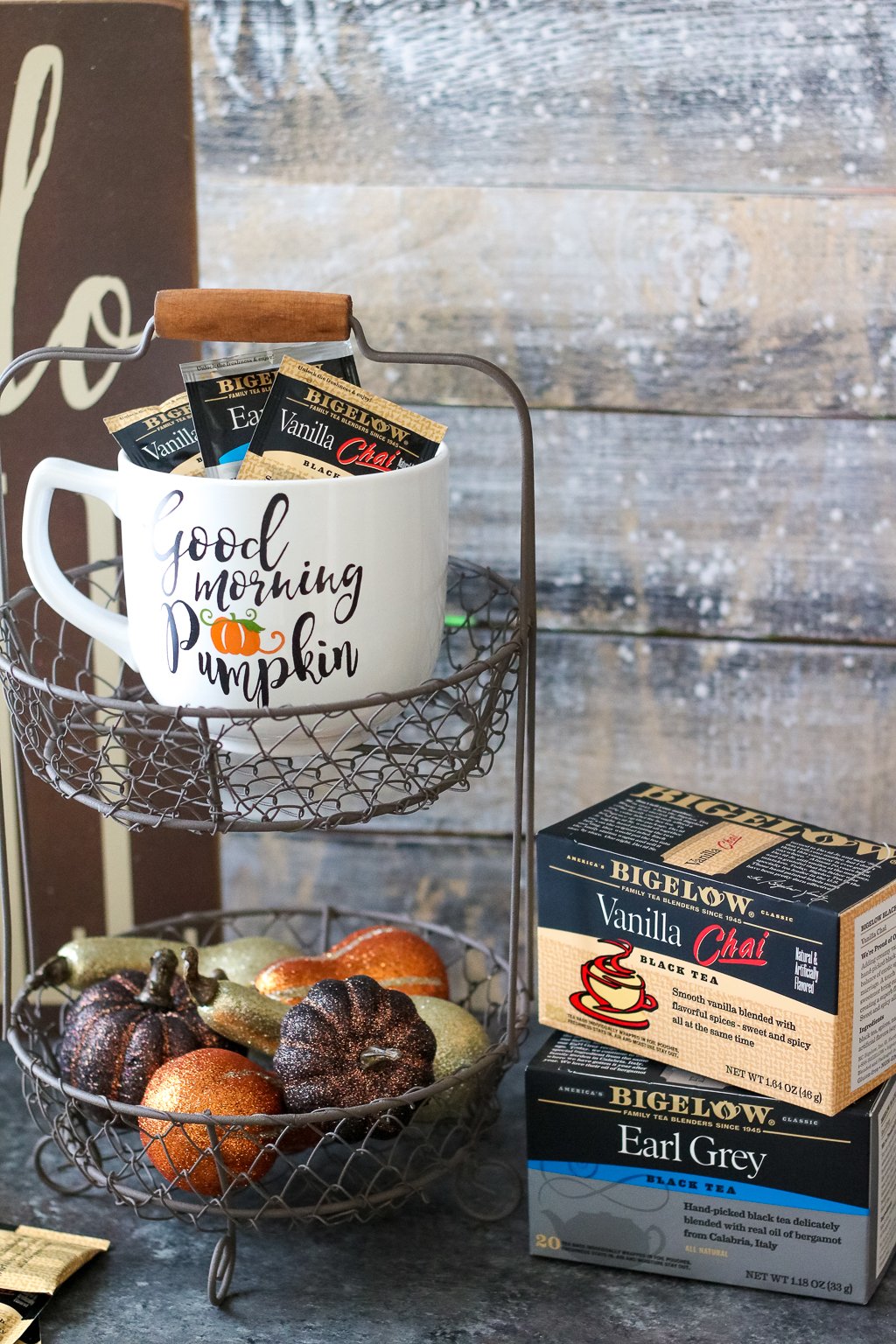 Click on the photo above to get some fabulous Bigelow Tea for yourself!
Fall is my favorite season ever!  I love the brisk evening air, the scraping of the orange and yellow leaves as the breeze blows them down the sidewalk.  I love seeing the orange pumpkins pop up on neighbor's porches.  I love pulling out my boots, and scarves, snuggling down with quilts at the end of the day, it is heaven!  Fall also means my favorite Fall Bigelow Tea flavors are out!
I get all my Bigelow Tea at Walmart, and can't help but pick up a few different flavors every week.
Now I have gushed about Bigelow Tea many many times before, they are my absolute favorite drink of choice, and with so many different flavors you have a ton of choice.  I am such a Bigelow fan that I even got to tour their facility which was amazing and learning all about their process and I loved learning about how this company has been in their for 3 generations, I learned all about why their foil packaging is the best for tea freshness and of course I got see their quality ingredients make the absolute best tea.  So Bigelow Tea is very near and dear to my heart and it is why I Tea Proudly.
Now I drink Bigelow Tea all year round, hot, cold, I love it!  But this Fall brought a lot of changes with a new school routine, Dean is in second grade now, and with a toddler every season brings change as they grow.  I have a little time between the time Dean goes to school and the time Sam wakes up.  That time is me time, a fresh start for each morning.
This is the time where I can relax and prepare for my day.  Sometimes I use this time to get out some of Fall decorations and put a few glittery pumpkins out.  One thing I always have during this morning me time is my Bigelow Tea, I always keep my favorite flavors like Constant Comment, Earl Grey and Vanilla Chai on hand. In the fall I love to pick up their yummy Fall flavors such as Caramel Apple, Pumpkin Spice, Apple Cider and Salted Caramel.
Having a warm, cozy cup of this every morning gets me ready for my day.  I also love serving it to guests, there is nothing that gets the conversation flowing then a warm cup of tea.  Also a mug of tea seems to soothe anyone's soul.
I love to keep my tea tray decorated for the fall.  With just a few pumpkins and some burlap it is easy to create a stunning tray that brings Fall to your morning.
I love to keep this out for when company comes over and they can have a steamy mug of delicious tea to warm up on these chilly Fall nights.
I also like to decorate a tiered tray with a cute Fall mug filled with Bigelow Tea because I can't ever have enough!  Even the foil tea packets are cute!
I love this tea so much that I Tea Proudly and love to show it off and make sure I have plenty out for guests and myself, and that is why I love creating these cute little tea trays!  They give my home a Fresh Fall Start and myself a Fresh Fall Start every morning.
So go to Walmart and pick up some of your favorite Bigelow Tea so you too can Tea Proudly!
You can also Tea Proudly by making these amazing Fall recipes all featuring Bigelow Tea!
Chai Tea Butterscotch Pumpkin Bread
Follow Bigelow Tea below!