Honey Tea Streusel Muffins
 This shop has been compensated by Collective Bias, Inc. and its advertiser. All opinions are mine alone. #AmericasTea #CollectiveBias
Hey guys!!  My it is getting chilly out there!  Am I the only one who just does not want to get out of those warm blankets in the morning? Those gray morning where the wind is whipping and the ground is frozen I could stay in my warm cocoon of quilts and fuzzy slippers all day!
It is those days that I need an extra boost to help me warm up and wake up.  I have never been much of a coffee fan but I can always go for a large mug of steamy tea, especially from Bigelow Tea, my favorite!
While I love choosing from all the delicious Bigelow Tea varieties, when I really need a wake me up I reach for their new American Breakfast Tea.   Each tea bag has 50% more caffeine which is just what I need on those groggy cold mornings.  With the American Breakfast Tea I get sustained energy from a natural boost that helps me focus and doesn't leave me crashing later.
I especially love the Honey flavor of the American Breakfast Tea and I like knowing that every mug I brew is helping support our service men and women.  Almost 4 million bags of tea have been sent to troops overseas with Bigelow's Tea for Troops program. You can read all about Bigelow's Tea for Troops HERE.
I am a huge fan of Bigelow, I love that they are so giving to the troops, so focused on green living and that their fabulous teas are 100% American made, by an American family for the American Consumer.  You can taste the quality in their delicious teas and that comes from all the hard work they put in perfecting their blends and then protecting that flavor in foil pouches that lock in all the freshness and flavor.
I have been lucky enough to visit Bigelow Headquarters in New York and I cannot wait to visit their lovely tea plantation in Charleston which is the largest American working tea garden.
So I know you know tea is an amazing way to warm up in the morning and now gives you an extra boost of caffeine that you might need, but did you know you can make some scrumptious muffins with tea?
I made these yummy Honey Tea Streusel Muffins which go perfectly with my morning cup of tea and are a snap to make.
I steep my milk with 2 tea bags to get all that rich honey tea flavor in.
I like my muffins large so I only got 9 muffins out of the batter but you can go a little smaller to get 12.
A simple streusel topping takes these muffins over the top and fills your house with such a warm comforting smell of fresh warm muffins.
A few minutes in the oven and you have fresh muffins for breakfast.
Honey Tea Streusel Muffins
Ingredients
Muffin batter:
2 cups all-purpose flour
1/2 cup sugar
3 teaspoons baking powder
1/2 teaspoon salt
1 large egg, room temperature
1 cup whole milk, room temperature
1/4 cup butter, melted and slightly cooled
1/4 cup honey
2 Bigelow American Breakfast Blend Tea Bags Honey variety
Streusel:
1/4 cup all-purpose flour
1/4 cup sugar
1/2 teaspoon ground cinnamon
2 Tablespoons butter, softened
Instructions
To make the streusel, place all ingredients in a small bowl. With your fingers, mix together until a crumb-like texture occurs. Set aside.
Preheat oven to 350 degrees F.
Line your muffin tin with baking cups.
Warm your milk in the microwave for 1:30 minutes. Steep your 2 tea bags in the milk for 5 minutes.
Combine flour, sugar, baking powder and salt in a large bowl. In another smaller bowl combine egg, milk/tea mixture, butter and honey.
Fill muffin cups 3/4 of the way full. Sprinkle each cup with streusel and bake for 18-20 minutes or until a toothpick stuck in the middle comes out clean. Place pan on a wire rack to cool for 10 minutes.
Remove muffins from pan and serve!
I love these muffins alongside my American Breakfast Blend in the morning, together they warm me right up and get my day started right.
So next time you are at Walmart check out the tea aisle and pick up some American Breakfast Blend to get you through those cold groggy mornings.
Then whip up a batch of these Honey Tea Streusel Muffins to make for the perfect warm you up, wake you up pair.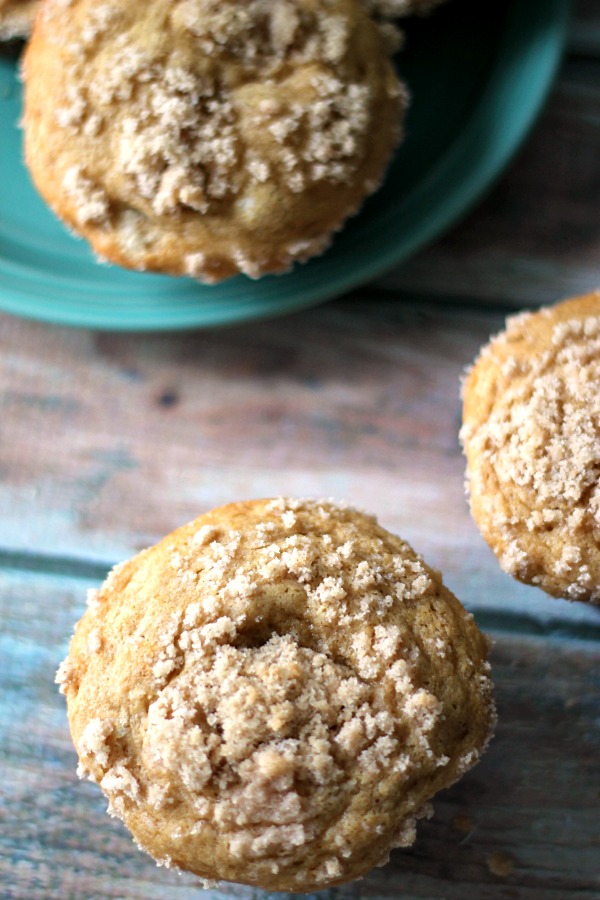 You can get more great inspiration by visiting Bigelow on Pinterest!