My trip to the Bigelow Tea Factory!
This shop has been compensated by Collective Bias, Inc. and its advertiser. All opinions are mine alone.
#BigelowVIP #AmericasTea #CollectiveBias
Hi guys!!!  I could not wait any longer to share with you the details of my amazing trip to New York to tour the Bigelow Tea Factory and learn more about this amazing company and all their wonderful teas!
From the minute you walk into the Connecticut Bigelow Factory you just feel welcome, everyone there is so nice and you just feel comfortable, right at home.
Touring the factory was awesome, seeing how the tea was cut and flavored and stored was so interesting and the smell, man oh man the smell was amazing, I could stay there all day in bliss just smelling the tea being made and all the flavorings, it smelled like heaven in there!
I really really liked watching how the tea was packaged up in it's bags and then in it's foil and finally in it's box, I could just watch all those little tea bags being made while smelling that sweet tea smell forever.
We also had lunch in their fabulous cafe which served amazing food made to order and had an impressive salad bar.  What really blew me away was the how green the whole facility was, all our bowls and plates were compostable, everything there gets recycled, and that goes beyond the lunch room, their green efforts span through every part of the factory from the lunch room to the conference rooms to production and packing everything is just so eco friendly there!
Walking through the halls I loved seeing all the tea decor, photos of Mrs. Bigelow's teapots, old advertisements I loved it all.  The Bigelow family is just amazing and while I was unable to meet the Bigelows on this trip everyone I did meet there were just to welcoming and down to earth and you just feel like you have known them forever.  I love that the Bigelow Company is 100% American made by an American Family and is an American Company for the American consumer and always has been.
We then did a tasting of the tea and learned how the Bigelow Tea company got started with Constant Comment (more on that delicious tea soon) a special tea made from Ruth Campbell Bigelow ( I cannot wait to share that story with you!!)  We learned so much about all the different varieties from black to green to white and how each one is harvested and at what point in time and how they are aged to make tea, it was fascinating.
Then the tea tasting!  We got to sample their yummy teas and their tea is just the highest quality, I am blown away by how amazingly rich their flavors are.  We learned it is from how they process their tea and how they ensure it's freshness but their foil sealed bags making sure your tea is as fresh and rich as it can buy when you get it to your home.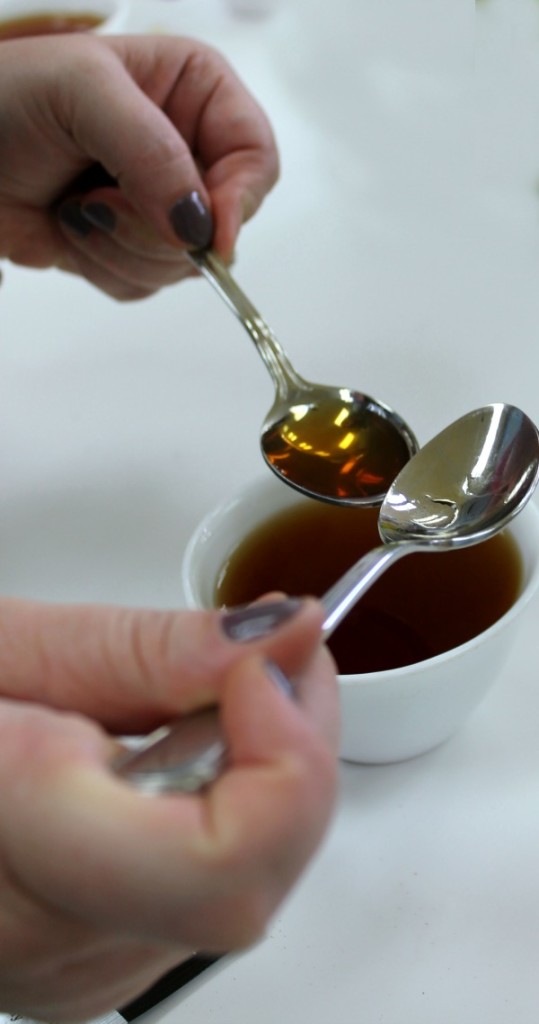 We also got to sit around and chat and learn more about Bigelow Tea and their past and some of their upcoming flavors and projects like their new Mobile Tea Bar, have seen that?  It is awesome and you should check it out if it comes near you.
I really liked learning about their new American Breakfast Teas which comes in 3 flavors and has 50% more caffeine to get you morning started right.  When you buy American Breakfast Tea a portion of the proceeds goes to help support the troops!  Bigelow doesn't stop there though, they also have the Bigelow's Tea for Troops program in which almost 4 million bags of tea have been sent to troops overseas.
The whole day was just amazing and we went for a walk down to the beach and then out to dinner with our Bigelow hosts and it was just a fabulous day.
I cannot wait to visit Bigelow Tea's Charleston Tea Plantation, it would be a dream come true to see the tea plantation. Who wouldn't want to see it?  It is America's largest working tea garden, how cool is that?! The even hold events there like weddings, tours and even a variety of music festivals. It's a great way to soak in some historic Southern culture and a living piece of American history!
Getting to meet everyone and see where this tea is created and learn the background of the company just makes me so proud to be a Bigelow Blogger and I just want to thank Bigelow for this incredible opportunity to work with such a great company.
They were even so nice as to give us all these gorgeous tea chests fill with their delicious teas.  This was a trip of a lifetime for me and it was incredible.
I have plenty more to tell you about Bigelow and some more yummy recipes using their tea, but for now you will have to wait those.  So steep yourself a cup of a Bigelow tea and have a wonderful day!!