Enchilada Stuffed Peppers
Hey guys!!
Sooo school is starting soon (Dean's first time going eek!) and it is an adjustment.  I know that school time can be a little crazy but it is also when sitting down and having a nice dinner is most important.
I feel like some weeks I get stuck in a recipe rut and I just don't know what to make besides the same old, same old.  Then I stumbled across Food Lion's new recipe portal!
It is awesome it has so many great recipe ideas for all occasions and most have been submitted and tested by home cooks just like you (so you know they are good!)
I really like that they have so many recipes for all occasions but my favorite part is how you can enter an ingredient and category and it will give you all the recipes that fit.
So for instance if I have ground beef on hand and not a lot of time I can search quick beef recipes and presto tons of delicious quick beef recipes pop up and I can have a new and exciting dinner on the table in no time!
I was shopping at Food Lion the other day and was inspired to submit a recipe of my own to their recipe portal.
I was making my Enchilada Stuffed Peppers that night and I hoped they would good over well on the recipe portal.
I love making this dish because it is quick, easy, delicious and every one loves enchiladas.  I love that I can grab all the ingredients I need right at Food Lion.
This recipes starts with a pound of ground beef that I brown up and drain.
Then I mix in half a can of enchilada sauce.
Next comes the refried beans.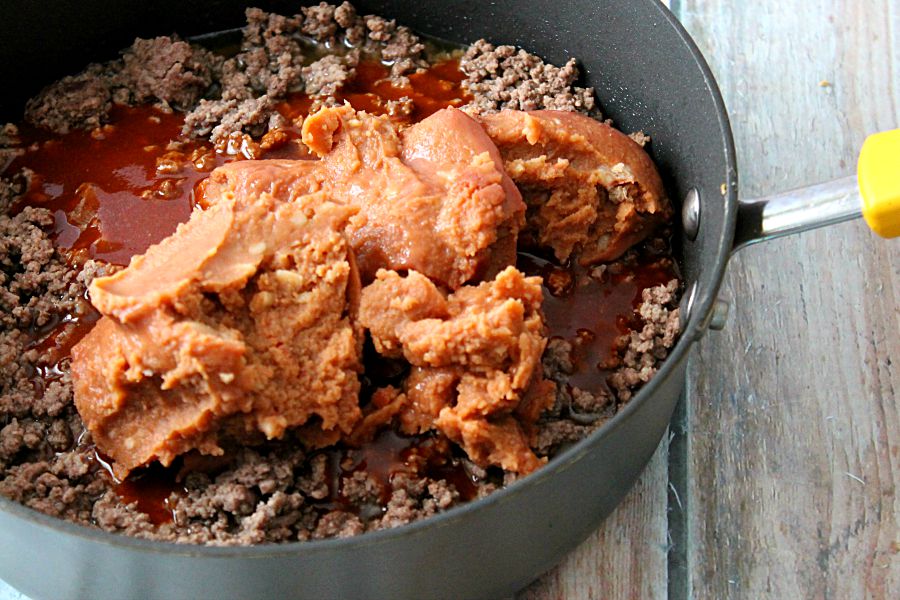 Now 1 cup of mexican blend shredded cheese.
Now I stir this mixture up good and stuff it into the hollowed bell peppers.
Now I just top these with the rest of the cheese and pop them in the oven to cook.
There!  Look how gorgeous they are!  That was fast, easy and man oh man are they good!
This is the perfect recipe for a busy school night so I am hoping it will help out some busy mamas who find it on the recipe portal.
You can find the recipe for these Enchilada Stuffed Shells on Food Lions Recipe Portal HERE.
I took some pictures and went about submitting it to the Food Lion: Recipe Portal.
It was easy peasy and you can do it too just follow these instructions!
Click here to submit your recipe.
Name your recipe, upload your plated dish photo, add a description of your dish, and input ingredients.
Add directions for each step and tag the recipe accordingly.
Click "Next" to go to the review screen (do not save as draft).
Review the recipe and then submit it at the bottom.
Once that is completed you give it a day or two and then your recipe is up and ready to be tried by all sorts of new people!  How awesome is that?
I really like this recipe portal, I like it for finding new delicious recipes and sharing my own recipes with other.
Don't forgot not only does Food Lion have this amazing recipe portal but they are also a fabulous place to get all your groceries to make these yummy recipe!
I hope you try my recipe and submit some of your own too!  Once you get yours up there come comment with the link to it so I can check it out!
I was selected for this opportunity as a member of Clever Girls and the content and opinions expressed here are all my own.