New month means a new series!!!  This month Dana and I are bringing you our Copycat Series.  We will giving you recipes to make some of your take out/restaurant  favorites right at home!
This week I am sharing my recipe for Copycat Meximelts.  I love Meximelts,  I always have.  My grandma introduced me to them when I was younger and while most kids my age wanted chicken nugget kids meals, I wanted Meximelts.
Meximelts are a perfect blend of seasoned ground beef, melty spicy cheese and pico de gallo, yum!
I love recreating these at home because they are so easy to make, everyone loves them and they are a really quick meal.  For a super authentic taste you can use the Tacobell brand taco seasoning mix from your grocery store, however any taco seasoning store bought or homemade is fine.
The reason I use the microwave to melt the cheese as opposed to an oven is because the oven would make the shell crispy and you want it to be as soft as possible to really replicate the original Meximelt.
So the next time that Meximelt craving hits or you just want to do a different spin on taco night, try these Meximelts, they are a definite winner!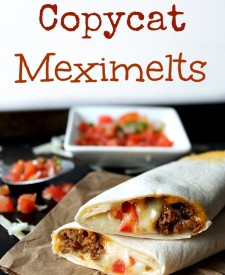 Copycat Meximelts
Ingredients
1

pound

ground beef

1

envelope taco seasoning or homemade equivalent

8

oz

pepperjack shredded

8

oz

cheddar or colby shredded

8-10 to

rtillas

Pico de gallo -store bough or home made
Instructions
Brown and drain the ground beef.

Season with taco seasoning.

Place some cheddar cheese on each tortilla (these are supposed to be extra cheesy)

Spoon on some of the beef filling.

Top with shredded pepperjack.

Spoon on a little pico de gallo.

Roll each tortilla up and wrap in paper towel.

Microwave 2 at a time for 1 minute.

Serve and enjoy!
Want more copycat recipes?  Check out Dana's Copycat Chinese Take Out Sweet Ginger Soy Ribs, yum!
Check out last month's series, Winner Winner Chicken Dinners!!
Linked at: