Chocolate Covered Strawberry Smoothie
This shop is part of a social shopper marketing insight campaign with Pollinate Media Group® and Nestle, but all my opinions are my own. #pmedia  #BreakfastEssentials https://my-disclosur.es/OBsstV
Hey guys!  Woo it is getting warm out there isn't it?!  Now not only am I a busy mama in the morning, now I'm a hot and busy mama in the morning.  Running around trying to get everything in order in the morning can be a struggle on a normal day but throw in the heat factor and I'm exhausted before lunchtime.  So when it comes to breakfast, I put away the skillet and pancakes and reach for something cool, refreshing and filling to get me through the rest of day.
When I do my shopping at Kroger I love to grab a few boxes of Carnation Breakfast Essentials to help get a great breakfast in our tummies.  Carnation Breakfast Essentials Powder comes in so many great flavors such as Rich Milk Chocolate, Classic French Vanilla, Classic Chocolate Malt, Dark Chocolate, Strawberry Sensation we have hard time choosing which makes the Variety Pack (which has multiple flavors) perfect for us.
We have been obsessed with smoothies for breakfast since summer is upon us and Carnation Breakfast Essentials Powder makes the most amazing smoothies and keeps us a full and is a great source of nutrition like 21 Vitamins & Minerals,  13g of Protein and as much calcium as a 6 oz cup of yogurt.  So I know it is the right choice for our breakfast smoothies.
Our favorite smoothie is my Chocolate Covered Strawberry Smoothie which mixes a creamy chocolate smoothie with a delicious strawberry smoothie and my family goes nuts for it.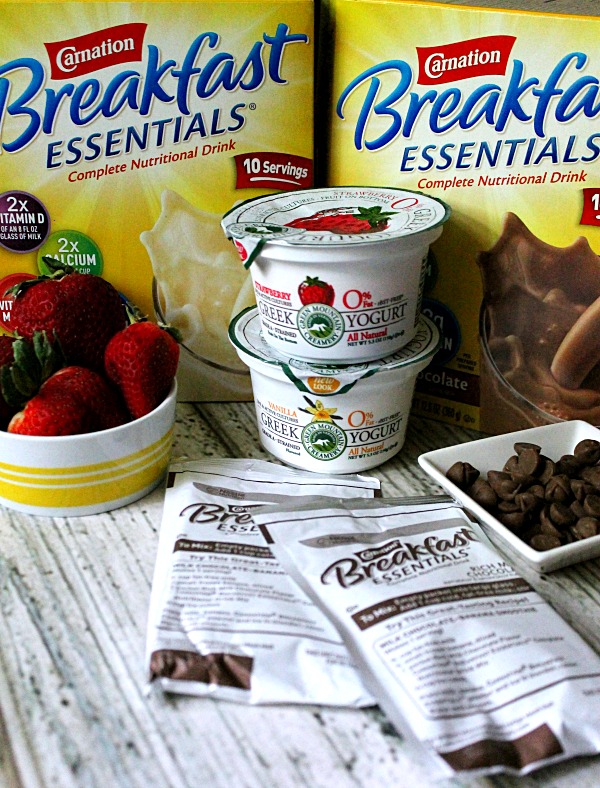 I just mix the Rich Milk Chocolate flavor with a little milk, some vanilla greek yogurt and a pinch of chocolate chips.
 For the strawberry layer I take the Classic French Vanilla flavor and mix it with fresh strawberries and strawberry greek yogurt.  You can use the Strawberry Sensation variety for this as well, we enjoy the strawberries and cream flavor we get from the French Vanilla.
Then fill half a glass with the strawberry smoothie and top it with the chocolate smoothie and voila you have a cool, refreshing great tasting breakfast your family will love and you will love all the good for you stuff inside this amazing smoothie.
Chocolate Covered Strawberry Smoothie
Ingredients
2 Packets French Vanilla Carnation Breakfast Essentials
2 Packets Chocolate Carnation Breakfast Essentials
4 cups milk
1 cup vanilla greek yogurt
1 cup strawberry greek yogurt
1/2 cup strawberries
1/4 chocolate chips
Instructions
Blend the 2 cups milk, 2 packets french vanilla, 1 cup strawberry yogurt and 1/2 cup strawberries in the blender till smooth.
Fill 3-4 glasses halfway with the strawberry smoothie.
Blend 2 cups milk, 2 packets chocolate, 1 cup vanilla yogurt and 1/4 cup chocolate chips in blender till smooth.
Fill glasses the rest of the way with the chocolate smoothie.
Serve and enjoy!
You want a smoothie now don't you??  So go break out the blender and make yourself my delicious Chocolate Covered Strawberry Smoothie or you can use Carnation Breakfast Essential Powder to all sorts of smoothies and you can find more inspiration and recipes HERE.
 What I love most about keeping my pantry stocked with Carnation Breakfast Essential Powder is what a great time saver it is on busy mornings, if I am rushed I can just mix a packet into some milk for a super fast breakfast that is  kid friendly and can be easily prepared by kids which can save you even more time!  The varieties of flavors and products are all so yummy, you can get ready to drink shakes, powders and bars all delicious and nutritious for kids, teens, and adults.
So make your mornings easier and cooler and tastier with this Chocolate Covered Strawberry Smoothie and Carnation Breakfast Essential Powder and be sure to look for Carnation Breakfast Essentials offers here.
You can follow Carnation Breakfast Essentials on Facebook
and look for more recipes HERE.