Put a spin on dinner with a Strangewich
"Sponsored post by Mirum Shopper. All opinions are my own."
Hey guys!  School is back in session and that means we all fall back in routine.  That also means we can fall into a dinner rut, spaghetti, chicken, tacos, repeat.
While those are our favorites and I know everyone will be happy with it I like to switch things up one night a week, try something new, make something crazy, serve something dare I say… strange.
Sandwiches are always a big hit in my household, I have boys and sandwiches are basically a food group around here.
When I was shopping for back to school supplies at my second home Target I spotted Hellmann's new Squeezable Mayonnaise that they have quite a few recipes for Strangewiches for.
A Strangewich is a sandwich that has a few unexpected elements or combos.  Don't let the name scare you these Strangewiches are delicious!!
I love to get Dean in the kitchen to help with these sandwiches, anytime you can get kids in the kitchen they are more apt to eat what they are making lol.
These Strangewiches bring a little fun to a busy school night and sandwiches are always a quick dinner when the nights get a little crazy busy.
So far we have made YOLO Brunch Strangewiches for a spin of breakfast for dinner.  Fried eggs, cheddar cheese and ham (you could use bacon or sausage) are sandwiched between french toast and everything is held together with a mayo/maple spread that is out of this world.  These are so easy to put together and delicious!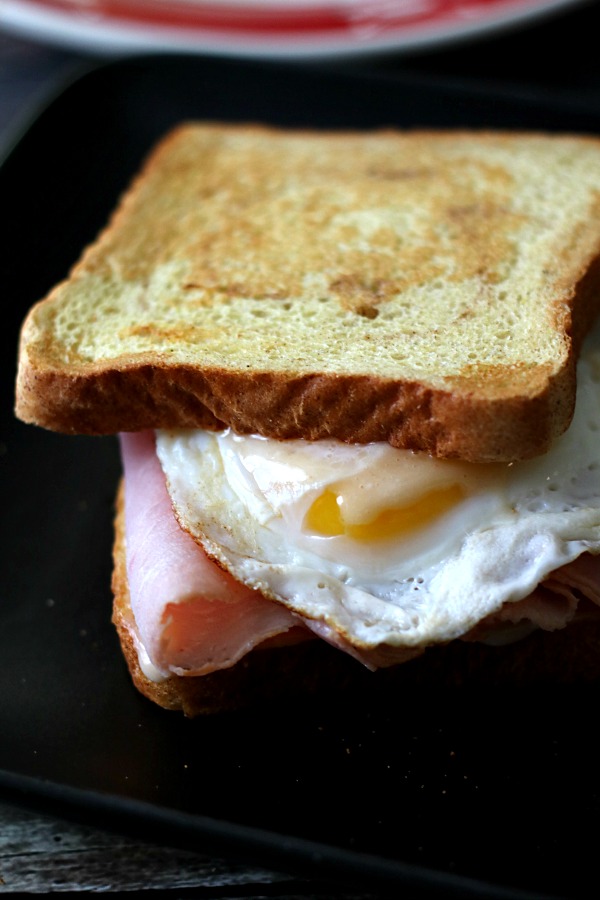 YOLO Breakfast Sandwich
Ingredients
1/4 cup Hellmann's® or Best Foods® Real Mayonnaise
2 Tbsp. plus 2 tsp maple syrup
8 slices frozen French toast, prepared according to package directions
8 fried eggs
8 slices cheddar cheese
8 slices deli ham or cooked bacon
Instructions
Combine Hellmann's® or Best Foods® Real Mayonnaise with syrup; evenly spread on one side of French toast.
Top 4 slices with fried eggs, cheese and bacon. Drizzle with additional maple syrup if desired. Top with remaining slices French toast.
These Strangewiches save me so much time during the school year and are a great way to shake up that boring old dinner routine!  

Try something strange with your family soon using Helmann's/BestFoods. If you head into Target between 8/24/16 and 10/1/16, you'll get 2 for $7 of the Helmann's/Best Foods Real Squeeze bottles. The more mayo the merrier!