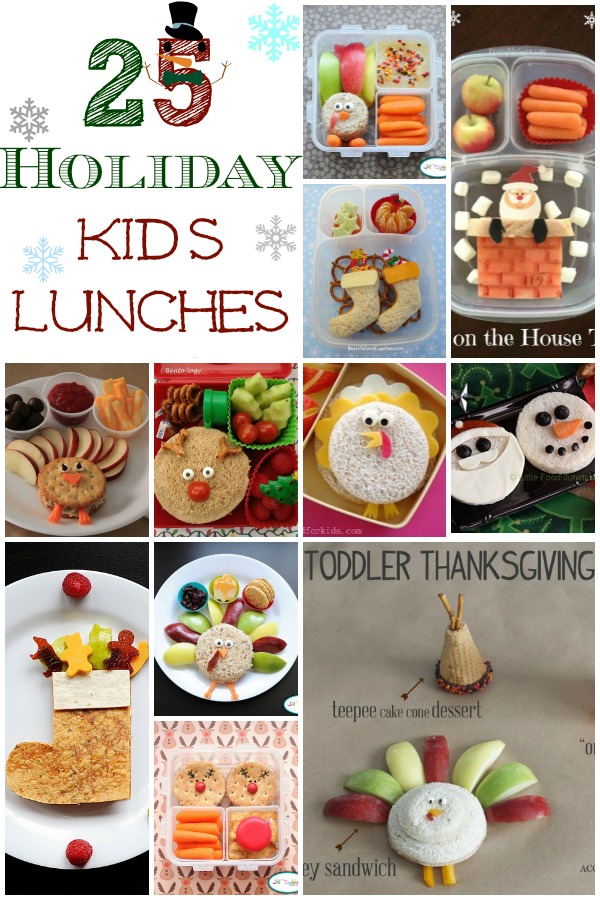 Yay! The holidays are approaching and it is my favorite time of the year!!  I try to make the holidays stretch out and make everyday have a little holiday magic in them.  A quick and super cute way to put some holiday excitement into your kid's everyday is with these amazing holiday lunches.  A cookie cutter, some sprinkles and a few apple slices and you got the perfect lunch to put some holiday spirit in your kid's lunch. 
I cannot wait to try these for Dean's lunch and I hope you try some too!
Adorable Tukey Bento from Meet the Dubiens
Cute Turkey Sandwich from Cute Food For Kids!
Another adorable Turkey Bento this one from Crouching Mother, Hidden Toddler
Loving this Turkey Lunch from Meet the Dubiens
This Ultimate Toddler Thanksgiving Feast from Pillow Thought is the cutest thing ever!
This Turkey Sandwich from Creative Kid Snacks looks awesome!!
Such a cute Turkey Lunch from Delightful Learning
Super cute Turkey Sandwiches from Spoonful.com
Another cute Thanksgiving Bento, this one from Glory's Mischief
I love this Pilgrim Lunch from Kitchen Fun With My 3 Sons
Santa and Snowman Sandwiches from Little Food Junction are too cute!
Love this Rudolph Bento from Bento-logy!
Super adorable Christmas Lunch from Cookie Cutter Lunch
This Stocking Bento from Bento School Lunches is awesome!
This Stocking Lunch from Meet the Dubiens is perfectly adorable!
I cannot believe how cute this Santa in the Chimney Sandwich from Keeley McGuire is!
The tortilla Christmas Trees are adorable with the Present Sandwich!! (source unknown)
Lunch For a Snowy Day from Keeley McGuire is amazing!
Rudolph Sandwich from Cute Foods For Kids is the perfect holiday lunch!
Christmas Tree Bento from Biting The Hand That Feeds You is cute and healthy!
I love these Reindeer Sandwiches from Meet The Dubiens!
This Snowman Bento from Another Lunch is the perfect holiday lunch!
How cute is this Snowman Lunch from Happy Home Fairy?
Can't wait to make these Reindeer Sandwiches from And Everything Sweet!
Amazing Let It Snow Lunch from I Pack Lunch