Spooky Snacking with Kelloggs
This shop has been compensated by Collective Bias, Inc. and its advertiser. All opinions are mine alone. #SnackItAndPackIt #SeasonalSolutions #CollectiveBias
Hey guys!!!!  I know you have heard me profess my love for Fall many times but I also love Halloween!  I don't love the creepy scary part of it but I love the Trick or Treating (and not just because I'm a candyholic lol).
I love Halloween for the magic of it all.  When I was younger it was so exciting to get dressed up and walk my grandparent's neighborhood.  It was night time, it was usually a school night and we were out AND getting candy!  Life doesn't get better than that when you're a kid.
As I got older I enjoyed taking my brother and sister Trick or Treating, and now I get to take my little boys and the Halloween magic lives on.
Dean is in school now and they have a little Halloween party every year and I always get excited thinking about what I can take that all the kiddos would love.
This year I was doing my weekly shopping at Kroger when I spotted these awesome Kelloggs Snack Packs like Keebler® & Cheez-It® Variety Pack, Kellogg's® Rice Krispies Treats® Original, Pringles® Original, Keebler® Cookie Mini Fudge Stripes and Cheez-It® Variety Pack.  They are our favorite snacks when we are on the go or packing lunches, the individual size makes them perfect for our family!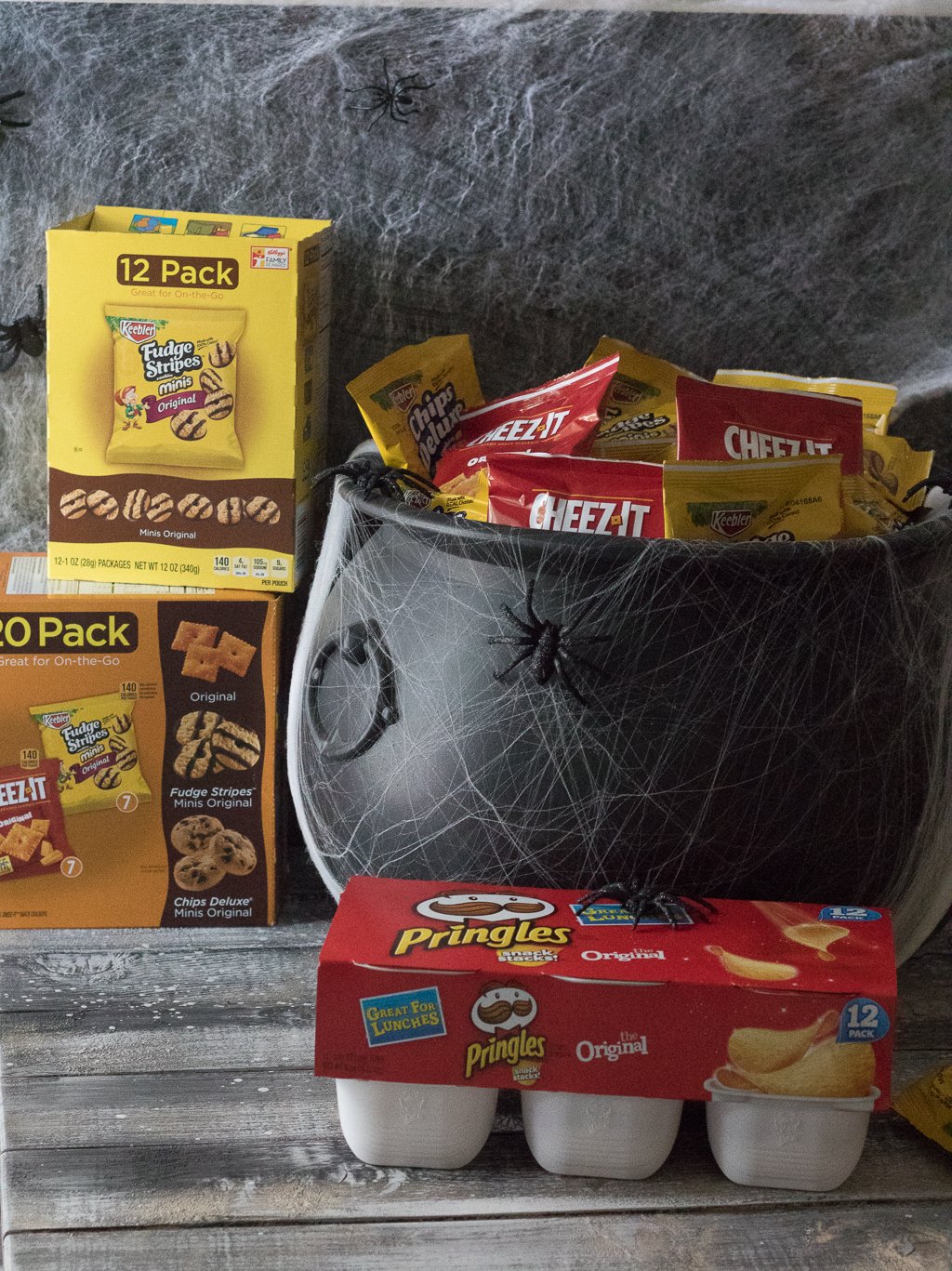 Click the photo above to get these fabulous treats for yourself!
I knew these would be the perfect for his school party and something a little different instead of just more candy.
These goodies are awesome for school Halloween parties or passing out for Trick or Treating, kids love them (and so do adults ;)
Pringles Snack Stacks are my boys favorite because the single size means they dont' have to share lol!
Mini Fudge Stripes are baked to perfection in the Hollow Tree® and have been one of my favorites since I was little!
And of course everyone loves Cheez-Its, they are just a classic!
I packaged these all up in a spooky cauldron decked out with spider webs.
I brought along bags and construction paper so the kids could create their own spooky witch bags to put their treats in.  Just some glue sticks, construction paper and brown bags and the kids can create their own bags to carry their spooky snacks.
They loved it!!!
Whether you have a school Halloween party or just good Trick or Treating to prepare for be sure to check out great offers and limited time special pricing on Pringles Snack Packs and Keebler Cookie and Cheez-It Variety Packs at your local Kroger or Kroger banner store!
Also don't forget to check out the social hub HERE for more Kellogg inspiration!
And I have one last treat for you!  Get this digital coupon to save on Kellogg products at Kroger! Making it even easier to stock up for Halloween!
Have a spooktacular Halloween!!