Holiday Traditions with North Pole by Hallmark
This shop has been compensated by Collective Bias, Inc. and its advertiser. All opinions are mine alone. #NorthpoleFun #CollectiveBias
Hey yall!!  Okay okay I am sure you know by now that I LOVE CHRISTMAS!!  Bring on the tinsel and tree, the cookies and gift wrapping, the music and family, I love it all!
We just moved into a new house this summer and I feel at age 5 Dean is truly able to grasp the full concept of Santa this year and really start to get excited for the upcoming holiday.  So I figured now is a great time to start a new holiday tradition.
Christmas Eve is set in stone already.  Every year since I can remember our Christmas Eve has consisted of going to my grandparents in our dressy holiday outfits where we feast on a huge dinner, afterwards my grandpa would track Santa and tell us to hurry to bed!  On our way home we would take a few detours and marvel in some of the lit up homes.  Once at home we hustled into our jammies, set out the milk and cookies for Santa and tried to get some sleep!
Just because I am older now with a child of my own does not mean that tradition has ever changed.  It is the exact same way and I love it.  I did, however, want to start my own tradition.
My husband and I already have one tiny Christmas tradition of going to the mall and picking out a new Hallmark ornament each year.  So the other day while I was shopping around in Walmart I noticed a huge North Pole by Hallmark display and was immediately drawn to it.
 There were books and snowball shooters, cute shivering polar bears and all the fixings for some great cookies.  Being the foodie I am I could not help but pick up the Bake Like An Elf Set and the Sprinkle Bell and the North Pole Wonder Wheel Rolling Cookie Cutter.  I imagined Dean and I baking up a batch of Christmas Cookies to decorate while trimming the tree.  Then I spotted Snowby the most adorable little shivering polar bear who came with his very own book.  I thought that would perfect to read in bed after decorating cookies and the tree.  Dean of course was drawn right to the fluffy North Pole Magic Snowball which lit up when he would throw it.
I headed home from the store with thoughts of cookies and polar bears dancing through my head.
Once home while my husband set up the tree we got to work on the cookies.  We followed the elves directions on the cute little mitten recipe cards to make the dough with the cute measuring spoon and bowl the Bake Like An Elf Kit came with, and Dean had a blast rolling out the shapes with the wheel, I loved how fast it made the cookies!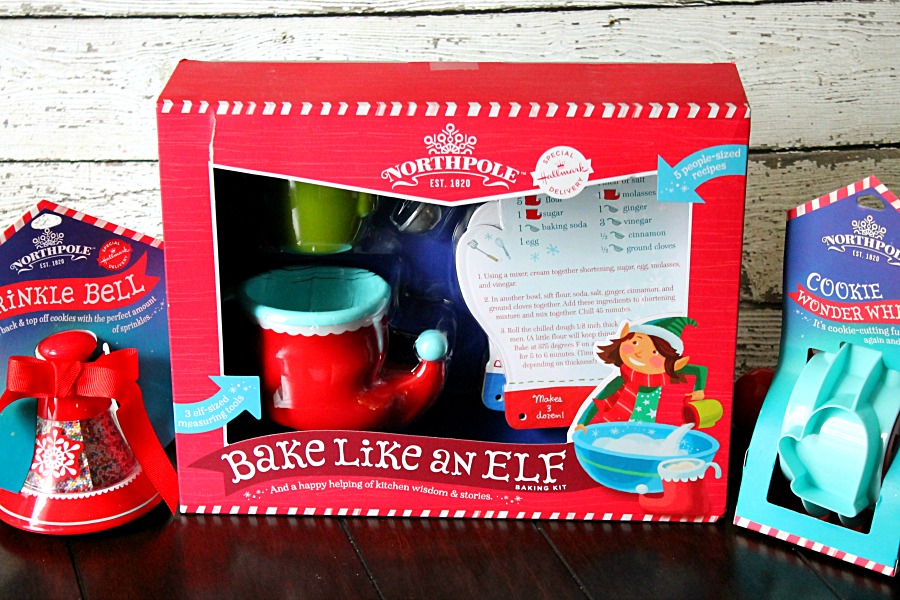 Time to decorate!!  This was Dean's favorite part, the icing, the sprinkles!!  He thought the Sprinkle Bell was just the best thing ever!  These cookies were so delicious I don't think Santa stands a chance of getting one before they're gone!
Making these cookies with my son, while Christmas music played in the background and my husband in front of the fire getting the tree ready was the most perfect holiday moment.  I believe it will be our new tradition every year.  Plus can I tell you mommies, occupying the kids with making cookies is the perfect distraction until the tree is ready to be decorated!
The cookies were decorated and tasted, and the tree was trimmed and topped with a star and then it was time for bed.
We got Dean in his footie pajamies and he snuggled down with Snowby who was shivering up a storm until he got under the blankets.  We then read Snowby's sweet story and just sighed in contentment at this wonderful new holiday tradition we created all thanks to Hallmark and their new Hallmark North Pole Collection.
You too can visit Walmart and grab everything you need from Hallmark North Pole to start a few holiday traditions of your own.  They have so many great books, like Once Upon A Northpole Christmas story book which comes with a Find me Santa Snowflake (that is next on my list to pick up), and fun little things like a Northpole Communicator and The Avalauncher.  You will have no trouble finding the perfect thing to start a new tradition with your family!
These lovely holiday products were based off of a fabulously festive new Hallmark Movie called "North Pole".  You can check out the trailer HERE.
Do you have any special holiday traditions?  Which North Pole products would you love to use to start a new holiday tradition?