These little bundles are full of flavor from creamy ranch, melty colby cheese, crispy bacon and tender chicken.  All that gets wrapped up in a flaky crescent roll and make for a fabulous dinner!
These roll-ups are quick, delicious and versatile.  You can change the sauce up or the cheese, a honey mustard swiss combo sounds heavenly, or a bbq sauce cheddar, yummy!  These are so easy to make you could even make a few different varieties to suit all your families taste for dinner.
I sliced up chicken breasts and sauteed them with a little garlic salt for this recipe, however, you could use precooked chicken strips or even breaded chicken tenders, whatever floats your boat.
So give these Ranch Chicken Club Roll-Ups a try and a I guarantee you will be met with lot's of smiles and empty plates!
First just separate your crescent rolls into 8 rectangles and pinch the seams together.  Spread a little ranch dressing on each one. 
Lay down a little colby jack cheese. 
Add a little of everyone's favorite ingredient…BACON!
Then comes the chicken.
Roll up and voila!  
Place on a greased cookie sheet seam side down and bake at 375 for 20 minutes or until dough is golden.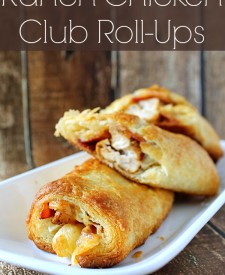 Ranch Chicken Club Roll-Ups
Ingredients
8 chicken tenders either precooked or cut from chicken breast and sauteed till cooked through.
16 slices bacon microwave bacon is fine
8 slices colby jack cheese
2 cans crescent roll dough pressed into rectangles.
Instructions
Preheat oven to 375.

Place about 2 tsp or so of ranch on each crescent roll rectangle.

Add a slice of colby jack cheese (torn to fit)

Add 2 slices bacon.

Add one chicken strip.

Roll up and place seam side down on greased cookie sheet.

Back for 15-20 minutes until golden.

Serve with extra ranch for dipping.
Want more?  Check out Dana's Tex Mex Grilled Chicken Rice Bowl, yum!!

Want even more chicken recipes?  Check out the rest of the series here!