Fruity Pebbles Blueberry Muffins with Lemon Glaze
 This post is part of a social shopper marketing insight campaign with Pollinate Media Group™ and Post Pebbles, but all my opinions are my own. #pmedia #PostWalgreens https://cmp.ly/3/8vNxcO

When the weather gets chilly you want a hearty, healthy breakfast to fill you up.  My family and I love Post Cereals and devour them by the bowlful so I decided they would be great to use in a new recipe!
As the temperatures drop we tend to get busier and busier, school starts, the holidays are approaching and everyday is just busy, hurry, rush.  That is why I love to take the time on the weekend and whip up healthy on the go breakfasts for my family.  Post Cereal makes this recipe even easier and my family gets the cereal they love but can eat it as we rush out the door.
I was super excited when I heard that Walgreens was having a sale of any Post cereal brand (Honey Bunches of Oats, Fruity Pebbles, Great Grains, Grape Nuts) for $1.99, which is perfect since I need those Fruity Pebbles so I stocked up!!
The recipe my family loves the most is Fruity Pebbles Blueberry Muffins with Lemon Glaze.  We love muffins around here and the blueberry pairs perfectly with the fruity burst the Pebbles provide.  I top these off with a light lemon glaze and a sprinkling of cereal and they are the perfect thing to get my family up and moving on those brisk mornings.
It takes no time to whip these muffins up and then dunk them in a simple glaze while they are still warm.  After that you have a fun, delicious breakfast your whole family will love.  Your kids will especially love the Fruity Pebbles all throughout the muffins and sprinkled on top.  You will love that they are chock full of fresh blueberries.
I love making this recipe and providing a healthy breakfast for my family that requires no time during the week thanks to Post Cereal packing great flavors into these on the go yummy breakfast muffins.
So get out your mixing bowl, preheat your oven and in no time you too will have platter of Fruity Pebbles Blueberry Muffins your family will love you for!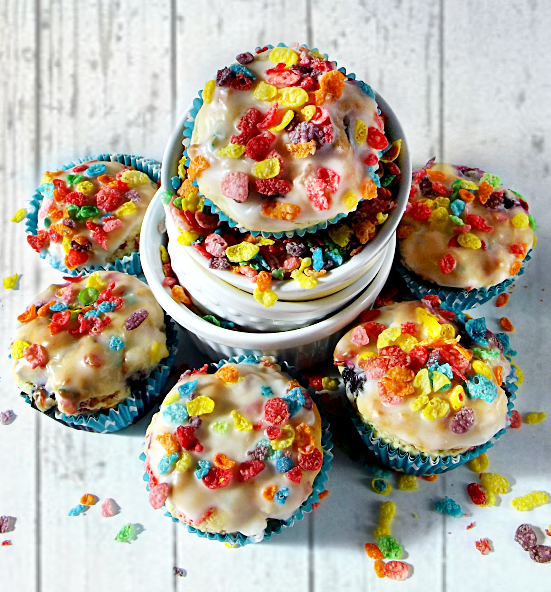 The best part is right now you can head to Walgreens and get any Post cereal brand (Honey Bunches of Oats, Fruity Pebbles, Great Grains, Grape Nuts) for $1.99!  So there is no excuse not to make these muffins!!