Grilled Chili Cheese Dog Pizzas for a Fun Family Grilling Night!

The weather is warming up, the sun is shining,  there are kids on bicycles, kiddie pools being filled up and if you listen closely you can hear the distant bells of the ice cream truck truly ringing in summer.
Summer for us means brushing off the grill and firing it up for some fabulous family grilling!  We spend our Friday nights outside, unwinding from the week while Dean blows bubbles in the driveway and daddy lights the grill.  I am in charge of the food (of course) and I love to come up with something a little different for the grill.  Sure we love our steaks and ribs and burgers but sometimes I crave something different and something everyone will enjoy kids and adults.
Dean and I were doing our weekly shopping at Walmart where we love to pick up all our grilling ingredients and we saw these new Johnsonville Butcher Shop Style Sausages and I couldn't resist throwing the Bacon Cheddar Sausages and Swisswursts Sausages into my cart!  They sounded delicious and provided that new twist to our usual grilling fare I was craving.     
I promised Dean he could pick out the dessert for a grilling feast and he headed straight to Walmart's freezer section and grabbed a box of Fruttare Strawberry Fruit & Juice Bars.  We headed home to start on our fun family grilling night!
To put a fun spin on dinner I decided to make Grilled Chili Cheese Dog Pizzas and Berries & Cream Freezer Bars for dessert.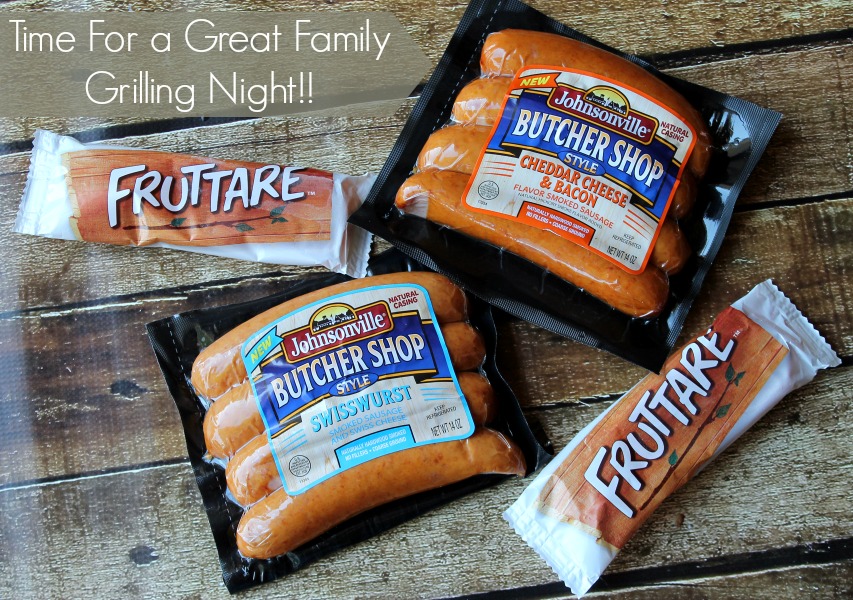 I took premade individual pizza crusts so everyone got their own to top with their favorite chili cheese dog toppings.  So I spread some of our favorite canned chili on each crust and topped them with shredded colby jack cheese.
Then we fired up the grill and threw the delicious sausages on and they smelled amazing!
I sliced the sausages up and placed them on the pizzas and put them on the grill to crisp up the crust and melt the cheese.
They came off the grill crunchy, melty and ready for toppings.
I served them with mustard, ketchup and chopped onions, but feel free to serve up your family's favorite chili cheese dog toppings like relish or crumbled bacon.  I loved having these as individual pizzas since we all like different toppings.  Plain for Dean of course!!
These pizzas were amazing!!  All the flavor of chili cheese dogs but on a crispy grilled crust!  The sausages themselves were bursting with cheesy, bacon flavor and are a new family favorite!
Now for dessert!!  When you grill out you have to have a cool, refreshing dessert to finish your meal and I have got just the thing!  I made my Berries & Cream Freezer Bars and topped them with Fruttare Strawberry Fruit and Juice Bars and it was delicious!  The fruit bars made an adorable decoration for the creamy bars and boosted the berry flavor.  The bars are a creamy confection made of marshmallow creme, whipped topping, cream cheese and raspberry sorbet.  It is the perfect way to end a great night of grilling.
So crank up that grill, grab these great ingredients from Walmart and settle in for a fabulous night of family grilling fun!
What is your favorite family dinner on the grill?
#CollectiveBias #mysummersavings