Love Bug Hot Chocolate Pudding Cups
This shop has been compensated by Collective Bias, Inc. and its advertiser. All opinions are mine alone. #SnackPackMixins #CollectiveBias
I can get you in and out of the kitchen in minutes with these easy to make desserts.
Hey y'all!!  Valentine's Day is coming up and it's on the weekend!!!!  You know what that means…….. there will be no available babysitters :(
My husband and I don't sweat it, we know not only are all the babysitters taken, the ones that aren't are out having their own romantic night.  So we go out the weekend before and on Valentines we have a fun night at home with Dean.
We spend the day baking heart shaped cookies, making handmade Valentine's with way too much glitter and then later Daddy goes out and get us each our favorite dinner.
I always like to make a dessert that can be cute and fun for our little one but that can be switched up so us grownups can have some too.
While shopping at Walmart I stopped down the baking aisle to grab a few things and spotted the Snack Pack section.  I have a huge weakness for chocolate pudding and Snack Pack is my favorite, so of course I ran right over to grab a few.
I noticed on the package that they have new redesigned lids, easy open lids making it even easier for you to get into all that chocolatey goodness.  It also means it is a snap to get the lid off so you can lick the lid, because let's face it no matter how old you are you lick the lid lol.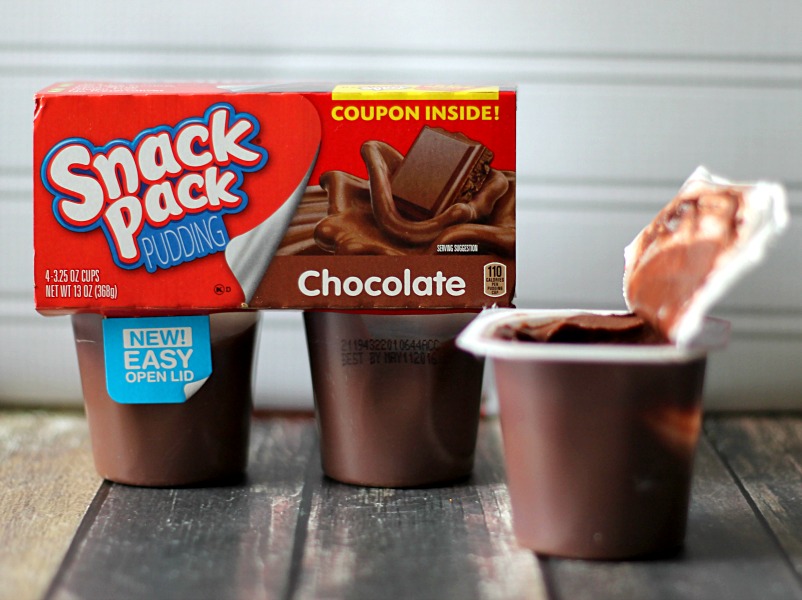 I was also impressed to read that Snack Packs have as much calcium as an 8 oz glass of milk and are made with no preservatives or high fructose corn syrup.  That makes for some happy snacking right there!!
Now I promised you a recipe.  This one gets you in an out of the kitchen in minutes and gives you a fabulous treat for everyone on Valentine's Day.
You just open up your Chocolate Snack Pack (see how easy that was with those new lids?), and stir in some mini marshmallows.
Then I take some whipped cream, it can come from scratch, from the store, it doesn't matter just get some lol.  Then you mix that with classic Swiss Miss Hot Chocolate Mix.
Now pipe that whipped cream onto your pudding cups, add a few Valentine sprinkles and a cute paper straw and you are in for chocolate bliss.
That is where I stop for us grown ups.  For the littles I take it a step further.
I get some candy eyes (how cute are these candy eyes I found at Walmart?!?)  Then with a little melted chocolate I secure them to the pudding cups.
I stick a mini marshmallow on the end of each paper straw.  I lightly roll the marshmallow in the whipped cream from earlier then in some fine sprinkles.
I place 2 of the straws in each cup and voila!  I now have Love Bug Hot Chocolate Pudding Cups.  Yum!
That hot chocolate whipped cream is to die for, I could eat it with a spoon, but piped on top of that delicious chocolate pudding we all already love just takes it over the top.
Love Bug Hot Chocolate Pudding Cups
Ingredients
4 Chocolate Snack Pack Cups
2 Cups whipped cream
1 packet Swiss Miss Hot Chocolate Mix, with or without marshmallows, either is fine
Handful of mini marshmallows
Candy Eyes
A touch of melted chocolate
Sprinkles
Instructions
Mix in some mini marshmallows into each snack pack cup, as many or as little as you like.
Mix the whipped cream with the hot chocolate mix and spoon it into a piping bag or ziploc bag with the tip snipped off.
Pipe a fluffy mound of the whipped cream on each pudding cup.
Top with sprinkles and a paper straw.
This is where I stop for adults.
For kids skewer a mini marshmallow on the end of 8 paper straws (I cut my straws in half so they fit)
Lightly roll the mini marshmallows that are skewered in a little whipped cream.
Then roll them in some fine sparkle sprinkles.
Using a little melted chocolate on the back of the candy eyes press the eyes to the front of the pudding cups.
There you go super adorable Love Bug Hot Chocolate Pudding for your kiddos!
So whether you are having a romantic Valentine's for 2 or if you are having a family fun night with your kids for Valentine's these Hot Chocolate Pudding Cups are perfect!  Ready in minutes so you can get back to your loved ones in no time!
What are your plans for Valentine's Day?  I hope they include chocolate lol!!