This shop has been compensated by Collective Bias, Inc. and its advertiser. All opinions are mine alone. #TRISCUITToppers #CollectiveBias
Hey guys! Summer is coming fast!  In just a week school will be out, the weather is already getting hotter and I'm already tired lol!!
I do not like the heat at all, it just makes me want to nap till fall!  One thing you will not find me doing in the summer is slaving over an oven, no thanks!!  So when I need to whip up a snack for the family or even for guests I pull out chips and dip or crackers and cheese.  However, by July we get a little burnt out and my loving for cooking and creating delicious food kicks in.
Then I found these new TRISCUIT recipes and I am in love!!!  TRISCUIT Crackers are already a real crowd pleaser and disappear at every get together so I was excited to try these new recipes.
I love that TRISCUIT starts with just wheat, oil and salt so I always know just what my family is getting.  With so many TRISCUIT varieties include original, reduced fat, cheddar, cracked pepper & olive oil, fire roasted tomato & olive oil, garden herb, deli-style rye, roasted garlic, thin crisps, and rosemary & olive oil, you can never run out of easy snack ideas.  You can add a slice, dollop or sprinkle to any TRISCUIT and Make 'Scuit Happen anywhere, anytime!
Anytime I am at Kroger doing my weekly shopping I make sure to stock up on at least 2 boxes of TRISCUIT Crackers! Find your local Kroger/Kroger Family of Stores to get your TRISCUIT crackers HERE
For all your summer snacking they have these 4 new amazing recipes you can try without heating up our kitchen!
I am a sucker for anything with corn and black beans so I decided to give Avomangsalscuit a try.  It is just avocado, mango and black bean and corn salsa on a TRISCUIT Original.
They come together in minutes and the flavors together are just amazing!!!  Sooo good!!!  Now if you want to make these a little heartier you can add some taco spiced shrimp on these and really blow your guests away.
This recipe is as easy as just slicing your mango and avocado then topping with a dollop of black bean corn salsa, yum!!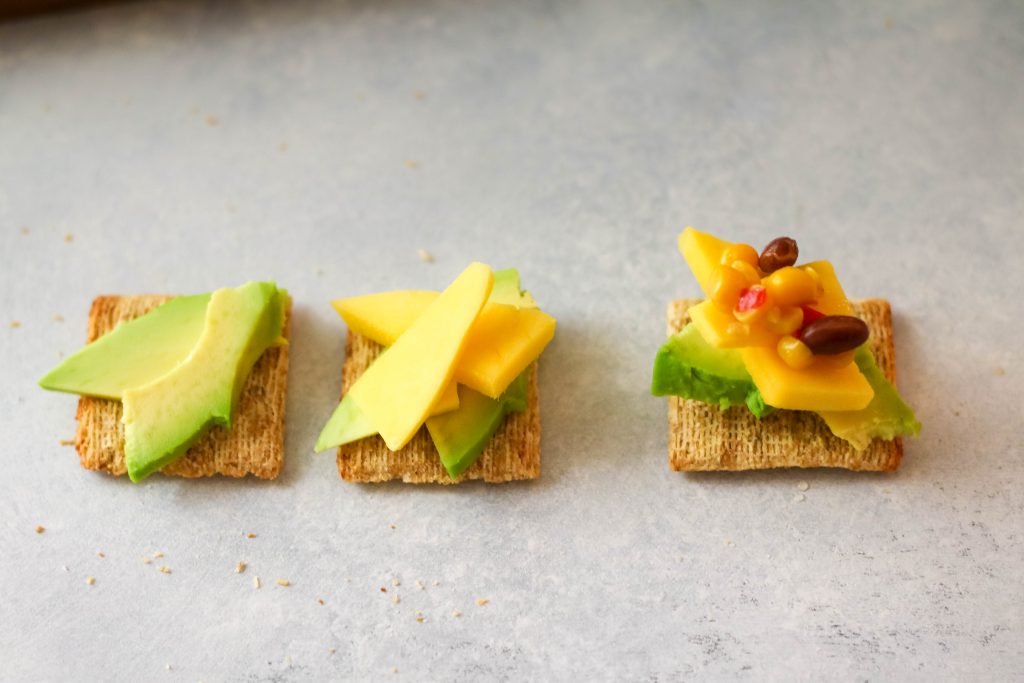 Easy TRISCUIT Snacking!
Ingredients
12 TRISCUIT Crackers
1/2 avocado, cut lengthwise into 12 slices, then cut crosswise in half
6 fresh mango slices, cut in half
2 Tbsp. black bean and corn salsa
Instructions
Top crackers with avocados.
Add mangos.
Spoon salsa over mangos.
Since these are so easy to make I would suggest making a ton since they will go quick!!
So this summer stock up on your favorite TRISCUIT Crackers and try some of these delicious and easy recipes!  Or add your own slice, dollop or sprinkles!
For more TRISCUIT inspiration check out their site HERE