Hey guys!  I am bringing you another amazing after school snack, oh who am I kidding this snack is perfect all the time!  Everyone loves it!  It is sooooo easy to make, which is good because you will be making this a lot!
My boys love oyster crackers, I cannot keep them stocked, the gobble them up!  Of course we also love Goldfish crackers ( I mean who doesn't love those cheesy smiling fishes?!)
My grandma used to make these ranch flavored oyster crackers and they were amazing!  It took no time at all for her to whip up a big bowl of delicious crackers.
When my boys started on their oyster cracker binge I knew I could really blow them away by making them ranch.  But I wasn't content with just the oyster crackers, I had to throw in a bag of Goldfish too, deeeelicious!
My husband and his friends chowed down on these simply amazing crackers and I would often catch Dean with the whole tub!
They are just so perfectly flavored, perfectly toasted and perfectly popable.  They are sooo addicting!
They are so easy your kids can help make them.  You just mix a dry ranch dressing packet with a little garlic salt, onion powder and oil in a large ziploc bag.  Then you add in the crackers, zip it shut and let the kids shake it up!
They you just bake them for about 20 minutes and you have an incredible snack everyone is going to love!!
This is the perfect snack to make on the weekend to prepare for the upcoming week.  This is great for an after school snack or to pack in a lunch box.  The hubs and I love snacking on it while watching TV when we get a break on the weekend!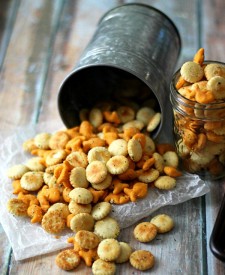 Easy Ranch Snack Mix
Ingredients
1 1-

oz.

packet Hidden Valley® Original Ranch® Salad Dressing & Seasoning Mix

¼

cup

vegetable oil

1

teaspoon

garlic salt

1 9

oz.bag oyster crackers

1

bag Gold Fish Crackers
Instructions
Preheat the oven to 250°F.

In a small bowl, add the oil, Hidden Valley® Original Ranch® Salad Dressing & Seasoning Mix and garlic salt. Stir until mixed through.

In a 1-gallon-size Zipper Bag, add the crackers and oil mixture.

Seal the bag and toss until well-coated.

Arrange the crackers on an ungreased half-sheet pan in a single layer.

Bake the crackers for 15 to 20 minutes or until golden.

Cool and keep in an air tight container for snacking!
Don't forget to head over to Dana's and check out her yummy Chipotle Cheese Straws!