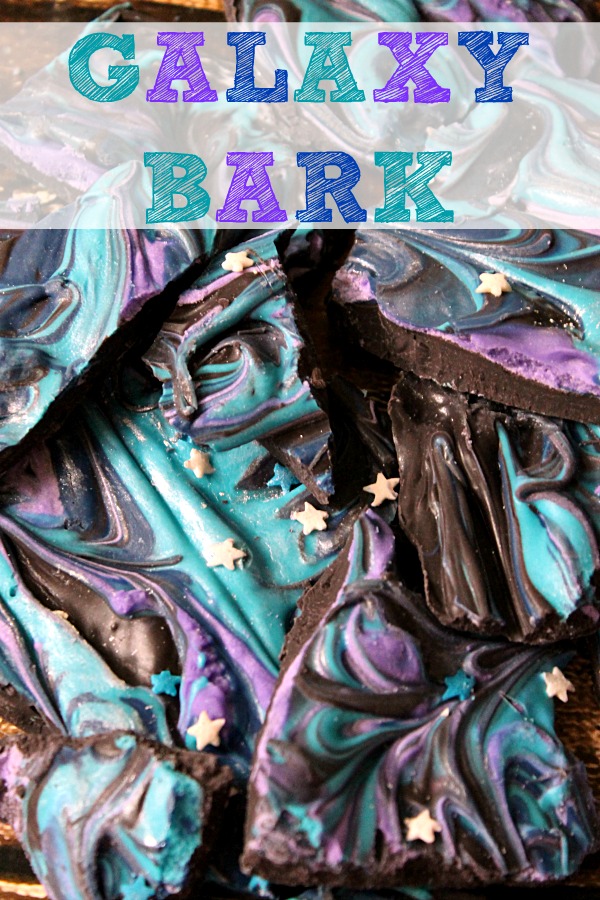 Hey guys!!  Time for another awesome week with our After School Snack Series!
This week I am sharing a snack that the kids can help you with, looks amazing and is semi educational!  I know that's a lot to ask from a snack but believe me this snack delivers!  May I present to you Galaxy Bark!!!
Galaxy print is everywhere right now, it seems all the kids are obsessed with it lately and my house has not been bypassed by that phase lol.  So when I was in the store the other day I saw black candy melts and I was like "whoa what can I make with these" then of course I immediately thought of Galaxy Bark.
Chocolate bark is a favorite of mine to make, you can make in a thousand different flavors, a thousand different colors and the kids can help you create it, I just love making it.  Plus it takes like minutes to come together, so that's a win!
This makes a great little chocolate treat for the kiddos to snack on while doing homework or for a little treat after dinner.  You can turn it educational by talking about galaxies and planets and so on while making the bark, and that can work with so many ages.
The bark itself is a snap to make.  Just melt your candy melts, I chose black, 2 blues, and purple.
Melt 2 pounds of black candy melts and pour them into a greased and foiled 9×13.
Then plop little spoonfuls of the other colors onto the black.
Swirl a knife through as much as needed to create the galaxy look.
Sprinkle with a few white and blue star sprinkles (I picked mine out of a 4th of July sprinkle mix)
Let cool and harden completely.
Now to add some sparkle to your galaxy.  I just take a little edible glitter dust and brush it on lightly.
Break it into chunks and admire your awesome Galaxy Bark!
This will definitely win you cool points with your kids, or at least your Instagram friends lol!
So whip up this Galaxy Bark with your little ones, chat about back in your day Pluto was still a planet and have a great time!
Galaxy Bark
Ingredients
2 pounds black candy melts
half pound purple candy melts
half pound blue candy melts
half pound light blue candy melts
Instructions
Melt the black candy melts in the microwave at 30 second intervals until completely melted.
Pour into a foil lined 9x13 pan and spread evenly.
Melt other candy melt colors and dollop onto black.
Lightly swirl the colors together to make a galaxy look.
Sprinkle on star sprinkles.
Let cool and harden completely.
Brush on a little edible glitter dust.
Break into chunks and serve!
Head on over to Dana's to check out her Handheld Strawberry Shortcakes.  Yum!!!
Want more After School Snack Ideas?  Check out the rest of the series —->
Follow me on Pinterest for more yummy recipes!!
Visit Life With The Crust Cut Off's profile on Pinterest. Linked at:
Looking for more bark recipes?  Check out these —->