Delicious Pineapple and Pork Fried Rice for Dinner
Hello everyone!  I have got an amazing dinner recipe to share with you today, but first I want to tell where I got my delicious ingredients from.
The other day I was at Walmart to grab a few thing (most importantly a non-slip tub mat to prevent anymore tub vs Dean injuries) and I was browsing the baking aisle when I spotted this new olive oil that sounded so yummy! 
Of course I had to grab some of that and into my cart it went, with scrumptious recipe ideas swirling around in my head.  I have only seen this oil at Walmart and that is because Walmart currently is the only store that carries it.
The next day I went to do my grocery shopping at Kroger because I love their meat section and the Kroger brand products are awesome.  I decided to pick up the ingredients for Pineapple and Pork Fried Rice since it is a family favorite, easy to prepare and everyone would have clean plates and happy tummies!  I was happy because knew it would be the perfect recipe to try out that new butter flavored oil.
So I filled my cart with all the tasty ingredients needed to make this family favorite dinner. 
Once at home I gathered all my ingredients to start dinner.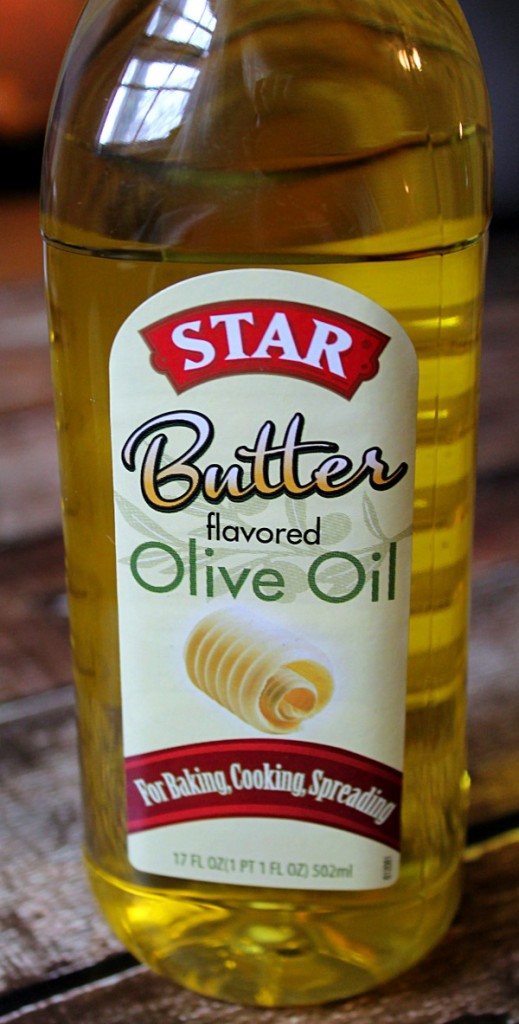 First you want to cut up your pork into little bite size pieces and place it to marinate a bit (it does not need long)
I started the rice in a pot while in my big skillet I started sauteing up some onions in that buttery oil, yum!
I added the pork to the onions and sauteed till the pork was cooked through.  I then removed it from the pan.
I gave the pan a quick wipe and lightly browned the pineapple before removing that from the pan.
I placed a little more of the oil in the pan and then added the rice and fried it up, seasoning with a couple splashes of soy.
Then I made a well in the center to scramble two eggs in.
I mixed the scrambled eggs with the rice and added in the pork/onion mix and the pineapple.  Finally tossed it with green onions and dinner was served!
Pineapple and Pork Fried Rice #CollectiveBias
There you have it, a wonderfully, refreshing, delicious dinner the whole family will love.  My family always gobbles this dinner down but they especially loved it this time with the buttery flavor the Star Olive Oil added!