Dark Chocolate Peppermint Cake
Hey guys!  It is the last entry in the Christmas Series and that means dessert!!  To me peppermint and chocolate are the perfect flavors for Christmas and it is my favorite flavor combination.  I wanted to make a truly festive dessert but one that was easy.
I love starting with a box cake mix and jazzing it up.  It saves me some time during the bust holidays and gives me more time for wrapping presents, drinking hot chocolate with the family and just enjoying the holidays.
This cake is a snap to make and the star is the Dark Chocolate Peppermint Ganache.
I just whip up a dark chocolate cake mix according to box directions and bake it in a bundt pan.  Then I microwave some peppermint coffee creamer and toss in some chocolate chips.  Then you have the most perfect peppermint ganache.  If you really really wanted to take the easy route you could stir a little peppermint extract into some storebought hot fudge.
I added a few crushed up peppermints for decoration and a few peppermint meringues ( I will show you how to make those tomorrow)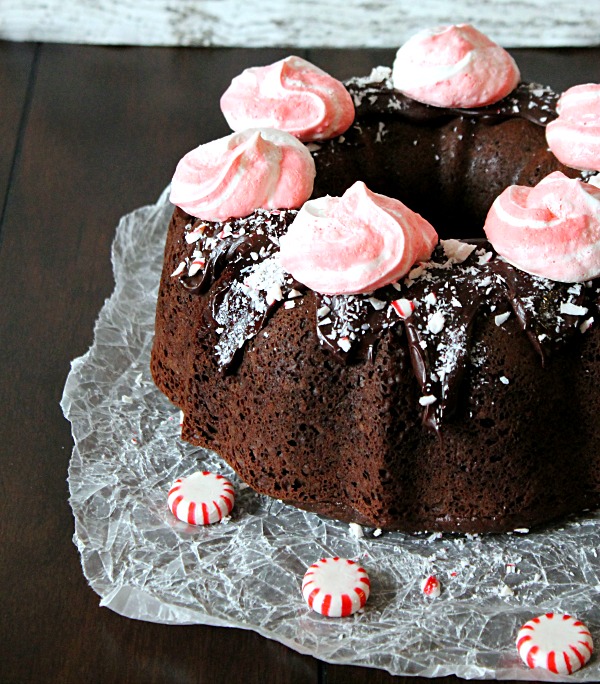 So when you need a fabulous dessert that doesn't take all day just whip up this gorgeous cake and enjoy the holidays!
Dark Chocolate Peppermint Cake
Ingredients
2 chocolate boxed cake mixes, mixed to boxed directions
1/2 cup of peppermint creamer, or heavy cream with a little peppermint extract
8 oz dark chocolate chips
crushed peppermints
Instructions
Bake the 2 cake mixes in one bundt pan and cool.
Microwave the creamer for 1 minute 30 seconds in a large microwave safe bowl.
Add in the chips and let them sit for 3 -5 minutes. Stir.
Drizzle the ganache all over the cake.
Garnish with crushed peppermints and meringues.
Don't forget to head over to Dana's and check out her Christmas Tree Meringues!