This shop has been compensated by Collective Bias, Inc. and its advertiser. All opinions are mine alone. #KetchupWithFrenchs #CollectiveBias
Hey y'all!!  Today I have a super special recipe to share with you guys.  While most kids grew up eating sloppy joes, my family has always eaten Spoonburgers.  Now I know many of you are probably like what the heck is a spoonburger?  And today I will introduce you to this glorious, no frills, crowdpleasing, picky eater approved dinner.
To be honest I do not know if I have ever had a sloppy joe, it has always been spoonburgers around here.  Served with tater tots and corn on the cob it is the easiest, quickest dinner that everyone loves.  When I first met my husband I decided to whip these up one busy night and when I told him what we were having he was confused and intrigued.  I served him one and he has been in love ever since!  Actually now that I think about it every one who has married into the family has fallen for these spoonburgers.
They come together in just minutes making them the perfect weeknight meal especially since even picky eaters don't turn these down.  We also love to make big batches and pop it into a slow cooker for when we have get togethers, they are an inexpensive and delicious way to feed a crowd.
Now when it comes to the ingredients do not be afraid to make these, the base ingredient is a little different but it is what gives these spoonburgers all their flavor.
A lot of the flavor for these spoonburgers comes from good ol' ketchup and mustard.  This is why it is important to use a good quality ketchup like our favorite French's Ketchup.  Every time I am doing my shopping at Walmart I grab a bottle because we love it on everything!
French's Ketchup uses real ingredients, like real sugar and high quality tomatoes, which gives it it's fabulous rich taste! It has no GMOs, high fructose corn syrup, preservatives, or artificial flavors and colors, which is so important to me when it comes to feeding my kids (who put ketchup on everything)
French's is a better-for-you option that is great in all your favorite recipes and for topping and dipping all your favorite foods.  With those great ingredients you can feel good about feeding to your family.
I also love that French's is doing its part in the community through a partnership with Feeding America, donating 10 million meals in 2017.  So not only can you feel good about what your family is eating you can also feel good about supporting such a caring company.
Okay so now onto this recipe I have promised you!
You just brown up and drain your ground beef.  Add a can of chicken gumbo soup, a  swirl of ketchup, a swirl of mustard and a touch of brown sugar and dinner is done!
Classic Spoonburgers
Ingredients
1 pound ground beef
1 can, 10 3/4 ounces Condensed Chicken Gumbo Soup
1 tablespoon French's yellow mustard
2 tablespoons French's Ketchup
2 teaspoons brown sugar
1/8 teaspoon ground black pepper
Instructions
Brown and drain the ground beef.
Add the soup, ketchup, mustard, brown sugar and pepper to beef.
Bring to a bubble and let simmer for 10 minutes.
Serve on hamburger buns.
That is how easy this delicious dinner is!!!
I use both French's Ketchup and French's Mustard in this dish because they are the perfect match!
So head to Walmart and grab some awesome French's Ketchup and make these for dinner tonight!  I promise everyone will love them!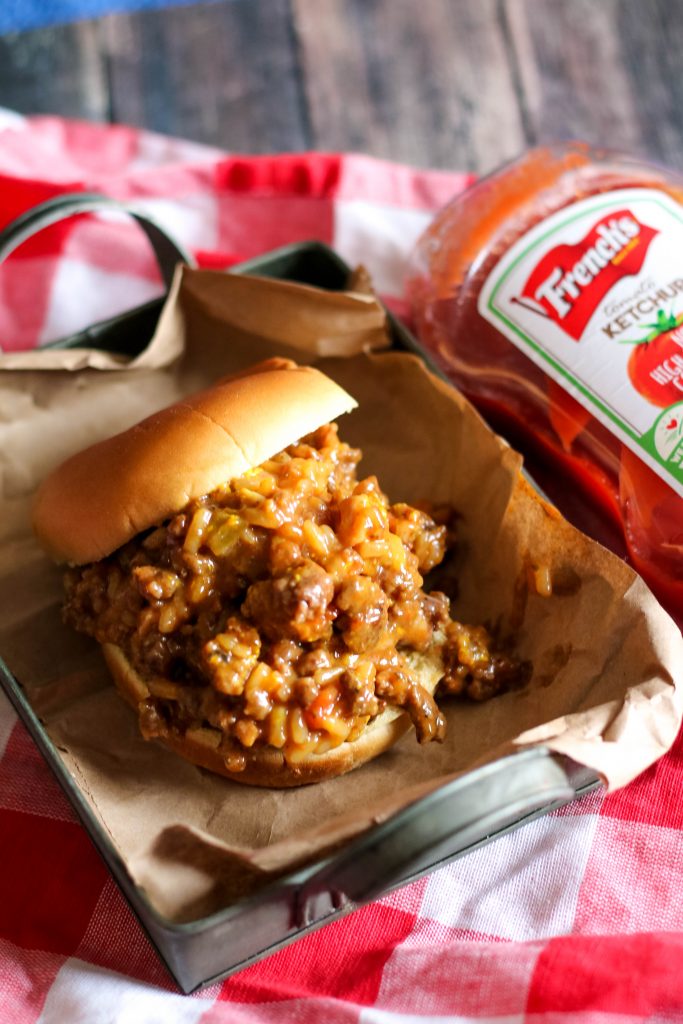 For more yummy goodness follow French's on