Butterfinger Cup Sundae Cupcakes

So this may come as a shocker (not) but… I love candy, all kinds!  So I was so excited when I heard about these new Butterfinger Cups.  I mean what could be better than all that yummy Butterfinger taste in chocolate covered cups??  
I cannot get enough of these cups, they are my new favorite candy, creamy peanut butter mixed with that familiar buttery crunch adds up to candy perfection.  I am especially excited that I can pick up this delicious candy at Wal-mart, I am there often so I always make sure to grab a few because they go fast around here!
Of course it is football season and with the big game coming up I wanted to create a recipe using my new favorite candy.  Whenever I throw any football parties I like to make food that is easy to pick up and eat so what better dessert is there for a party than cupcakes?  Everyone has their own version of peanut butter/chocolate cupcakes so I wanted to put a new spin on them and thus my Butterfinger Cup Sundae Cupcakes were born.  Rich chocolate cupcakes are studded with bits of Butterfinger Cups then topped with luscious buttercream, hot fudge sauce, toasted chopped peanuts, more Butterfinger Cup bits and then finally finished with a cherry on top.
My family and friends cheered for these cupcakes (and their favorite team).  They were a winner and are going on to make an appearance at the big game!
I love that I can make these ahead of time so I don't miss a minute of the game.  
So whether you make these cupcakes or just fill a bowl with new Butterfinger Cups I promise they will score big at your next party!
Here is the recipe I used to make these amazing Butterfinger Cup Sundae Cupcakes.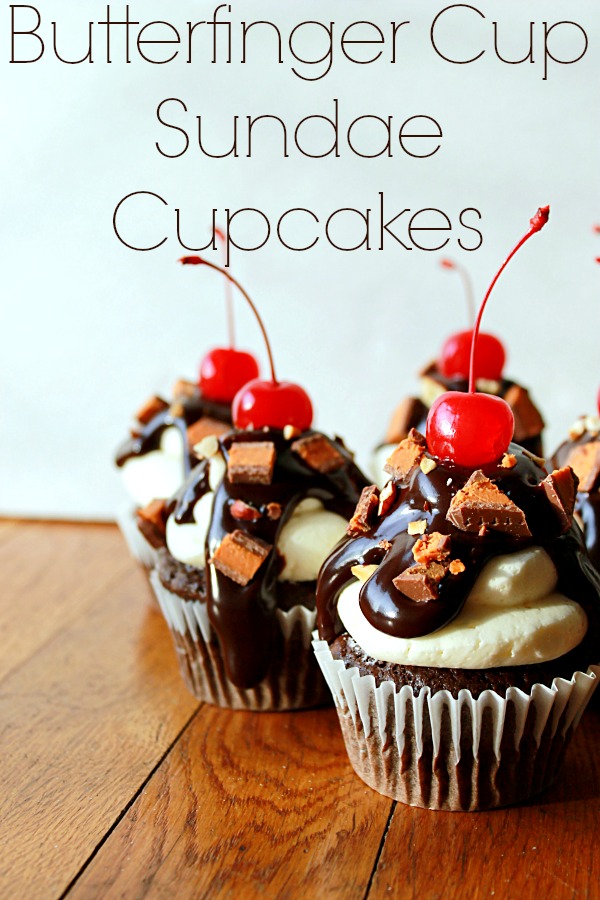 So when you're at Wal-mart shopping for wings and chips to feed all your football fans don't forget to throw some Butterfinger Cups in your basket too!