Budget Meals with Cheesy BBQ Chicken Tacos with Spicy Shells & Cheese
This shop has been compensated by Collective Bias, Inc. and its advertiser. All opinions are mine alone.
#RollIntoSavings #CollectiveBias
Hey yall!!  Summer is in full swing and that means every one is away on vacation and summer camps and that can affect the milk delivery business a bit.  By now the hubs and I know that for a few weeks during summer break things can get a little tight, so we save money by preparing some budget friendly meals.  I know for some folks things can get a little tight around the 1st and 15th of the month, so they can use this budget dinner to help them too!
Thankfully with a few tweaks to our grocery budget we can be back on track.  The best way I find to help with our grocery budget is to plan ahead!!  I have a huge master list of dinners we enjoy and before I go to the store I plan a week's worth of dinners by pulling meals from that master list and then I write down all the ingredients I need for those meals and it eliminates buying too much from the store or having to go back and spend more money when I have forgotten something.
I also can keep our grocery budget on track to help out in tight times by making simple dinners using budget recipes.
While shopping at Walmart I saw quite a few Kraft items were on rollback which is perfect for cutting back on grocery spending and I needed quite a few of them for dinner that night.
Cheesy BBQ Chicken Tacos and Spicy Shells & Cheese are one of my go to meals when pinching pennies because it is delicious, easy, and can feed the family for under $20.  Plus it is a real crowd pleaser, who doesn't love tacos and mac & cheese?
I coated chicken tenders in Kraft Honey Chipotle BBQ Sauce (umm yum!!) and baked them till cooked through.
While the chicken was cooking I sliced up an onion and green pepper and sauteed them up with a few splashes of Kraft Zesty Italian dressing which adds incredible flavor to the caramelized pepper and onion (you will never saute them without it again!)
The chicken, the onions and peppers all get piled on soft tortillas and topped with Velveeta Shreds and that is one out of this world flavor explosion taco for cheap.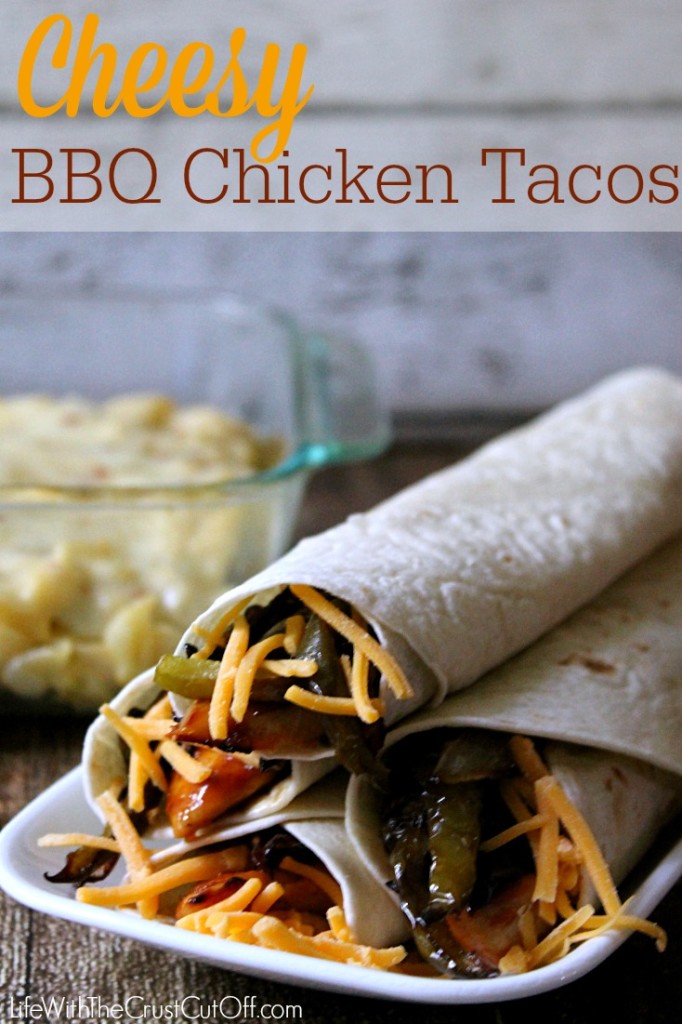 The Spicy Shells & Cheese make a perfect side dish for these tacos and really round out the meal.  All you have to do there is prepare the Velveeta Shells & Cheese according to box directions and add in a can of green chiles and top with Kraft Natural Pepperjack Slices and pop it under the broiler for a minute or two till melty and spicy (but not too spicy ;)
Now this is a dinner that will wow the pants off your family and no one will guess it's a low budget recipe because it is so packed full of flavor!
Budget Meals with Cheesy BBQ Chicken Tacos with Spicy Shells & Cheese
Ingredients
Ingredients For Cheesy BBQ Chicken Tacos
1-1/1/2 pounds chicken tenderloins
Kraft Honey Chipotle BBQ Sauce
Onion sliced
Green pepper sliced
Kraft Zesty Italian Dressing
Tortillas
Velveeta Shreds
Ingredients for Spicy Shells & Cheese
Velveeta Shells and Cheese
Small can green chiles
Kraft Natural Slices Pepperjack
Instructions
Directions for Cheesy BBQ Chicken Tacos
Coat tenderloins in BBQ sauce at bake at 400 for 15-20 minutes or until cooked through.
Meanwhile saute the onion and pepper in a skillet with 2 Tablespoons Italian dressing until caramelized.
Add the cooked chicken and sauteed onion and pepper to tortillas.
Top each one with Velveeta Shreds and roll up.
Directions for Spicy Shells and Cheese
Boil shells and drain when cooked through.
In same pot add the cheese sauce packet and can of green chiles.
Add in shells and mix gently.
Transfer to an 8x8 dish.
Top with pepperjack slices and place under broiler for a minutes or two just to get it melty.
Serve this amazing meal and pat yourself on the back.
The best part is if you want to make it again next week you should have plenty of BBQ sauce, Italian dressing, Velveeta Shreds and Pepperjack slices left to whip this meal up again, therefore saving even more money!
I spent just $18.06 on this meal and it was wonderful and I will be able to repeat it next week for just $11.08
Chicken Tenderloins-$4.94
Can of green chiles-  $.78
Onion-$.60
Green Pepper-$.80
Tortillas-$1.98
Kraft Honey Chipotle BBQ Sauce-$1.00
Kraft Zesty Italian Dressing-$1.98
Velveeta Shells & Cheese-$1.98
Kraft Natural Slices PepperJack-$2.00
Velveeta Shreds-$2.00
So grab up these products while they are on rollback at Walmart and have yourself an amazing without breaking the bank!
What are some of your favorite budget meals?