Pimento Cheese Potato Salad
Hey yall!!  Today I want to share with you an amazing recipe.  Like this recipe is going to blow you away.  Yet it is so simple and easy to make….. Pimento Cheese Potato Salad.  Oh my, it is ridiculously delicious.  I like potato salad and I like pimento cheese, so why not put the two together to create one rockstar potato salad.
Potato salad has always been a pain in my butt to make, I don't know why but making potato salad just irks me, however, this one came together so quickly with such phenomenal results I have to share it with you guys.
All I needed for this recipe was some peeled, chopped, boiled potatoes and a traditional pimento cheese recipe.
I added a little more mayo than I would in regular pimento cheese and added a scant amount of onion because every potato salad needs a little onion.
I have made a million recipes to take to my family cook outs and they are all devoured and raved about but I have never received so many compliments on a dish before as I did with this potato salad.  Every person loved it and begged for the recipe and here it is.  
Pimento Cheese Potato Salad
Ingredients
3 pounds potatoes peeled, washed, diced.
2 cups shredded sharp cheddar cheese
3/4 cup Duke's Mayonnaise
2 Tablespoons diced pimento peppers
1 teaspoon minced onion
1 tablespoon Worcheshire
dash of Texas Pete hot sauce
salt and pepper to taste
Instructions
Peel, wash and dice the potatoes.
Boil in salted water until just fork tender. (you don't want them so tender they fall apart)
Mix the remaining ingredients together.
Mix the cheese mixture and slightly cooled potatoes together using a fork to help squish the mixture together.
Chill and serve.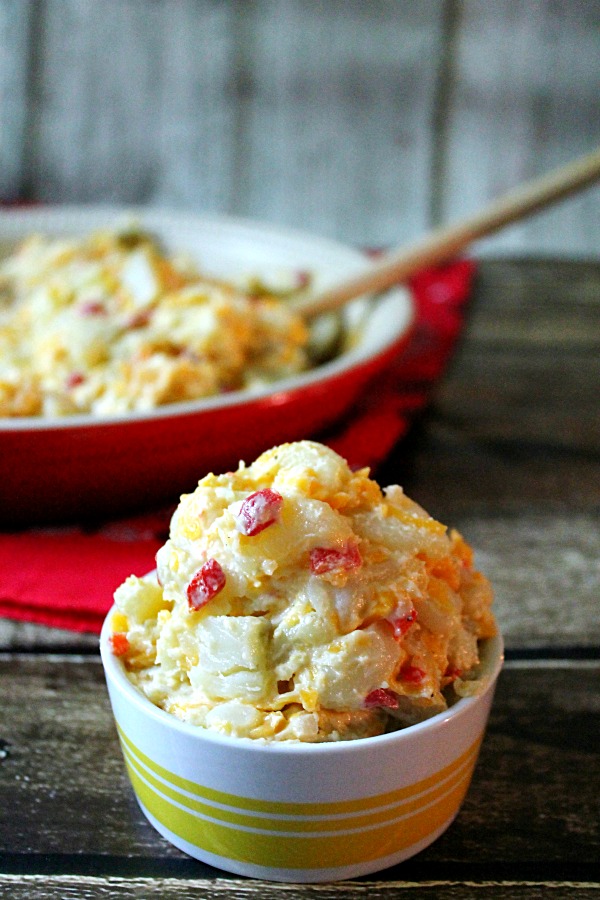 Follow me on
Pinterest for more yummy recipes!!
Visit Life With The Crust
Cut Off's profile on Pinterest. Linked
at: