Hi guys!!  Time to introduce you to a new fabulous contributor here!  Leia from Eat It & Say Yum.  She makes the most incredible recipes!
Hi there!! My name is Leia, and I blog over at Eat It & Say Yum. I am so happy to be a new contributor here at Life With The Crust Cut Off. I'm a big fan of Parrish and her blog. (Insert happy dance, someone I look up to knows who I am!)
Anywho, one of my college roommates taught me to make this dessert. It has been a favorite ever since. The recipe is really simple, and different. It seems all wrong, going against common baking sense, but trust me! It turns out amazing, with Brownies floating on a lake of hot fudge. Oh man. Yeah, you need to make this.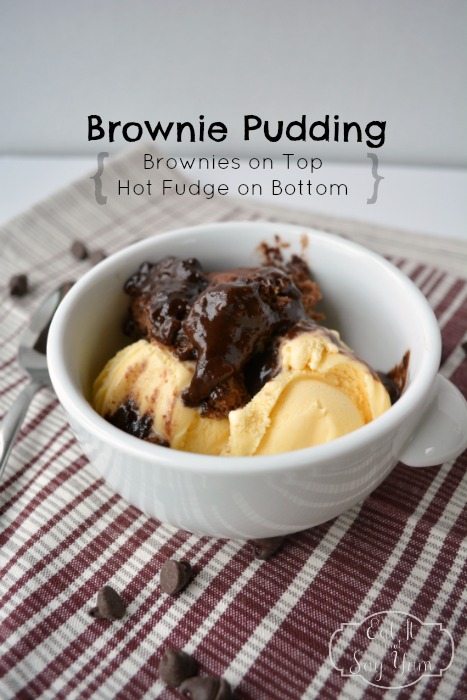 You start with a batter for the brownies. Then things get weird… You sprinkle some brown sugar and cocoa over top of that. THEN pour water over the top of that. Say what?!
I know, it seems weird, but that water and cocoa mixture is what turns into the hot fudge. And somehow it magically ends up UNDER the brownies.

You have to eat this with ice cream. I'm sorry, that's just the rules. ;)
The sweetness from the ice cream compliments the flavor of the brownies, and who wants hot fudge without ice cream? Not me.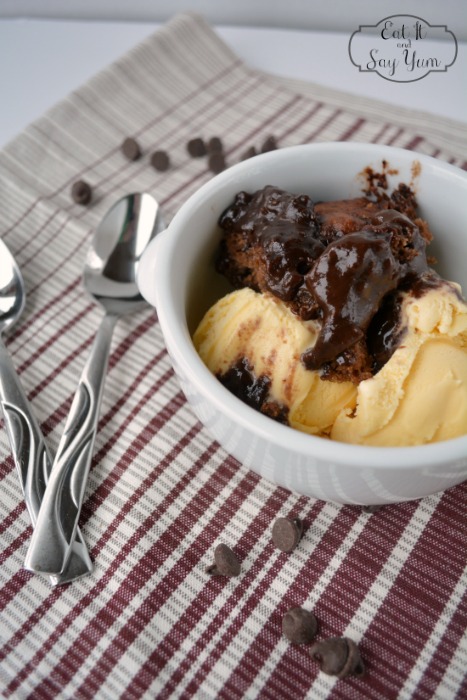 Brownie Pudding
Brownie Pudding~Leia
Ingredients
1 cup flour
3/4 cup sugar
2 Tbs cocoa powder
2 tsp baking powder
1/2 tsp salt
1/2 cup milk
2 Tbs oil
1 tsp vanilla
3/4 cup brown sugar
1/4 cup cocoa
1 3/4 cup hot water- not boiling, just hot from the tap is fine
Instructions
Preheat oven to 350 degrees. In a medium mixing bowl combine the flour, sugar, 2 Tbs cocoa, baking powder, and salt then stir. Add the milk, oil and vanilla to that and mix until fully combined. Pour this batter into a greased 8x8 baking dish.
In a small mixing bowl combine the brown sugar and remaining 1/4 cup cocoa powder. Stir that together and sprinkle over the brownie batter in the pan. Gently pour the hot water over top of the brownie batter. Carefully place the pan in the oven and bake for 35-45 minutes. The brownie should be set when it is finished cooking. Use caution when removing the brownies from the oven. If you tip the pan hot fudge will spill out!
Let sit for a few minutes before serving. Scoop the brownie and some of the hot fudge below it onto a bowl of ice cream. Eat immediately so the ice cream doesn't melt. Store left overs tightly covered with foil in the fridge or on the counter. Reheat in oven before eating again.

So, go whip up some Brownie Pudding. And come visit me over at Eat It & Say Yum.
You can follow Leia from Eat It & Say Yum on
Bloglovin'
Follow me on Pinterest for more yummy recipes!!
Visit Life With The Crust Cut Off's profile on Pinterest. Linked at: